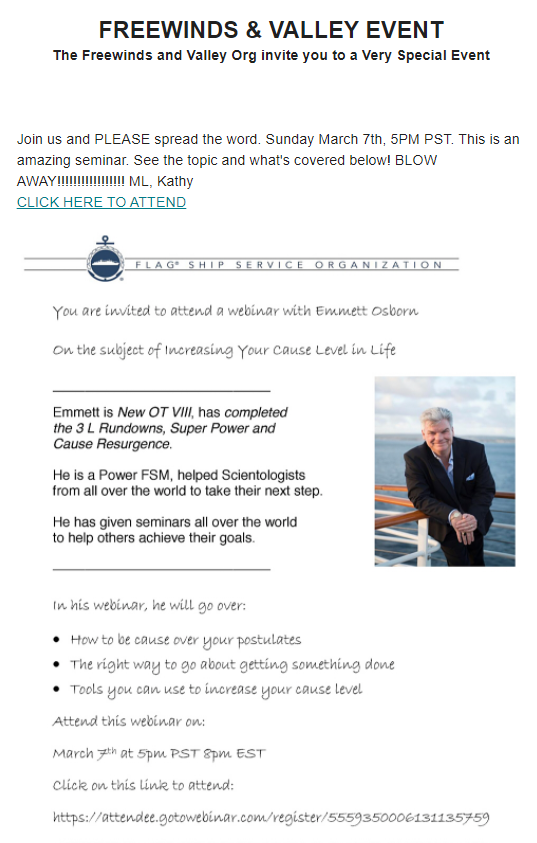 OK, I must have seen literally a thousand of these "come to this event, it will be incredible/amazing/spectacular/blow away" etc etc with endless exclamation points.
They are the same people over and over talking about the same thing. They promise incredible information which is just one of these "FSMs" (who earn a commission on everything that is paid for as a result) rehashing some old Hubbard quotes as if they are a new revelation. And then they really get down to business with some good old Big League Sales and hard sell money-grubbing.
What is particularly remarkable about this Amazing!!!!! event is that even though they have re-opened the orgs, they are still doing this online. You would think they would be anxious to get people back into their buildings where they can control them much better. I can imagine what a high percentage of people bail on these things "oops, bad connection" "my zoom just froze" or no explanation just bail out of the webinar when it comes time to pull out the credit cards.
What, the might Valley Ideal Org — largest org in the US — doesnt have a single person who can dig up some LRH words of wisdom (no matter how hackneyed) and turn them into a "seminar" that will solve all problems for everyone everywhere?
Are things really this bad inside the scientology bubble that even in LA all they can scrape together is another "Power FSM" from Clearwater to phone it in?