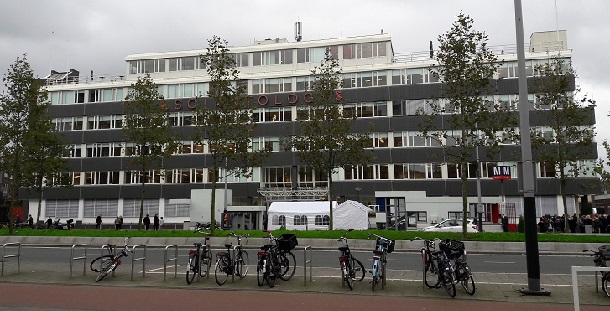 This weekend, appropriate for the Halloween season, Captain Miscavige performed a ribbon yanking ceremony on his latest haunted house.
In a nation with just a small handful of active scientologists, he presided over an intimate gathering to officially open this 79,000 sq ft monster. Every scientologist in the country can have their own room in this place.
Even their official website photo only claims 1300 attendees and with wide angle lenses and every other trick they know they still cannot make it look even passingly impressive… And this is with 7 chartered planes worth of people flying in from all over according to the Flag OTC.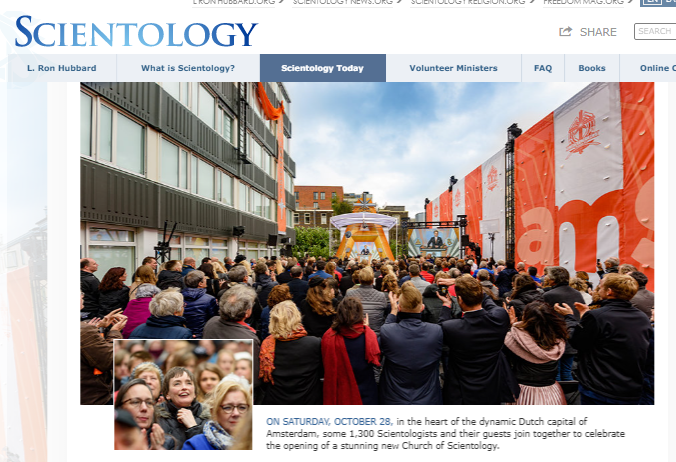 But, in confirmation we got an on-the-ground view from one of our readers and they also managed to snap some shots (including the one at the top).
I promised you some photos of AMS opening event. 
I got through security all the way to the backyard of the org where the event was being held. Nobody questioned why I was there.
I estimate that there were roughly around 250 people max. 300 would be overly-generous.
I saw a looot of foreigners. I met ED MUN who said that all the German ED's were there. There were quite a few staff from HBG, mainly doing org board functions, there were French, Norwegian, several staff from other so-called ideal orgs. I talked with a BAS staff who said there were 100 on staff, day and foundation in Amsterdam. I saw an ex-FOLO EU staff in the uniform of AMS Org, obviously the rules about ex-SO not being on staff in Class V orgs is not followed when it comes to making it appear there are staff for these events.  
Anyway, so it was a big event for AMS standards but pathetic of course for a superb ideal org…
Maybe 30% were outer-org scientologists.
If there are more than 500 people in attendance I will submit my resignation as an SP. Our person on the ground said 300. I am being kind.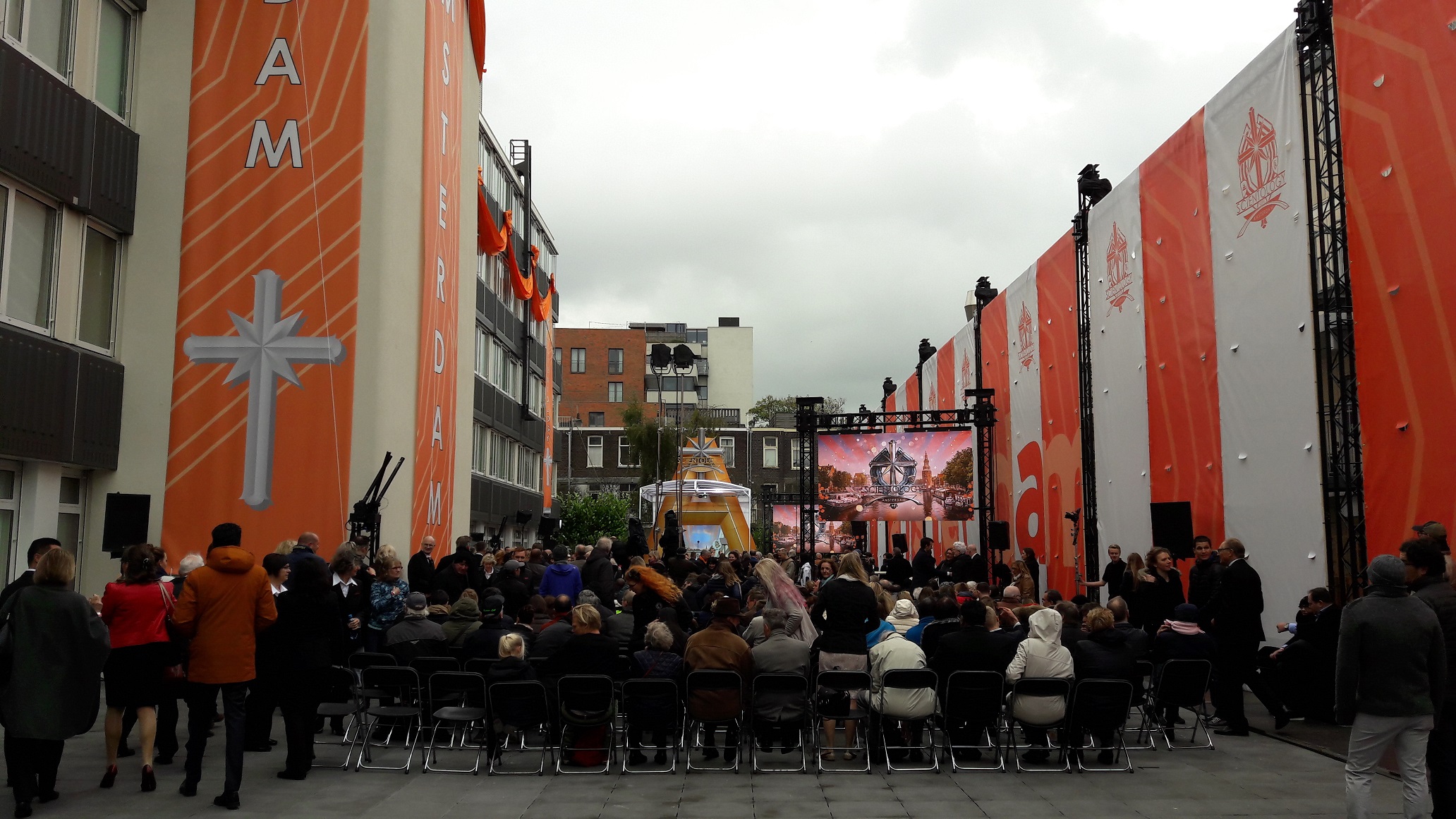 Chairman of the Bored flew to Amsterdam to preside over this?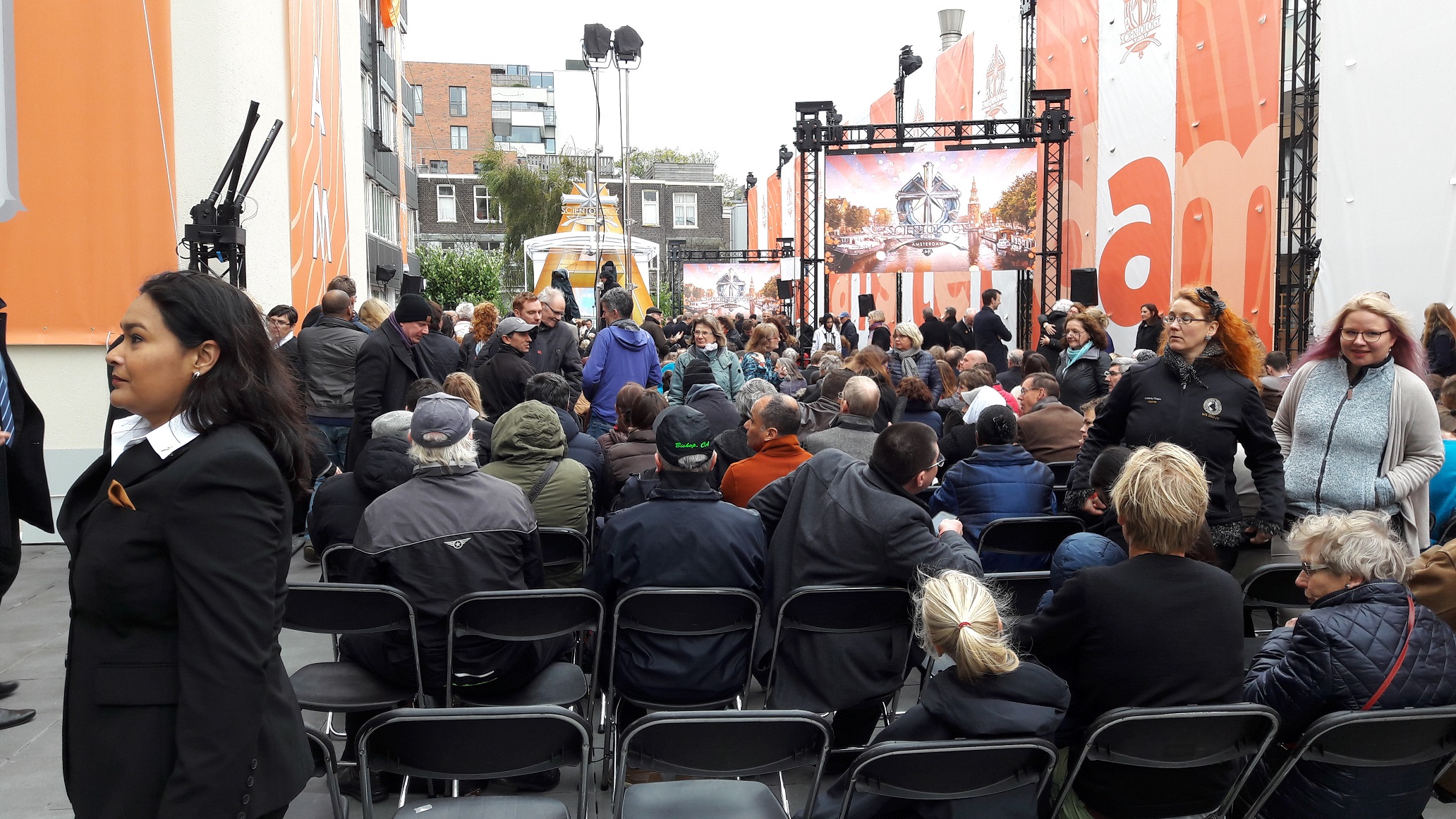 This followed Miscavige's yankings in Birmingham and Dublin. They are becoming smaller and smaller. It's a steady decline since the first ideal orgs in 2004.
Just for fun, here is some of the Shermanspeak drivel Miscavige presented in Amsterdam, apparently trying to sound poetic and whimsical:
Follow the enchanting canals and arched bridges of city center Amsterdam and then wander east into the fast growing, trendy and studious Knowledge Mile and you will hit the fast lane of one of Europe's creative capitals. The Knowledge Mile represents the advance guard of Amsterdam's development and a symbol of learning and expansion for this city amidst an exciting renewal.
Indeed, the grand opening of Amsterdam's new Church of Scientology was an exuberant celebration of knowledge, in both a modern and spiritual sense. So it was, some 1,300 Scientologists and guests gathered on Saturday, October 28, in central Amsterdam, to celebrate the unveiling of a striking new landmark on the area's central apex—the bustling Wibautstraat.
If that street is bustling, then this org is booming. And the moon is made of orange cheese…
Before that ribbon falls, let's take a moment to contemplate your place in Dutch history—not to mention mythology. For you are no longer sailing seaward and windward, and you're no longer skirting headlands homeward. On the contrary, you're outward bound on a course to eternity itself.
"Outward bound on a course to eternity itself" — not quite up to the porch of infinity level, but he still sounds completely mad to any normal observer.