Got a new email from an old fake friend who usually circulates the latest slime about Ron Miscavige.
This time he/she was announcing the wonders of the new "Dublin Office."

Prompting me to instant action, I dutifully followed the link to the scientology site to see what they had to say about this monumental accomplishment that had attendees at the IAS Event gushing about the miracle of being able to set up a whole "ideal org" without anyone even knowing! (As usual, their heads are firmly planted in the sand – it has been the topic of a lot of media and social media coverage over the past month or more).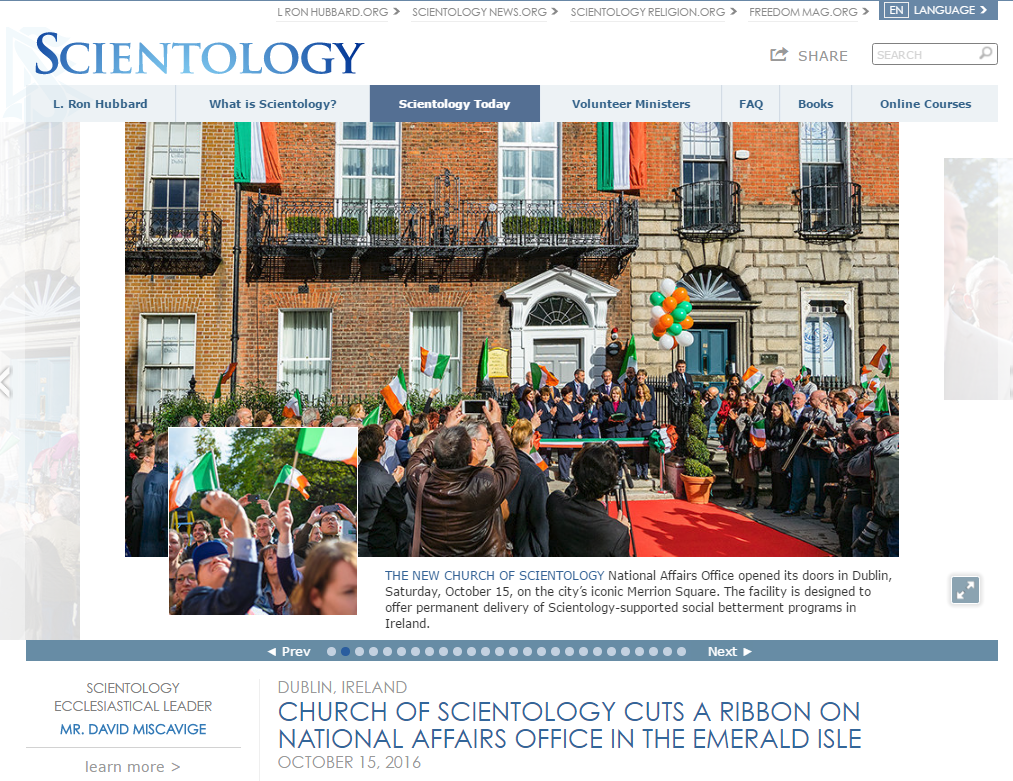 The site of course has a ton of photos of empty spaces and a couple of shots of the obligatory ribbon yanking showing the (not so) enormous crowd in attendance (the insert of 3 flags is an impressive touch).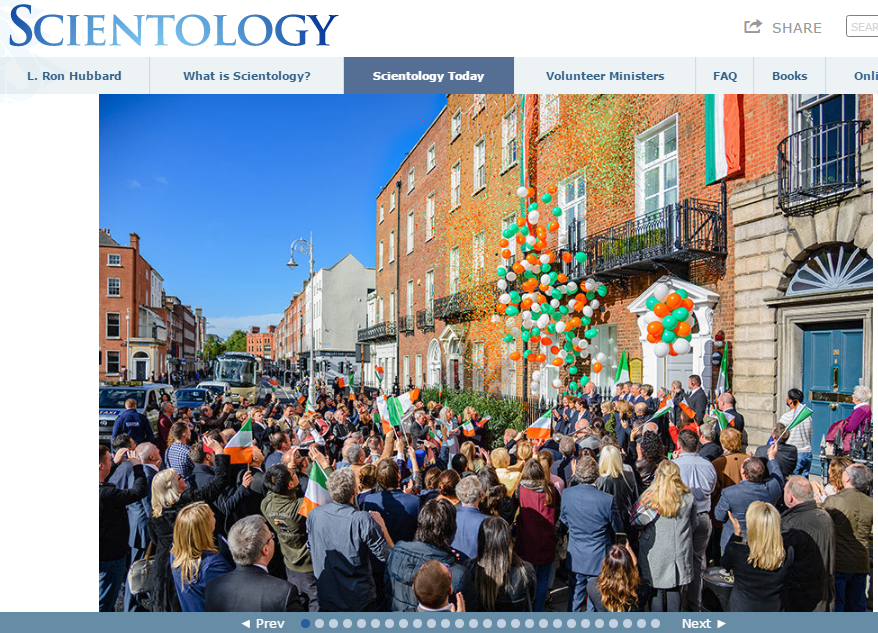 Big questions abound:
1. Why if COB was right there in England didn't he hop on Tom's plane and jump over to Ireland for the ribbon yanking? So unlike him to miss a photo op like that.  The timing was set up so that it would be convenient for him to do so. He used the announcement of the new facility as filler for the IAS event and then he could use the ribbon yanking at the New Year's Event.  Here are a couple of possible explanations.
A. They could not guarantee he would be shielded from the media, protesters or the unwashed masses because the CICS's failed to get the street closed off so they could erect lines of trees, shrubs and fences to protect him from interaction with the real world.
B. They could only guarantee 75  attendees. Not even the best hype or photoshop could convert that into "hundreds" and "overwhelming support." Counting the people in the photo makes 75 (including rubberneckers) a generous estimate.
C. They could not persuade anyone of importance to speak at the ribbon cutting so the self-proclaimed pope of scientology would not lower himself to associating with riff-raff (and when Margaret McNair is front and center and her only claim to fame is that her husband used to be a member of the House of Lords, it is a sad day). You will note not a SINGLE "dignitary" is mentioned in the copy.
2. Why no ideal ORG? Why no org at all in Ireland? How can you possibly justify spending millions on a "PR Office" when there is no scientology delivery facility in the country other than the insolvent, failing mission in Dublin? This is further proof that scientology today has absolutely nothing to do with delivering services or clearing the planet — it is ONLY about trying to gain positive PR and come up with ways to spend all the cash they collect for "humanitarian initiatives" on items that will stay on their books.
Simply put, I am sure the answer to these perplexing questions is this: Miscavige wanted something NEW to show off at the IAS event (he only had the rehash of Harlem and AO ANZO). It had to be something he could attend when he was at St Hill for the IAS event (his time is so precious – he has to make best use of it when he has flown all the way across the Atlantic).  There was no other building in the UK or Europe that could be done in time. He came up with a brilliant plan to follow the pattern of Fitzroy Street in London and the old S Street org in DC. Buy the building Hubbard had an office in and restore it to it's 1950's glory.  Hubbard made a big deal out of being in Dublin — so the simple solution was to have CST buy it to add to their collection. But 69 Merrion Square was not for sale. Miscavige got impatient and told them to find something on Merrion Square as it sounds good enough to say this is where he set up his office (they got #4). The renovations were relatively simple and no real staff are required if you don't deliver anything. Just a few imported SO members, some paint and furniture and voila! – another "ideal" grand opening.
But then the incompetents screwed it up and he could not attend lest he be put in personal danger of contact with the outside world.
Thus, a "B Team" ideal ribbon yanking. And a lot of serious butt hurt around the UK base for their incompetence.
But, all of that will not be mentioned at the IAS or the New Year's event. This will be presented as another magnificent accomplishment proving to the sheeple that all is glowing in the golden age of golden ages.
Check out the Shermanspeak that tells the world so.
I have highlighted a few points of interest.
Most notably, Miscavige WAS intending to officiate at this ribbon yanking. The webpage was written before the event even occurred and it still includes his "quote" even though he was not there. Now it implies he was.
Apart from the obvious, the fact they are now reducing their claims of the number of active scientologists to "tens of thousands" reflects the hard reality that they cannot just blithely talk about "millions" or "tens of millions."
And it is interesting that they try to conflate this "Public Relations Office" with openings of "churches of scientology" as if this is one and the same thing.
And finally, you just gotta love the cultural epicenters….
PS: Here is the sort of PR this generated. Article in the Irish Times: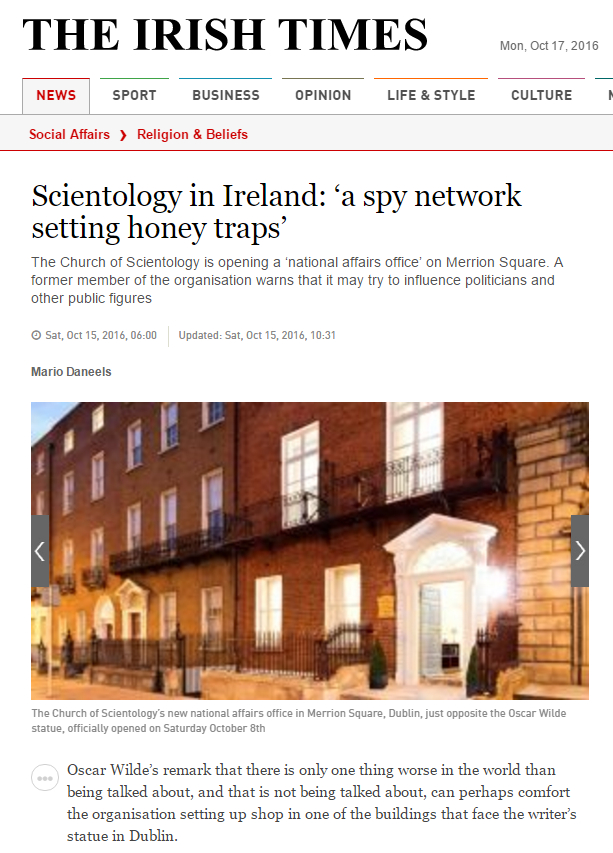 PPS: That Hubbard quote about the weather in Dublin is taken from Professional Auditor Bulletin 76, March 1956 "Office in Ireland". Here is the rest of the paragraph:
If the weather is cold the Irish heart is warm. The country and the people could not be improved upon. Unlike Communist-infiltrated England, where Russia has been active with anti-American propaganda in order to rob the crown of its only powerful ally to ready a later banquet for the Russian bear, Ireland is enthusiastically pro American. Lacking things to fight, the Irishman has been shooting up Communism quite enthusiastically and so we don't even find the medical profession here antipathetic to Scientology. It's all good roads and good weather.
I guess all the good roads and good weather for scientology in Ireland didn't last long. And his predictions about England (in the same reference he railed about how they had disinvited him which is why he had left London – hence they must be communists) were clearly a little off.
In this issue he also begins talking about his planned publication about radiation (the shore story he used for traveling to Ireland was to set up a safe base that would not be prone to attack by atomic bombs).
This is a short segment of that PAB about atomic war and scientology being the only cure for radiation poisoning. In it Hubbard talks about more life threatening "research" he conducted (foreshadows the OT III life threatening research story by a decade or so). I am sure commenters will have plenty to say about this – perhaps I should not include so much fodder for commentary in any single post, but it all just fell out of the closet and landed on my feet the minute I looked up that quote:
THE ATOMIC FIZZLE
Wouldn't it be very funny if the moguls and high mucky-mucks of the higher insane wards of government were to have their favorite threat—atomic fission—turn into an atomic fizzle. This would be the joke of this or any other century.
Because we're all professionals here, well schooled in Scientology, let me talk a little bit about past track. This is not the first time that a planet has been threatened by the development of atomic technologies. It is on the past track many places and times that planets have been scorched and made uninhabitable to all forms of life. This tells us as we read our E-Meter that life is capable of abandoning a planet and going to another planet, setting up the painful process of making lichens and moss to make soil out of the stones and building a gradient scale on up to moving beings.
Atomic energy has always been a tragedy. Atomic radiation burns savagely and furiously, and life so burnt in this age and time then is incapable of procreating. In other words, an atomic burn hits mainly at the second dynamic. The reason it does is the number of times planets have been wiped out in the past. When atomic radiation came all procreation became pointless. The genetic line was over-ended and done. There was no use making new cells or new babies. There was no future into which they could go. Thus the appearance of radioactivity tends to aberrate the second dynamic. Its actual use brings about a total apathy on procreation. Radiation first and foremost when it burns is effective simply because the hemoglobin no longer makes new cells and so a person dies of acute anemia. The blood cells are, it is true, the most cowardly of all the body cells. Blood cells lake into the center of the body in a moment of fear or terror. They give up quickest when struck by atomic radiation.
I have been conducting a series of experiments, one of them almost fatal to myself, on the auditing of radiation burns. I have found that we can make an enormous effect upon radiation burns and can cure them in a milder form. That means we are the only agency, the only people on the face of Earth who can cure the effect of atomic radiation. I expect to make further progress in this direction and the whole answer is not yet gained, for the whole answer would be to actually proof a body against radiation itself.
It is rather foolish to believe that a flash of light which actually goes through and is not stopped by ten feet of concrete can yet do things of hideous magnitude to a body. That is all that alpha and gamma and the rest are—a flash of light. There must then be some cooperation on the part of the body to stop the flash which is not present in concrete. True, a newspaper held before the body interposed between it and an atomic flash can keep the body from being severely burned, but remember the actual destructive rays do actually go on through the newspaper and unless stopped by the body itself would go on through the body. On such reasoning I began to experiment to discover what the body was doing in connection with atomic radiation and discovered that it was actually stopping it.
I found out further the procreative aspect of atomic radiation came about because atomic radiation on the early track was used as a punishment mechanism. At first it appeared that atomic radiation was the basis of the second dynamic and its various wavelengths, but this is not true. They were so identified because radiation was used in second dynamic punishments and activities. Radiation is the only thing capable of reaching into the mock-up strata of a thetan and on this high wavelength knocking apart his bank. There are many black fives around whose black screens are actually radiation hunger.
On the basis that the only havingness difficulty is under the heading of "not enough" I caused atomic radiation to be wasted (until the thetan could accept it). The difficulty was trying to operate with radiative mock-ups in the vicinity of bodies. Evidently the thetan has to change his mind very thoroughly before the body can be coaxed into letting radiation pass by. The body is apparently anxious for radiation punishment, since it then no longer has to continue a genetic line.
The problem on which I am working is the actual proofing of a body against damage from bomb flash. That is between us auditors. To publication, however, it is actually factual that we are the only people who can do anything to alleviate or cure atomic fission. No serums or other mechanisms have proven effective. The most effective means of cleaning up radiation or radioactive dust in an area is the common water hose. That is the high tide of anti-radiational research. In Scientology, using standard procedures and including in them an address to radioactive masses, we can cure by remedying havingness with it radiation burns. Indeed, it requires a very skilled piece of auditing with a great deal of havingness remedy, but we can do it. 
Now I want you, and by that you I mean you, not a general editorial "you," to send me at once any article in whatever publication or any book or pamphlet of whatever simple or complex nature you have, know about and can get, to me here at the Scientology Emergency Station, address "Scientology, 69 Merrion Square S., Dublin, Ireland." Please send me as well any horror material you have. I do not even have a copy of John Hersey's book on Hiroshima or any newspaper accounts on it. You can help by taking upon yourself personally the responsibility of being the only person who is going to send me any material here. As Ireland is well removed from any such threat, the material extant at this point is very poor. I need this material in order to draw upon it for a book. This book will be called "Atomic Burns, Their Danger, Cure and Prevention," and it will be, we hope, in all the major book stores of the world and will be, I assure you, translated into the various languages. 
You see, the most frightening aspect of atomic radiation is that it is the very most basic ingredient in insanity, and people close to it, handling it or restimulated by it can be no better than totally insane. You see the threat we are up against? Now it may well be that the U.S. Atomic Energy Commission outlawed psychiatrists from its ranks and precincts simply because these, who do at least know insanity when they see it, might have been urging institutionalization of every leading atomic scientist on grounds of paranoia, megalomania, and other psychotic symptoms. My own experience with these people would confirm it. The atomic scientist in the world today on grounds of security is removed from any skilled mental observation of any kind whatsoever. Nobody knows whether they are sane or not. Researches demonstrate that the stuff they are handling would bring about insanity in them in very short order. A light look at the subject demonstrates that they have a craving for the destruction of all life. They are totally careless and conscienceless when questioned on the subject of destruction of men, women and children in cities. They are equally conscienceless concerning the injury of their fellow workers.