I have known Andy Porter for many, many years.
He was somewhat of a legend due to his work opening Russia and many of its former satellites to scientology. Andy spent many years defining the term "pioneer." He was an unsung hero who did a lot of the REAL work behind the scenes that ended up being glorified in IAS Freedom Medal winner videos and other event presentations.  
Andy now hails from the northwestern corner of Washington State where he lives with his wife and 10 year old son.  He is an accomplished landscape photographer focused on capturing the beauty and majesty of the North Cascades. He sells fine art prints, teaches photo classes and gives photo tours. You can see more about Andy and his images here: www.AndyPorterImages.com
I have included a couple of his photos to give you an idea of his skill and to add some aesthetic beauty to this blog for a change.
His story is quite lengthy, and certainly will be very difficult (and probably not of much interest) for a never-in to get through. But it is so well written, and encapsulates what so many others have told me, that I know it will resonate with a lot of readers here.
And it is timely, as you discover when you get to the end.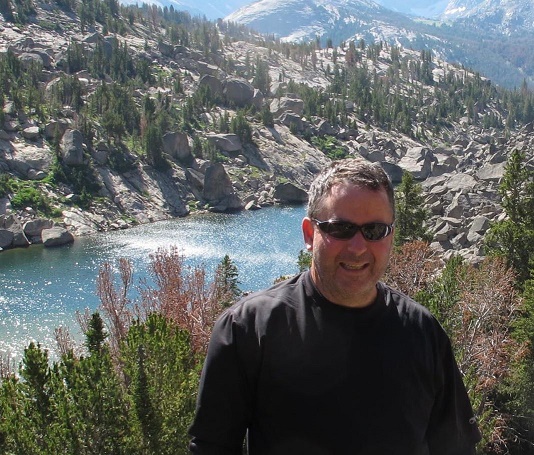 My Sojourn to Flag, the Mecca of Scientology
 By Andy Porter
Predawn light filters in the window along with a cool breeze. Awakening each morning is like being under water and swimming upwards, the surface and the concept of light a pull for my attention. As consciousness approaches I begin to take stock of my current state. It's like poking your toe in a tub of water to gauge its temperature. Where am I? How am I doing? What's in store for me today? Is everything alright or am I in for a shit storm? I have a deep knowing that things are bad, but I try to shake it, hoping that this reality will fade like a fog suddenly expose to sunlight…
No such luck. The deep gashing feeling of despair and the premonition that something bad is going to happen to me wraps its tendrils about my soul.
I am asleep in a room I am renting in Clearwater, it's a simple mattress on the floor and not uncomfortable. I sense the ambient humidity and feeling and smell of Florida. The reality of where I am is now forced upon me. My efforts to deny this reality have failed.
Fuck.
Another day of hell.
My first anxiety is about food. I am not hungry, but am expected to be well fed and rested for the on-going interrogations. I stuff my gut with eggs and breakfast and try to clear my head.
My mood is…serious, despondent; definitely not happy or care free. Scared is my most prevalent emotion or maybe dread is a more apt term.
Way down deep at the base of my awareness I know that I am miserable and unhappy because of my current "therapy" but I cannot entertain such thoughts. My indoctrination kicks in: Any and all unhappiness I feel is my own fault. And any idea that my suffering is in any way caused by the Church only proves how utterly aberrated I really am.
These feelings of misery are suppressed so fast that I hardly notice. They weigh heavily on the periphery of my awareness, but are never acknowledged. I get ready and catch a ride to the Sand Castle. I make it into the building and say hello once or twice on my way upstairs to the NOTS HGC. I check in at the window and sit. I am staring out at the palm trees and working hard to not think. Thinking is bad, worry worse. Just be here. Look at the plus side: I am here at the Mecca of Scientology awaiting my start on Scientology's most sacred level, OT 7. I should be the happiest person alive.
But I am not. I know what's coming and start to think again: Why is this not fun? How can it be possible that I am not enjoying myself? …but before I follow this very far I put the brakes back on…no thinking!
Someone calls me to the window and asks what I had for breakfast and how many hours I slept. Giving the right answers I am told to have a seat and that I am up next.
I sit again and take several deep breaths, working to master my mind and emotions. My auditor arrives and ushers me into the auditing room, I sit and get comfortable. There is hand lotion, a heater if I get cold, a fan if I am hot, everything a person could want.
The auditor gives me the preamble: "I am not auditing you" and starts the session. This is to let me know that whatever I say in session can and will be used against me at some later date. The Security Check (Sec Check) I am doing is designed to see if I am eligible to start the level of OT 7, Solo NOTS, which means New Era Dianetics for Operating Thetans. It is one of Scientology's highest levels. The End Phenomena of the level OT 7 is reported to be: "Cause Over Life".
I have been at this process now confessing any and all real or imagined sins for about 100 hours. A hundred hours of pure grueling torture, from my perspective. I have been asked over and over about any discreditable acts I may have committed in life…or against Scientology. In reality, I don't have any crimes or harmful acts to amount to a mole hill. I have not embezzled any church funds. I have not seduced the minister's daughter (or wife.) I have not beaten or maimed anyone. I have not started buildings on fire or murdered any person. Despite this lack of meaningful crimes (or even juicy misdemeanors!) my interrogation has gone on and on and on.
The auditing session begins and the auditor asks me if I have an ARC Break, meaning a recent upset. The auditor is focused on the e-meter to tell him the answer to his question. What I say is apparently secondary to what he reads in the meter. He looks at me with a glance that tells me he has seen a read on the meter indicating that I do in fact have a recent upset.
And I do. I am upset ("upset" being a mild description of how I really feel) about the length of the sec check. I am upset that it has gone on for more than 100 hours. I purchased 13 intensives of auditing (an intensive is 12 ½ hours) I got a discount for buying many at once, so I paid about $5,000 for each one. Almost all the money I paid has been used up, and the only result is that I feel immeasurably worse than when I arrived. To be even more direct, I hate the process, I feel it is demeaning, belittling, suppressive, oppressive and I am so fucking pissed off I can hardly contain my emotions.
But that's not smart. Anyone in Scientology knows that ANY complaints, or any emotional negative response about confession means only that you have more crimes to confess.
So, I calm myself and explain that , "No, I do not have an ARC Break". The auditor now asks me if someone "said I had an upset when I didn't have one?" And I say, yes, you just did.
This works, and the auditor says that my needle is floating (I don't believe my needle has floated in months, since this nonsense started) and we get to move forward on to the next question, "Do you have a present time problem?"
Well, let's see…how to start? I have a problem that I just borrowed $40,000 to buy more auditing for the torture…er, Sec Check. There is the problem of knowing that something is wrong, and not wanting to continue…there is a problem that every day people see me, my friends and they ask me how it's going, envious that I am "getting onto OT 7" and I have to lie and tell them it's all wonderful and that I LOVE it. Yes, there are a LOT of problems.
But I am in a twisted version of Ground Hog Day…living the same shitty day over and over…and eventually I have learned from my mistakes.
In sessions past I have vocalized my worries, concerns and upsets. I explained my doubts and fears…all to no avail. If anything, my candid discussions of my reality have only made this last longer and be more torturous. One day I tried vehemently protesting the endless bullshit sec checking and blasted the auditor and case supervisor.
It was like the incarnation in Ground Hog Day when Bill Murray robs the bank and kills several people in Punxsutawney before awakening the next morning again, as always, in the same bed. My honest communication earned me a trip to the Ethics Officer and several meetings with the tech services people. They made their point: if you do that shit again, we'll throw your ass outta here and you can kiss going free good bye… forever.
So, I am thinking, No, No Problems Here! No SIR! With a big smile, and lo and behold! I get it right and we're off to the big question: "Has a withhold been missed?" This question is asking me, in so many words, is there something you have done that you don't want us (or someone) to find out about? Or, another way to paraphrase the question is: Have you done anything you don't want to talk about? Or, Is there something you have done, something discreditable, that you are withholding, but you somehow think that someone may know or guess your secret?
This is a loaded question if there ever was one. The effect of these types of questions is to introvert you, to create introversion and introspection.
When I first arrived and started the auditing process I was in a different frame of mind. I wanted to prostrate myself, to confess everything, to throw myself at the mercy of the priest, er, auditor and beg forgiveness for my many sins. Yes, I was bad, have pity on me, I was/am a sinner…
The funny thing (not that there is really anything funny about any of this mind-fuck craziness) is that I never really had anything to confess!
I had given a lecture about some aspect of Scientology (well, actually thousands of them) and I had paraphrased L. Ron Hubbard. I confess that sin. I am asked to relate each detail: Where did I commit this overt act? When, exactly did this occur? What were the circumstances? Did I justify my crime in some way? Did anyone almost discover my misdeed? Then: Is there an EARLIER time I committed such an overt (crime)? And then again; through the details and again asking for an earlier time I did a similar act. Once this part is complete (it can take a while)I am asked if there is some evil purpose or destructive intention that prompted me to commit this act? And I am expected to locate incidents that happened in past lives, moments when I was overwhelmed as a being and when I somehow adopted some insane, destructive purpose which, still with me in this lifetime, has prompted me to commit these horrible crimes against Scientology.
As I type this last paragraph right now, 15 years after this session, I pause to consider what I just wrote. I shudder at the insanity of it and then I belly laugh. Tears well up, not of sadness but of relief. I am free from this forever!
But I digress: Back to the session!
Actually, it somehow was discovered that one of my biggest crimes was that I had "permitted" many people who had attended my lectures to either audio or video tape them. In Russia where I had been for the last 5 years I had visited almost every region and city and given lectures to many thousands of people. The fact that anyone had taped them was completely unacceptable. The Ethics Officer (aka Chief Suppression Officer) was aghast that I could have committed such a heinous crime.
In Scientology LRH is the Source and God like entity creating all that is good in the world. And if a smarmy little pissant, like me, for example had the audacity to let people tape my lectures, than what I was really trying to do was to supplant LRH and become Source myself. I was trying to pretend that I was better than LRH (or at least on par with him). Someone from one of the Scientology Management offices had reported about this and had added that the video/audio tapes of me giving lectures were being traded and possibly sold in Russia!
Whoa. Let that sink in. The magnitude of my crimes. I traveled to Russia and spent almost 5 years traveling (on my own funds) to each little and big mission, helping to train the staff and enlighten the public about Scientology and Dianetics. I created good will by the truck load and stirred up tons of interest for the Bridge and drove many people into the organization to buy more Scientology courses and books. I was given scads of awards for my efforts and recognized as a part of the fantastic expansion of the church over there.
But to have let someone tape my lecture and ….sell them!!!!!! The knowledge report on my "crime" was fraught with generalities, painting me as some destructive influence. I had no idea that the lectures were being sold, and had no part in it. But instead of somebody just saying: "Andy, you did a great job over there, well done! Just do us a favor next time , and don't let anyone tape your lectures, okay?" But, NO, I needed to HANDLE my overt, and deal with the bad effects I had spread.
I was tasked with contacting every mission or group I had visited in Russia and the republics making up the former Soviet Union (thru 11 time zones), and make certain that every person who had taped my lectures was called in, and forced to erase each and every one of the tapes.
This stupid and ridiculous task was made harder by the fact that, though I did speak some Russian, my mastery was spotty, so I needed to call each mission, find some there who spoke some English and convince them of the vital importance (This is a situation concerning our National Security, you're lives and the lives of countless others are at stake!) of forcing all public to erase their tapes.
I spent a few weeks calling every one of 80 Russian missions. The hardest part was trying to explain to anyone there exactly WHY this was important. There was no doubt that this action created in itself more bad will and enmity for the church.
This massive waste of time and money left me in a worse condition than when I'd started. I finally got approval from the Ethics Officer that I had complied and that all tapes had been destroyed. My Mission Impossible was done and now I could report back for more auditing, er, sec checking, er, torture.
Each day early on I would attend the sessions and endure more probing. The auditor would look at me uneasily and try to smile, asking the sec check questions and watching the e-meter. The reason for the unhappiness on the part of the auditor probably came from the fact that the entire session was being videotaped. Everything said in the session, by both me and the auditor, and every note written down on the worksheets and every movement of the needle of the e-meter was being scrutinized, any small error pounced upon and any mistakes…well, you just didn't want to make any mistakes! Maybe this was the reason that the auditors who audited me all looked hunted, nervous, unhappy. Not one of them was very friendly or engaged. They seemed to have their attention GLUED to the e-meter, watching it so as not to miss a possible indication of my crimes or evil intentions lurking there, just out of view.
It seemed to me that this whole thing should go fast. I had not done much in the way of breaking any laws of Scientology or Mankind. And as I was asked the questions I would say "No" in answer. But more often than not, my answer was not accepted. The auditor, looking for some action of the needle on the e-meter, would say "Okay, well, let's have a look." And I would delve into the dark recesses of my fears and as I scanned the blackness, the auditor would all of a sudden say: "There" or "That". I was supposed to then tell him what thought I was having at that exact moment. The idea was that I had been hiding my crimes, or maybe they were suppressed subliminally, and that with the help of the auditor and the e-meter, I could uncover them and free myself.
This was the worst mind fuck of all. What are you scared of? I mean you, the person reading this right now, take a moment of pause and look up and ask yourself:
What are your darkest thoughts? What are your self-doubts? What have you done to feel ashamed of? What embarrasses you? What would you rather not speak of?
Do you sense that black abyss? There…what's that…that thought right THERE???
These thoughts and deeds are then brought out, reluctantly, like pulling teeth one "confesses". And as I had not done anything worthy of any confession my mind started to manufacture crimes out of nothing. Yes, I had masturbated. I felt slightly embarrassed to describe the details, and yes, I had looked at naked images of women… but what did that have to do with getting sec checked? How was that a crime? How in the world was my jerking off supposed to have any connection to going free or being an Operating Thetan or saving the earth?
I know it sounds ludicrous. I laugh when thinking about the absurdity of paying almost a $500 an hour to be forced to "confess" moments when I touched my dick. WTF? Many, if not all of you reading this, are now most likely thinking that I am one stupid brainwashed idiot for submitting to any of this insanity.
And you would be right!
Welcome to the world of the Upper Levels of Scientology! Oh, and there is one thing I didn't tell you, if you do make it "onto the level" , onto OT 7 then you get to start auditing yourself at home and come back to Flag every 6 months to endure more sec checking!
The result of this is total confusion. It's like being driven to the brink of insanity. What is right? What is wrong? Am I bad? But I didn't do anything wrong. But then why did it come up in the session? Why did it read on the meter?
I feel like a ping pong ball bouncing at a fantastic speed between two paddles. I want to leave here; can't leave. I hate this, can't hate it; This is whole thing is fucked, no you're the one who is messed up; I hate this, no you should enjoy it; This is a prison, no, you're going free.
And so this goes on, hour after hour (I could almost see a revolving counter, there on the table, the numbers rolling along as to how much this was costing me) day after day. Weeks and months passed.
And then the questioning is done. There are no more sec check questions to ask me!!! But this is not the end, no, no, no! The next step is that I need to go visit the Ethics Officer and handle all my crimes and misdemeanors so that I can become eligible for the Upper Level of OT 7!
I arrive at the Ethics Office the next day and wait. Actually I wait all day, sitting there my mind racing. Planning, how will I play this? Do I act contrite, or argumentative? My mood swings. I wait another day. And another. Finally I get to see the Ethics Officer. He ushers me into his cubicle, like in "The Matiix": "Well Mr. Anderson, it looks like you have committed some very serious Crimes…." And that's how it starts. The Ethics Officer is a teenager, and has been in the Sea Org for most of his life. He has little compassion or friendliness. His demeanor is serious and "I am not fucking around". He makes it clear that I have done some serious bad shit and that getting out of it is NOT going to be easy.
I had already seen him way back a few months ago, to "handle" the cycle with the taped lectures. But now I have more confessed crimes to deal with.
What I am expected to do is to act contrite, show remorse and have a cognition that my actions were bad for Scientology. I am supposed to realize that anything done that makes the church look bad is evil.
If anyone arrives with a different view, than you are hammered until you relent. You have to feel broken and contrite to go onto the next step, making amends. This means that you need to beg for forgiveness and actually do things that prove you're a good guy and are now on the same team as the rest of us, do or die in the attempt, a trusted team mate.
I try to explain that I am already there, dedicated to the Cause: I have been on staff in Scientology for almost 20 years straight, working for nothing and actively out there working for the Church, aiding its expansion across the globe…
I am told this is NOT accepted I need to make up the damage done. What I am expected to do is some sort of an amends project. Ideally I am expected to….drum roll….donate money! If I give money to some entity of Scientology as a straight donation, this will go a LONG way to proving I am right with the group.
I speak to the Ethics Officer for a time and review my crimes and try to get him to see that these "crimes" are nothing, that I have already contributed more to the group. I tell him that from my viewpoint, there is nothing to be handled. He shakes his head: No, no way. I get more demonstrative. I explain that the ethics books by L. Ron Hubbard separate ethics and justice. Ethics is defined as what an individual does with himself, and Justice are the actions the groups takes after the individual has shown that he is incapable of keeping his ethics in. I assert that he is enforcing some bullshit code of conduct on me and that this is a bastardization of the Tech of Ron and that he is off base. I assert further that as an OT I don't need him, or this insane sec check to ferret out times I paraphrased a quote of LRH or touched my dick, or any of it. And I go on to let him know that I do not feel these actions have been detrimental to me, or the church and that I do not agree that I need to "make up any damage done by having committed these crimes".
My soliloquy does not have the desired effect. He gets very pissy and lets me know that I am now in deeper shit. I am sent out to re-re-re-study the ethics book and write down more of my transgressions. And if that doesn't work, I will be sent back for more sec checking, (at my expense).
I walk out to the waiting area and sit. What to do? I want to just walk away from this mad house. More destructive ideas cross my mind (REAL destructive ideas, like burning this fucking place to the ground) and I smile to myself. Then I quickly look around to make sure that no one sees me smiling, lest they guess what I am now thinking.
I take stock of things: My life is completely wrapped up in the church. My life has been spent trying to help Clear the Planet for 2 decades. All of my close friends are "in" Scientology. Part of me so very much wants to just walk off. But I cannot do it. I have asked myself why numerous times. I feel a duty. I have a hope that things can get better. I have had fun being out there doing lectures and spreading the Technology of Scientology. I have had, in the past, gains and improvements from receiving auditing and Scientology classes. I am part of a group. And at the same time I am trained to think that my discontent is simply because I am screwed up. It's not the church that is askew, it's me. There must be some deficiency in me, some deep seated rottenness in my core that is causing me to want to leave.
I walk outside and see a nice sunset. I meet my girlfriend and she is happy from walking on the beach and she saw a few manatees today. Life is not all bad…
And so I decide to run the gamut of self-humiliation and depreciation and get the cycle done. I go back the next day and read the book. I try hard to be a good little soldier and think about how I could have been bad. I write down the correct thoughts and feelings and turn them into the Ethics Officer.
After my last tirade he is not easily convinced that I have now seen the light. Groveling is needed to convince him that I am not now faking it. And more groveling.
At one point I need to write up an entire narrative detailing what bad things I have done, my realization that I was bad, a new declaration as to who my friends REALLY are(Scientologists in Good Standing) and I need to make up the damage I have done and then ask to be accepted back into the group.
I finally, after a few more weeks, get this done. The Ethics Office approves it. He is proud of me. I have managed to ingratiate myself, by saying all the right stuff.
Now I am sent out to have other people read my story and ask them to accept me back into the group. I approach a person on the base and ask them if they will look at my Liability Formula. This needs to be done in a soft, contrite way.
So, they read it and either sign their name under the column as approved, or disapproved. I need to get a majority to approve me and I am done. There are dozens of other poor victims here, just like me going through the same process of confession, purification and redemption. We never speak to each other, each of us in our own private hell. Each of us not wanting to communicate our feelings about how fucked this is for fear that the other would rat us out and so lengthen the process.
This takes about a week, just this step. During this time I am also asked to look at others liability formulas. I am always curious to see what "bad" things they were supposed to have done and what they did to make up the damage.
I am surprised (though I shouldn't be) that no one has committed any "crimes" worse than mine. Everyone is here confessing things and making amends for…nothing!!!!!
And then the truth finally hits me: This entire process of sec checking and determining if one is eligible for the OT Levels is really just one big extortion racket. It's a perfect scheme really. The process is to make you feel guilty for things you've done that are in no way crimes, or even harmful. To anyone.
And just that act alone, making people "guilty" for nothing, now THAT is a REAL crime. They are fucking with people's reality and sense of rightness to make a buck. And then the next level of the scam hits me: it's all about how to control people. The threat of not being able to DO the OT Levels, the fear of losing your friends and family, or your income source, these are the stock in trade of the consortium of sec checker and ethics officer.
And then the final realization creeps in to my mind: Hubbard has written several bulletins where he describes how psychologists and psychiatrists have plotted to trap beings, evilly introverting people to cause them to be inactive and dead. And here is the Church of Scientology, the Flag Land Base, the Mecca of Scientology, doing the exact same thing to its upper level adherents: belittling, introverting and trapping them.
Ron Hubbard once said in a lecture that you have to be careful in what you fight, because that which you resist you become, and then he adds: if you lose.
And so it goes: Scientology, with all of if its vaunted purposes for Freeing Beings and Creating a New Civilization has become what it resisted and is now in the business of trapping beings in a strait jacket of fear, mind control and despair.
I snicker to myself: I have reached the End Phenomena of the Level!
So what I achieved during my 5 month stay at Flag in early 2000 was that I used 13 intensives of auditing to gain acceptance to be allowed to start on the level OT 7. And by the time I was finally found to be eligible I decided that I no longer wanted to start the level, but instead wanted to leave.
I was out of money (actually now in debt) and pleaded that I was now without means to stay and needed to return to work. I was pressured heavily to stay and start OT 7 ("You're SO close…") but I persisted and was finally given the green light to go. I recall the final "routing out" gauntlet of interviews and e-meter checks I had to pass: I had a form with specific people I had to get to sign off that I was okay to actually leave. I went to see each one, careful to say just the right thing, detailing how I was heading out to work hard and bring in more people to Scientology, how I would save money and return soon for a new eligibility and sec check (if I left now and returned later to start OT 7 I was required to do it all again!!) I expressed my deep regret about having to leave. Finally I made it through the checklist to the last step where I had to see someone who would interview me on the e-meter. They asked me if I was satisfied with my stay at Flag. I was sweating bullets, scared that somehow they would discover my deception and take me back into another auditing room for more interrogations. I tried to focus my attention on being away, far away from this place and free from all of it. My plan worked and my needle floated, probably for the first time since my arrival.
I was free to go.
Hurriedly I left the building and with more than one glance back to see if anyone was following me.
Post Script:
As I sit here at the keyboard I am considering why it took me so long to relate this story in its inglorious detail, what caused me to remain silent for 15 years. And there are several answers. One is that the whole incident is embarrassing. No one wants to admit to being duped. And there has been this lingering fear of reprisal. That somehow they would strike back at me.
Two things have changed this for me. One was that just last month I finally severed any last wispy tendril of connection to the church. I had been working with someone who was still in the Church and did not want to make his life more miserable.
And then last week I saw an interview with the people who made the new HBO film about Scientology "Going Clear: Scientology and the Prison of Belief" that comes out later this month. There was Mike Rinder and Paul Haggis, Alex Gibney and Lawrence Wright (all supremely Suppressive People) being interviewed and laughing. I could see that there was nothing left for me to fear. Something clicked, some charge blew, some held down 7 was erased and I finally felt free.
And that's a good feeling.
Andy
And here are just a couple of Andy's photos — take a look at his website for more. They are spectacular.