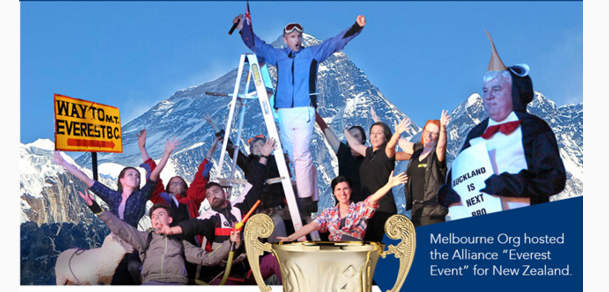 There are so many odd things in this promotion.
How strange that one of the oldest scientology organizations on earth is incapable of achieving Ideal Org status without getting orgs in another country to help them do it? Tells you everything you need to know about the state of scientology in New Zealand. Dead. For decades.
Why aren't the "ideal orgs" in Sydney and Melbourne getting Adelaide, Perth, Brisbane and Canberra to ideal? They're at least in the same country and a lot closer.
And woohoo — Stev Green is going to join the long line of "upstat public" who will join staff and fail miserably. But not to worry, because he announced his plans to make New Zealand the first cleared country in the world. Not just Auckland mind you. The whole country. Yet they cannot even muster enough "energy" to get their own "ideal org" done (the building itself was purchased by the IAS I think when Tom Cruise was in New Zealand for some filming…)
And apart from anything else, I have to comment on my brother, looking resplendent in the penguin suit with some narwhal horn sticking out of his head. He apparently never learns. Maybe he should spend more time in the Melbourne and Sydney ideal orgs he spent so much time fundraising for and recognize this is a horrendously failed strategy. But this is something the bubble dwellers do not dare to do — they can never look back and see if the promises came true, they must ALWAYS look forward to the next "big thing" because if they look back they will have to confront how many times they have been lied to, how many times they have lied to others and how much time and effort they have wasted spinning in the hamster wheel of endless fundraising.