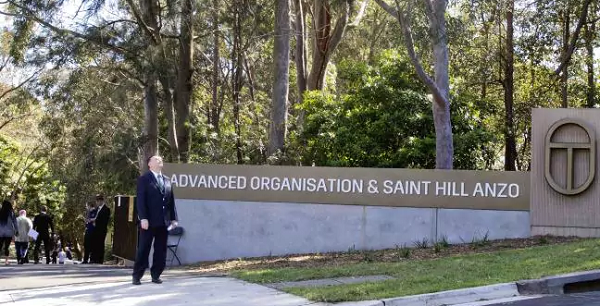 These guys are SO proud of what they are accomplishing they have to put it out for all the world to see.
Of course, it helps to attract my attention when I see my brother and sister-in-law in the thick of it.
Before looking at what they have achieved, let's put things in perspective.
This is the SINGLE Advanced Org and SH for "ANZO" — which in scientology speak is the "continental area" that includes Australia, New Zealand and "Oceania" — which "obviously" incorporates South East Asia and Japan and China. But it is interesting to note that despite a single org in Tokyo and more recently one in Taiwan, there has never been a thought of creating "Asia" as a continental management area.
Some rough numbers of how many people on planet earth this "Advanced Org" serves (numbers rounded to nearest 5 million):
Australia 25
New Zealand 5
Indonesia 270
Malaysia 30
Philippines 105
Vietnam 95
Thailand 70
China 1.4 billion
Taiwan 25
Japan 130
This totals 2.15 billion people. And it doesn't count a lot of smaller countries.
This single AO is supposed to get more than 2 billion through their OT levels. Between China, Indonesia, Malaysia, Thailand, Vietnam and the Philippines that is 2 billion people without a single org.
And here are their accomplishments: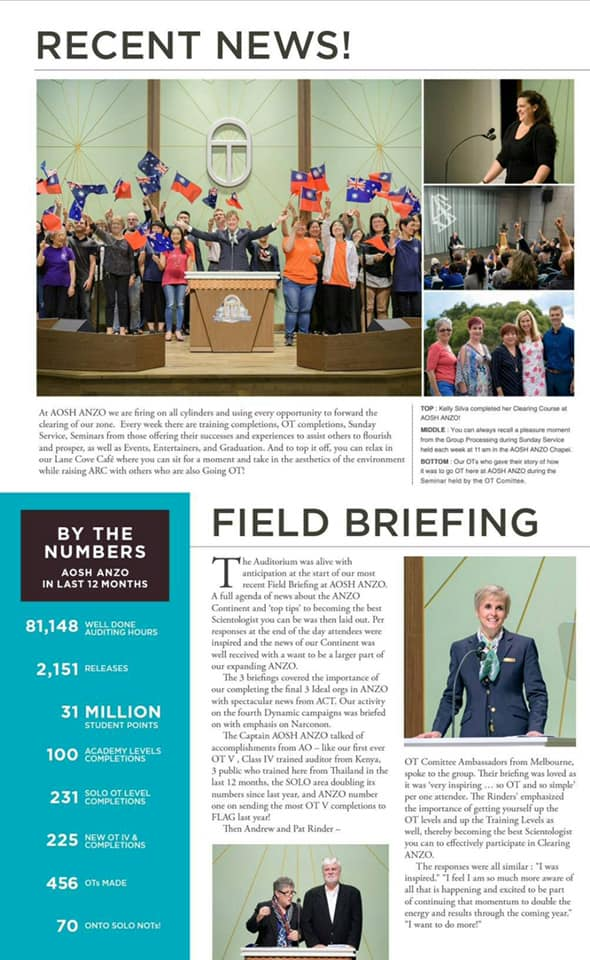 These numbers are over 12 months.
100 Academy level completions — which is everything from Student Hat to Grad V auditor. 2 per WEEK!
231 Solo OT level completions — each person who makes it to OT III counts one for each of the following: OT 1 theory course, OT 1, OT II Theory course, OT II, OT III theory course, OT III. That is 6 "Solo OT level completions" for every person who makes it through OT III. So, let's be generous and call this 100 people in a year or 2 per week.
225 New OT IV & (assume this is "IV and V") — so this is 2 for each person. Let's say 2 people per week over the year.
70 onto Solo NOTs. No wonder Flag is shriveling on the vine.  70 in a YEAR from almost one third  earth's population (not sure really where India goes — UK seems to lay claim to them as part of their "cont" though apart from the colonial "ownership" of the subcontinent and the the fact they play cricket, nobody seems to know why, but as there has never been an org anywhere in India or Pakistan or Bangladesh or Sri Lanka despite the "massive demand for the tech" it has never really been clarified who "owns" that part of the world)…
THIS is what they are so excited about?
First, they have "ideal orgs" in Tokyo, Taiwan, Sydney, Melbourne, Perth and Auckland. This means between them they are making 2 people a week ready to move onto their OT levels. Wow. Now that's what you call "ideal."
But put in real context — out of 2+ billion people they are getting 2 people a week through OT 5 and 2 people a week through a course in the Academy and less than 2 a week onto Solo NOTs?
And they actually think they are "Clearing the Planet"?
If they did this for 1,000,000 years they wouldn't even get to 10% of the population that currently exists.
Everyone was "inspired" and they are "going to do more". Well look out world…
If these people ever actually opened their eyes they would recognize how dismally pathetic this is and stop congratulating themselves on how they are "changing the world."