STAND is obviously paying close attention to the Fair Game podcast,
No sooner had the episode where we talked to Alex Gibney aired than they trotted out a new smear on him.
From none other than the renowned expert, Will Seabrook.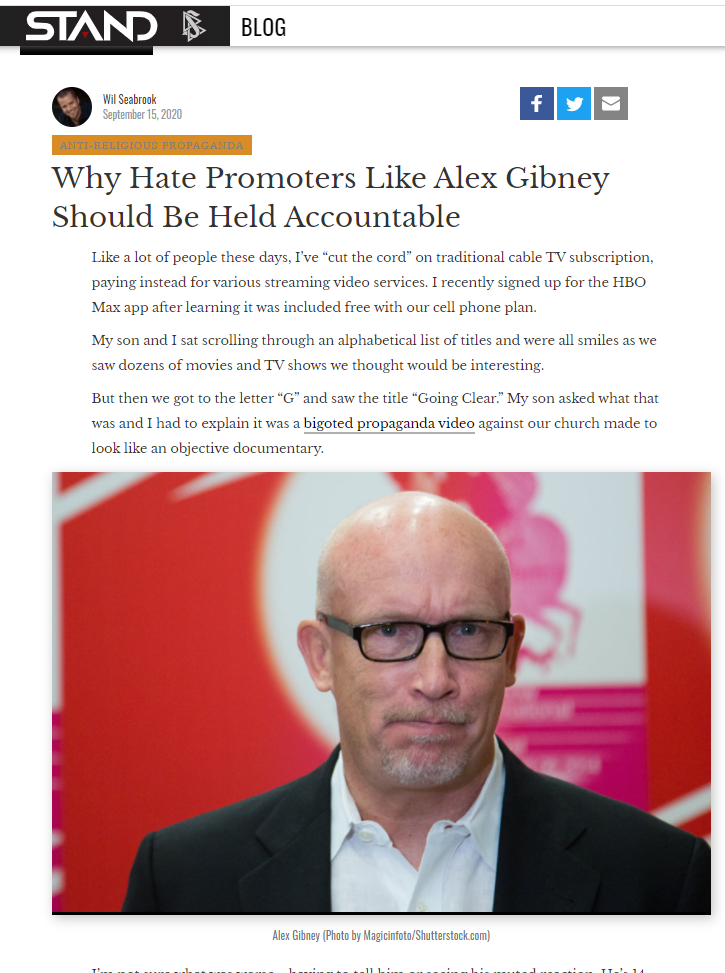 It would be interesting to ask Mr. Seabrook in person whether he has watched Going Clear. I would bet he has not.
If, by chance, he has, then I would love to ask him two simple questions: What specific can you cite to classify his film as a "bigoted propaganda video"? Tell me a single fact that is wrong? It's funny, scientology has NEVER refuted the content of the film, but have gone to great lengths to shout "bigotry" and engage in ad hominem attacks.
Will goes on to say: "Because here's the thing: the Church is either what its members say it is, or it's what propagandists say it is. It simply cannot be both." OK, how about what the EX-members say it is? The ones who are no longer under the spell of the mind prison? Because they are actually the people talking in the film. And you know Will — I do not remember you ever being at Gold? Or in the Sea Org? So, how do you know whether what the people in the film said is true?
Will then pitches another "Dead Agent" line: "And the Church went to extraordinary lengths to give the actual facts to Alex Gibney; he refused to use them," — yes, of course. All the binders of "good works" and endorsements from people that weren't even aware that the drug free campaign was sponsored by scientology? And how come not a single scientologist appeared on the show to put forth the "truth"? Where were you Will? I know for a fact that Alex tried to get any scientologist to appear in the show (just as we did with The Aftermath) and that option was flatly refused. To then bleat "you ignored our information" is pretty ridiculous.
Seabrook goes on: "I don't want to live in a world where a major cable network is allowed to get away with knowingly spreading ridiculous, demonstrably false bigotry against my church, my religion, my friends and my family. And the authors of the bigoted lies, and the media companies who spread them for profit no matter who gets hurt, should be held accountable…" So, Will, scientology has billions of dollars and hundreds of lawyers who are paid to write screeds of letters threatening lawsuits. But not a single one has been filed since Time magazine. That's the remedy available to you. Why not use it?
He then wraps things up with the obligatory brown-nosing of the Dear Leader.
But in the end Will, if as you claim "millions" are reading Hubbard's works "every day" and "experiencing what scientology is" then why do you care about a podcast? Or even a major tv show? Why get all exercised about it when you guys always claim it has no impact on your 3xpansion other than to generate more interest? That it's a "sign of success"?
Apparently the bloggers on the fringes of the internet are having a greater impact than you let on…