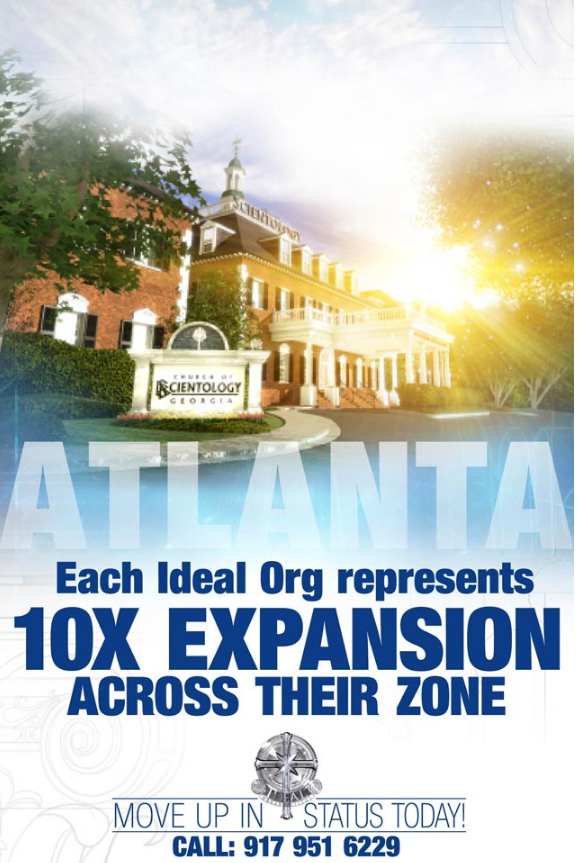 Remember these posters above featuring Atlanta as the exemplary "ideal org" that had expanded by 10X upon having its ribbon yanked?
Well, here is the REALITY …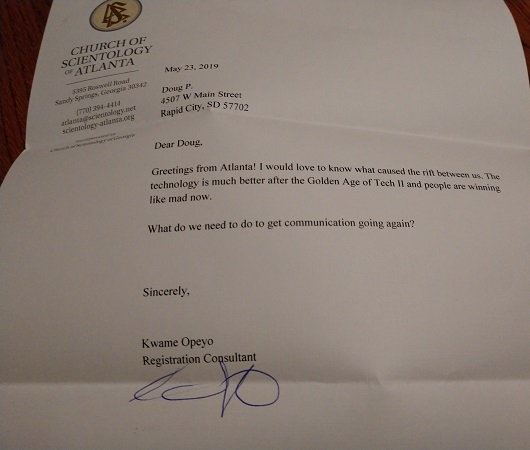 We have seen a few of the "Letter Reg" letters from Atlanta over the years. This is just the latest. It comes with a bit of back story that indicates the desperation level of this empty org.
The recipient of this letter, Doug, was only at Atlanta once in his life for about 3 days.  They have been chasing him for YEARS, trying to "recover" him.
They don't even know his LAST NAME! Yet, still they pursue him all the way to South Dakota. Like he is a "hot prospect" just waiting to get onto the Purif as soon as he discovers it is now being delivered standardly after decades of squirreling… This is what they have been told by L. Ron Hubbard to think, so they will continue to waste money on snailmail letters until they have spent their last 31 cents.
Doug also reports they no longer include the standard self addressed postage-paid envelope. Apparently they can no longer afford those.
Clearly, it is even LESS remunerative to try to get new people into the org than "recover" those who have been there before, no matter how little time they spent or how long ago it was.
Hardly a big surprise given the state of the PR of scientology these days. Just Google any term related to scientology and it is not good. Any new person is going to google before handing over their hard earned cash. They can only hope that "old-timers" might already be indoctrinated into the idea that anything negative is just psych-influenced entheta.
But this theory is not working out either. But they just keep doing it. The last person in the building before the lights go out for the last time will be writing useless letters because "Ron says this is how you make money."
Below you can see the reality of the "10X expansion" — four cars in the parking lot and the unused yellow VM van in the background. An "ideal org" planted in the middle of nowhere with no public and even less interest. Unless they try to flag down passing cars they never come in contact with "raw meat".
No wonder they resort to "letter writing" telling people who are not interested that people are "winning like mad now."