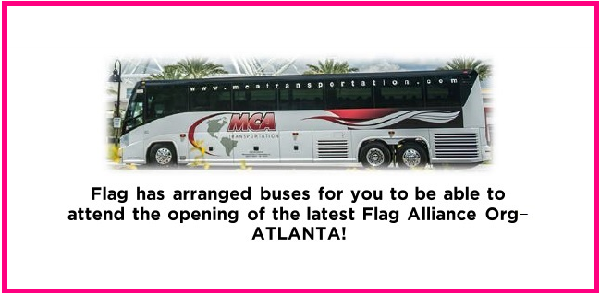 They are terrified they won't have enough people to put in the shots of Dear Leader yanking the ribbon in Atlanta.
Even though the call has gone out to every org in the US that they had better show up, they are making sure there will be "bodies in the shop" by shipping "OT Ambassadors" from Flag. This is a luxury trip — driving through the night from midnight til 9am to get them there in time for the video shoot. Smile for the cameras. Stand around for a few hours. Tour the empty building. Then leave again at 5pm and arrive back after midnite. Not anyone's idea of an all expenses paid vacation. Or even a day at the beach.
I guarantee the number of "OT Ambassadors" willing to make this bus trip will be negligible. Perhaps just a few of the die-hard ex-SO on the "Flag OTC" who are still trying to get out of lower conditions will opt into this torture trip. But there will be a line of SO Members (those who are incapable of regging anyone so they won't really be missed") ready to fill EVERY seat as those buses will NOT be leaving empty. It will be a ragtag bunch of outer org trainees, TTCers, EPFers and assorted other expendables dressed in what passes for their Sunday-best. Three buses would be nearly 200 people, which will translate into "thousands" when the scientology press release is put out at the end of the day.
They KNOW Atlanta can't scrape together 50 people on their own. And this org is a 3 hour drive from their next closest org (the tiny, shrinking "ideal" CC Nashville that could probably round up no more than 25 people) and there isn't anywhere else even close.  It tells you how rapidly expanding scientology is across the United States – not a single org anywhere else in Georgia, and none in S. Carolina, Alabama or N. Carolina. The next closest orgs to Atlanta after Nashville are St Louis, Dallas and DC. And by quirks of the scientology map, STL and DAL are both "WUS Orgs" so they are not going to have the same heat on them to make the trek to Atlanta as the East US Org.
So, the insurance policy is buses from Flag filled with expandable "bodies for the photoshoot."
This is the best indicator that David Miscavige is planning on attending this "video moment" as nobody would be bothered with this sort of stunt if he was not showing up.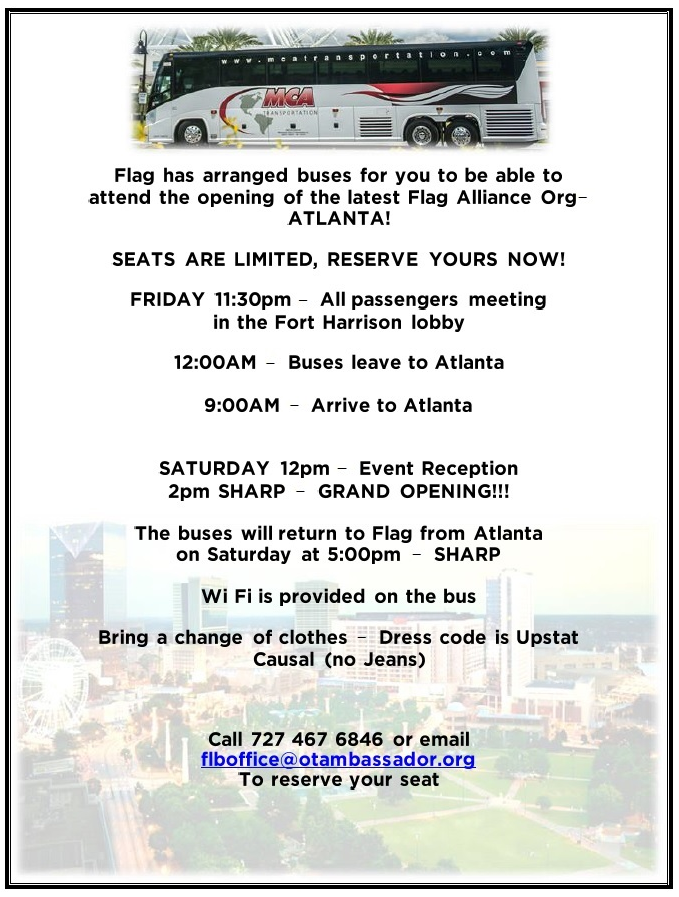 And just to confirm everything I said, a second email arrived about this super awesome, awe inspiring, energizing, revitalizing, history making event.
Muster in the FH lobby at 11:30 (since when do public "muster"?), the trip is "free" (scientology gives NOTHING away – they HAVE to have these bus loads of bodies) and the plan is for those who travel in the bus overnight to "freshen up" in "restaurants nearby" when they arrive at 09:00. Wow. What a deluxe trip.
It's all good though, as there will "possibly" be videos on the bus.
What an energizing trip this will be.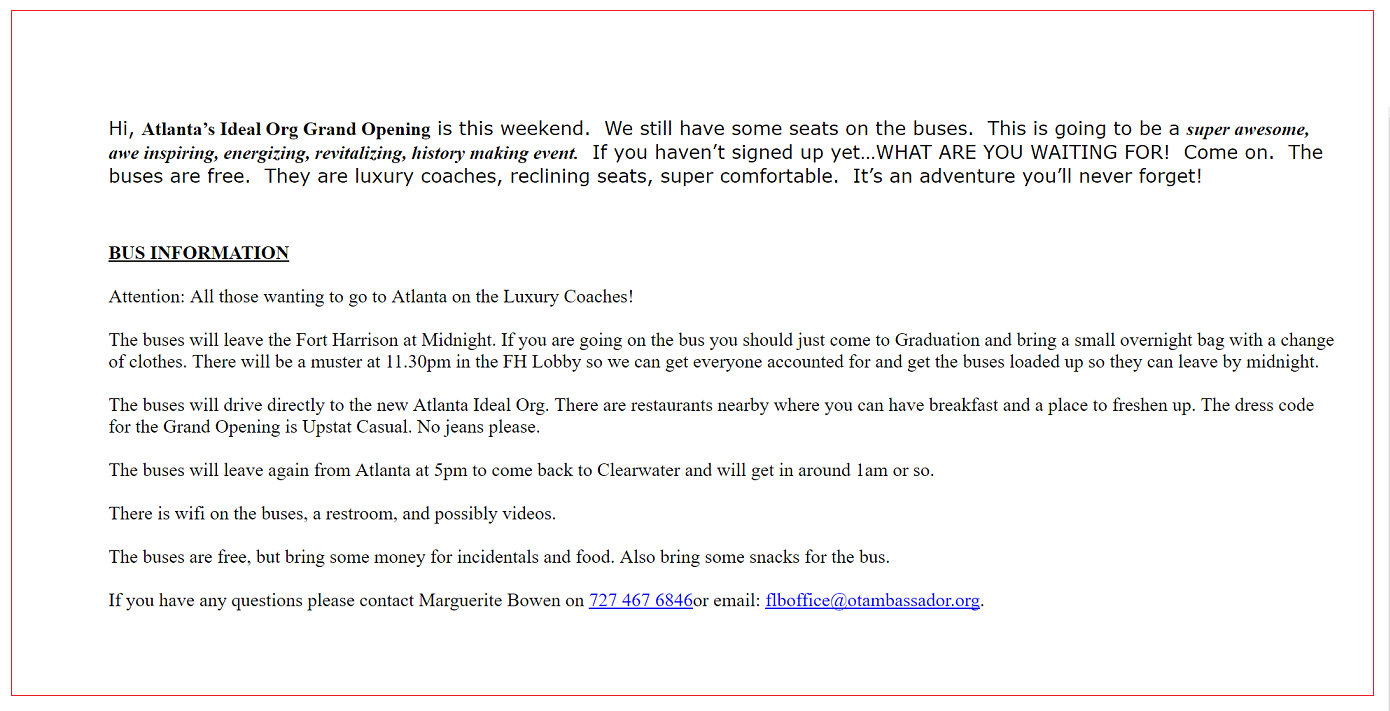 And not to miss an opportunity to brown-nose, the Queen of Flag and self-proclaimed biggest supporter of COB chimed in with a last minute plea:

Finally, here is the bizarre rundown of the importance of Atlanta ideal org, as written by a poorly educated, semi-literate Sea Org member in CLO EUS.
Atlanta is "a city that stands for Freedom to equal living" and "a city of Religion and Civil Rights" – WTF? Knows nothing about Atlanta or US history apparently. And it does not get any more coherent or accurate beyond that doozy of a first paragraph….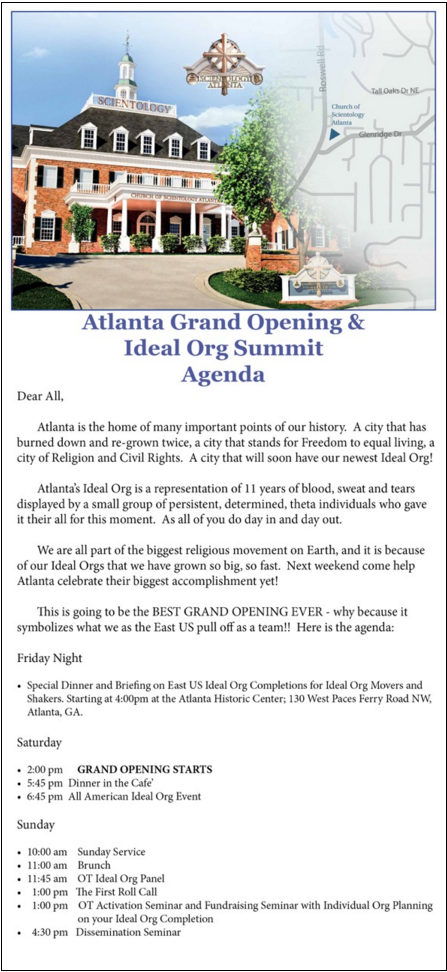 Scientology, putting its best foot forward.
It's just that its foot happens to be a 50 year-old carved wooden prosthetic trying to masquerade as the healthy, vibrant foot of an Olympic gold medalist.
These days, nobody is buying it.