Another illustration of the crazy that is the scientology bubble. And it gets worse the higher one progresses on "the Bridge."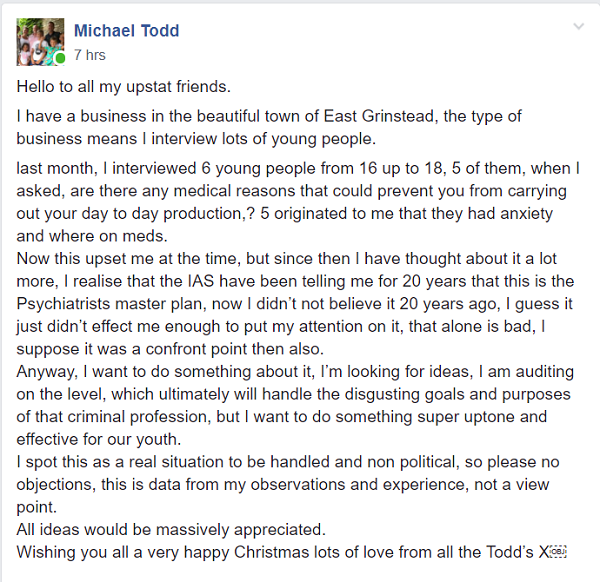 I am not questioning that there is a problem with over-prescription of medication or too much diagnosis of depression or anxiety.
I am questioning the bizarre conclusion: "I am auditing on the level, which ultimately will handle the disgusting goals and purposes of that criminal profession."
How these deluded OT VII's can possibly believe that getting rid of their body thetans is going to handle psychiatry is something I would love one of them to explain sometime. They believe they change the weather and brought down the Berlin Wall and caused the rain to fall in Australia (which didn't extinguish the fires — I guess putting out the fires isn't one of the things they can accomplish?). But what leads them to that conclusion? By their own definition body thetans are "lesser" beings. How sending them into the world changes anything I don't understand. And if you ask this guy "scientology promises to give you superhuman powers" he will laugh at you and tell you you should not listen to the "entheta" — scientology promises nothing (unless it is a reg trying to get your money).
The Hubbard line that all psychiatrists are "criminals" and that this "profession" are all "whole track implanters bent on destroying mankind" is something else I would love one of these people to explain. What is this based on? Hubbard's "research"? His "whole track recall"? I bet this guy has never met a psychiatrist. Yet he is absolutely certain they are ALL criminals. Simply because L. Ron Hubbard said so.
There is no evidence for these assertions — but they are stated as absolute, unalterable fact. And they will fight you tooth and nail if you claim scientology is a belief system.
And finally, his odd "please no objections, this is data from my observations and experience, not a view point"?
Yet, this is precisely what it is — his viewpoint. The "facts" he presents would not lead me to pronounce the same things as he does.
This is just more evidence of how belief in scientology invades your thinking. It is more evidence of the reinterpretation of words on display. He is absolutely certain that what he is saying is "fact" and therefore is not a "view point" and yet this is almost entirely his opinion and belief unsupported by facts — unless one accepts the "facts" that all psychiatrists are criminals and psychiatry will be eradicated by freed BT's.
So, please, no objections!
And finally — he sees absolutely nothing wrong with his statements. Sadly, this all makes perfect sense to him.