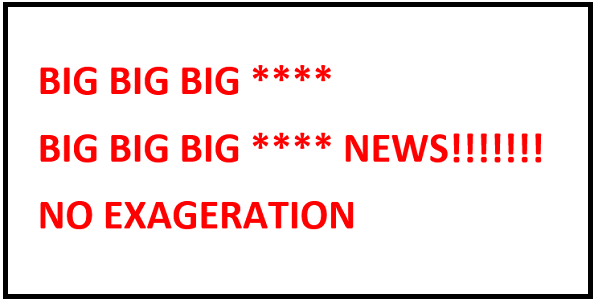 Surely, the ALL CAPS, asterisks, exclamation points and misspelled word signifies the announcement that the planet has been cleared?
At least ideal Southern California?
Or even just The Valley?
After all, the magnitude of this news is no exageration [sic]…
Alas, the 6X big news is that you can win and be awarded by handing us your money. Woohoo. What a thrill. You hand over the cash and we will not only "award" you, we will tell you that your money is worth twice as much, so you can be twice as proud! You get a $20,000 certificate and you only have to give us $10,000. Who could resist a deal like that!
And, no exageration [sic], you get to be part of the "largest virtual fundraising event in history" — can you even stand it? What more could anyone possibly ask for?
And don't forget, once these last orgs are done we will have an "ideal USA" — it will be 50 times as good as the "ideal" Colorado and "ideal" Missouri and "ideal" Washington State we already have. Can you imagine how amazing THAT will be? The entire US will be just as ideal as those incredible places that shine like jewels in the scientology universe. Those states and Utah, Georgia, California, Florida, Ohio, Tennessee, Oregon, Arizona, Minnesota and DC (may have missed some, but you get the point) are perfect examples of what achieving "all ideal" status signifies.
Absolutely NOTHING.
Now, if ever there was something to bring out the caps and punctuation marks for, this has got to be it.
I wonder if Kathy and these other OT Committee cheerleaders ever stop and think "What the fuck am I doing? 20 years of this and we are no closer to clearing the planet than we were when it all started. Actually, we are further away…."
From: Valley OT Committee <kathywelch.otc@gmail.com>
Date: Sat, Sep 12, 2020, 2:44 PM
Subject: BIG BIG BIG **** BIG BIG BIG **** NEWS!!!!!!! NO EXAGERATION
To: