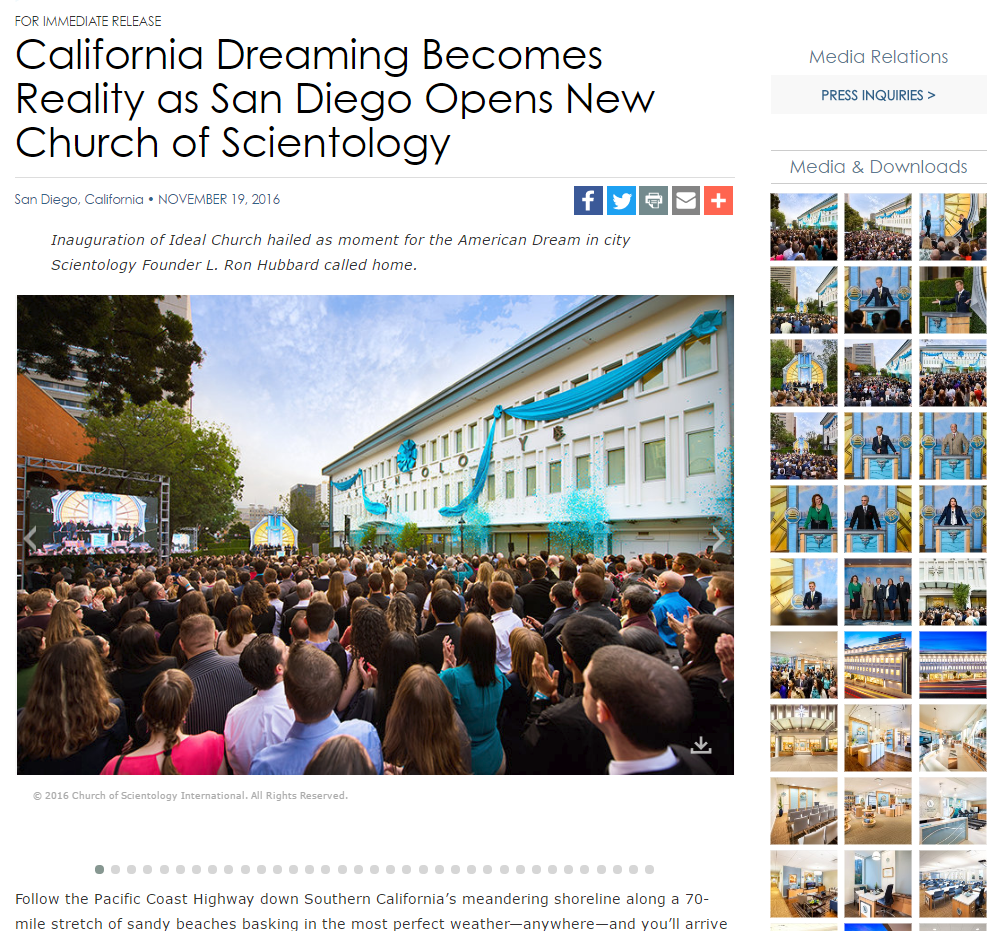 Some thoughts on the latest "ideal org" to open in San Diego this weekend.
Shermanspeak
Ah, the magnificent prose: Follow the Pacific Coast Highway down Southern California's meandering shoreline along a 70-mile stretch of sandy beaches basking in the most perfect weather—anywhere—and you'll arrive to the city of San Diego. Such was the location for a sunbaked Saturday afternoon amid San Diego's downtown skyline—a sublime setting to celebrate the city's new Church of Scientology.
The insane claims: the ribbon yanking on this building is "hailed as a moment for the American Dream" — by exactly nobody.
Miscavige babble: "If ever was a day when 'California Dreaming' assumed a whole new meaning it is now with the inauguration of this Ideal Church of Scientology, and if ever was a place predestined for this moment, then it's your San Diego. So as we dedicate this Ideal Org, we do so in the name of our Founder and in honor of this city where he once lived. And thus, we pledge our commitment to employ his technology for life—broadly, unsparingly and indiscriminately for this 'Finest City in America!'"
Repeat the big lie: The San Diego grand opening punctuates an explosive era of expansion for the Church. "Punctuates" should probably be "punctures."  The only explosive expansion in scientology is column inches/minutes of negative media coverage. The only "expansion" (unexplosive) is value of real estate holdings.
And finally throw in some biographical bullshit about Hubbard — in this case he is now the first ever surfer at Encinitas! "This was also his first point of departure for Asia—boarding a naval transport with a well-worn suit, a thin topcoat and two pennies. While in the wake of Waikiki, he tells of importing a board from Honolulu, and so became the first to catch a wave at Encinitas."
And the utterly incomprehensible gibberish: "So, yes, this is the crossroads of your history with LRH—and your future with his legacy."
Milestone and Epic Crowd
This was the org that was considered to be part of "LA" and all LA scientologists were expected to attend.
They claim the turnout was 3500. Those figures are always inflated as this photo shows.
BUT – if you take that as true, it is the latest evidence yet that the scientology bubble continues to shrink at a rapid rate. There are, according to scientology, more than 3500 Sea Org members between Gold and PAC. There are 5 ideal orgs with hundreds of staff. There is CC Int and ASHO and AOLA. All these orgs supposedly have thousands of "parishioners."
This is the most important program in scientology. It has to be. It is the ONLY thing Miscavige is willing to appear for. He hides from the public generally, the media specifically and legal cases maniacally. But a good ribbon yanking and he is there every time, even if it's in Australia or Japan or other far-flung lands (unless it is somewhere like Moscow or Brussels where he doesn't feel safe).
So, where are all the scientologists? In 1993 there were 10,000 people at the IAS Event in the LA Sports Arena. Nothing approaching that number has been seen anywhere since. Back then it was a flap if the top section of the Shrine Auditorium had empty seats. Today they cannot even fill all the seats in the BOTTOM half.
This is proof of the big lie. They renovate more buildings and there are less people in inverse ratio to the square footage of real estate holdings.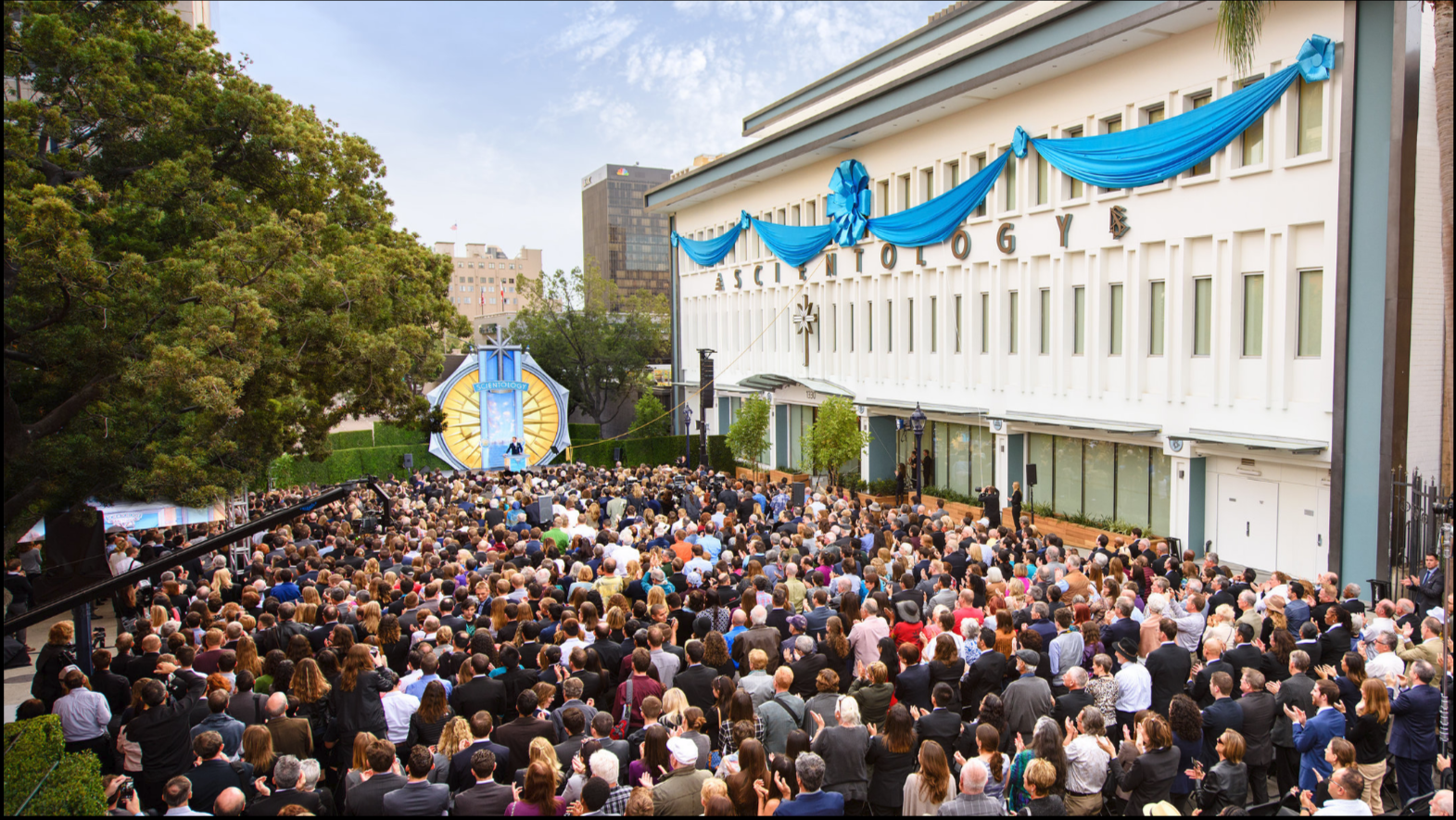 Dignitaries
Nobody of note is willing to show their faces at these sort of events any longer. Used to be Mayors, Senators, Sheriff's etc could be tricked into appearing (remember the Mayor of Buffalo and Mayor of Sacramento for example?).
Look who was there for this: Mr. John Redman, Director of the High Intensity Drug Trafficking Areas program (HIDTA) – he is also the Executive Director of Californians for Drug Free Youth has press releases put out for him by MGE (Scientology management training company) and is featured in Freedom Mag fighting the good fight against legalizing marijuana and on scientology's own website under "what we do" with an article about his good works in Baja.
Dr. Beatriz Villarreal, Education Advisor to the County of San Diego; she is really the leader of the Mano a Mano Foundation which helps youth through education. But that doesn't sound very important so she is an "Education Adviser." Don't doubt she is a nice woman who does good work.
Col. Bart Billings Ret., National Guard Medical Directorate. Also not doubt a good man. But a Google search comes up with the scientology press release on the ribbon yanking as his claim to fame.
Ms. Estela De Los Rios, member of the National Steering Committee for Human Trafficking; when you Google Ms. De Los Rios you find she is the Executive Director of the Center for Social Advocacy in San Diego — which fights hate crimes, the civil rights violations experienced by newly arrived immigrants, human trafficking, youth alienation, and poverty. A very laudable activity and something very praiseworthy. Who knows what this "National Steering Committee" is…
But of all the speakers, she is the one that should be most disgusted. She was fed these lines to spout: "In this world, with all the news headlines and chaos, we need all the help we can get. And I thank you for keeping human rights in the minds and souls of the people. Because only if we love, embrace and be respectful of one another, to not just ourselves but all mankind, can we have human rights everywhere. For me, the real heroes are people like you here today—the Church of Scientology."
How completely and utterly duped can one be? I can understand someone getting behind the other front groups — drug education or even WTH. But someone who is an advocate against human trafficking, youth alienation and poverty? She didn't do much checking into the church of scientology's history of human trafficking right there just 100 miles away in Hemet, nor its policies of disconnection or leading people into bankruptcy.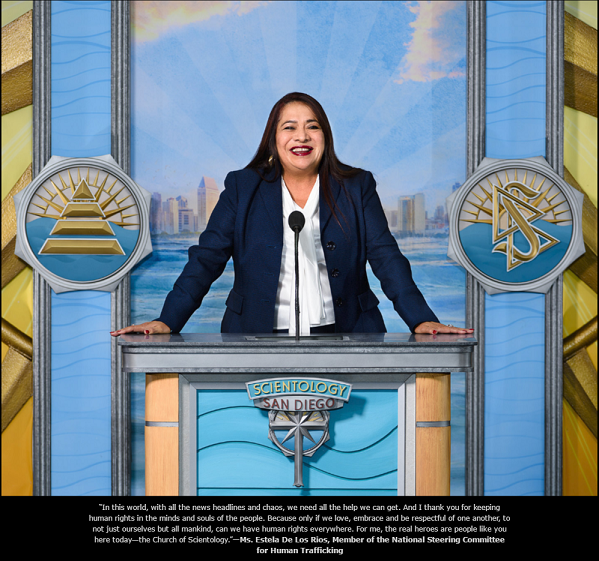 But even putting all that aside.
If scientology is so big and influential in S. California, and is so widely accepted and lauded as one sees repeated over and over at events and in IAS magazines, how come not a single member of the Mayor's office or San Diego City council, or the Congressman for the district whether state or federal or the police chief or the head of the Red Cross or, or, or… showed up?
Believe me, in the inner halls of scientology this is becoming a flap. Miscavige is raising the roof that he is being forced to demean his great self by sharing the stage with nobodies…
It's all open!
Look at the ground floor — you can see right in….
Wonder how long before those windows are covered up? The problem with being able to see IN is that everyone can see there is NOBODY THERE.
Hope someone from San Diego will swing by later this week and take some shots of the completely empty "ideal org" before they get the orders to cover up all the windows….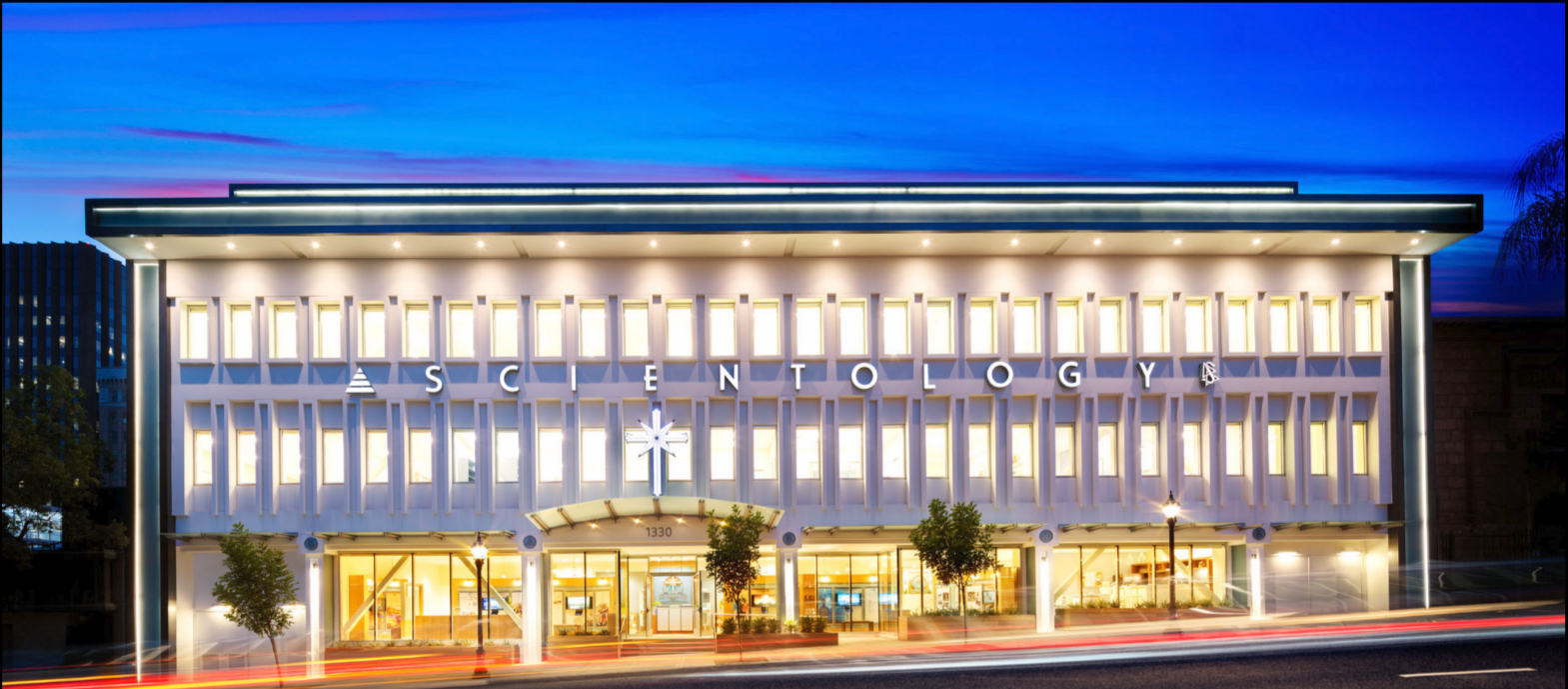 To sum up — this is all a dream. Scientology operates outside the harsh realities of the actual world, and is instead deluding itself, and only itself, that it is having any impact on anything anywhere.
If it were not for the ongoing abuses, it would not be worth 5 seconds of anyone's time.