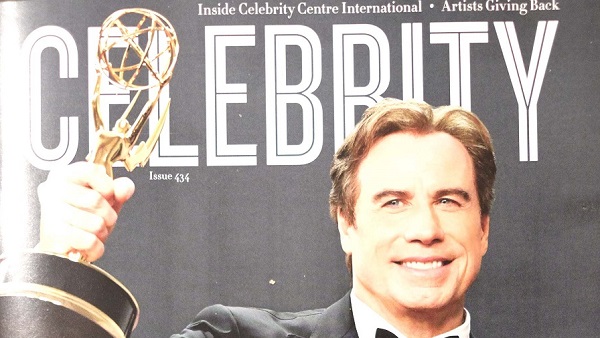 The wreckage from Hurricane Leah is evident everywhere you turn.
Scientology's PR geniuses are frantically trying to figure out how to respond to the avalanche of exposure.
Their "responses" consist of  A. "dead agenting" the source of the problem (see earlier post that defines and describes this: Scientology Dead Agents Itself), B. seeking to destroy the "enemies" who are exposing their abuses (see this article:  Dealing with Critics of Scientology: the L. Ron Hubbard Playbook) and C. "Filling the vacuum". This is described by L. Ron Hubbard in his "scripture" about how to deal with media or other PR "attacks" (black propaganda). In fact, though I have placed this as "Step C" it comes first in his list of "vital actions." This is what he says:
Fill the vacuum.
First of all, cease to withdraw. It is proven conclusively that in public relations handling of black propaganda, only outflow pays off. Saying nothing may be noble in a character but it is fatal in public relations. Yet even "experts" advise it (when they are doing their clients in).
Blunt denial is crude and can be used against one as a sort of confirmation. You don't have to announce or spread a flap and never should. PR men often make the flap. But don't interpret this as "silence is necessary." Get in a safe place and speak up. Use any channel to speak up. But don't seek channels that will corrupt what you say in repeating it.
Don't stay on the same subject that you are being attacked on.
So, here you can see a perfect example of this. Not staying on the subject they are being attacked on and using a channel that will not corrupt what they say (their own magazine).
The new edition of Celebrity mag has pulled out all the stops using an age-old scientology favorite: Celebrity endorsements.
They have not put this much effort into a Celebrity magazine EVER. I am certain this is because a celebrity is "attacking" them. And they don't want their celebrities being subjected to uncomfortable questions — so they give them a little blurb in their mag. Of course, the primary audience for this magazine is scientologists and this edition will probably get wider distribution within the scientology bubble than any previous edition ever.
But let's take a look at the magazine as it is a window into the scientology world.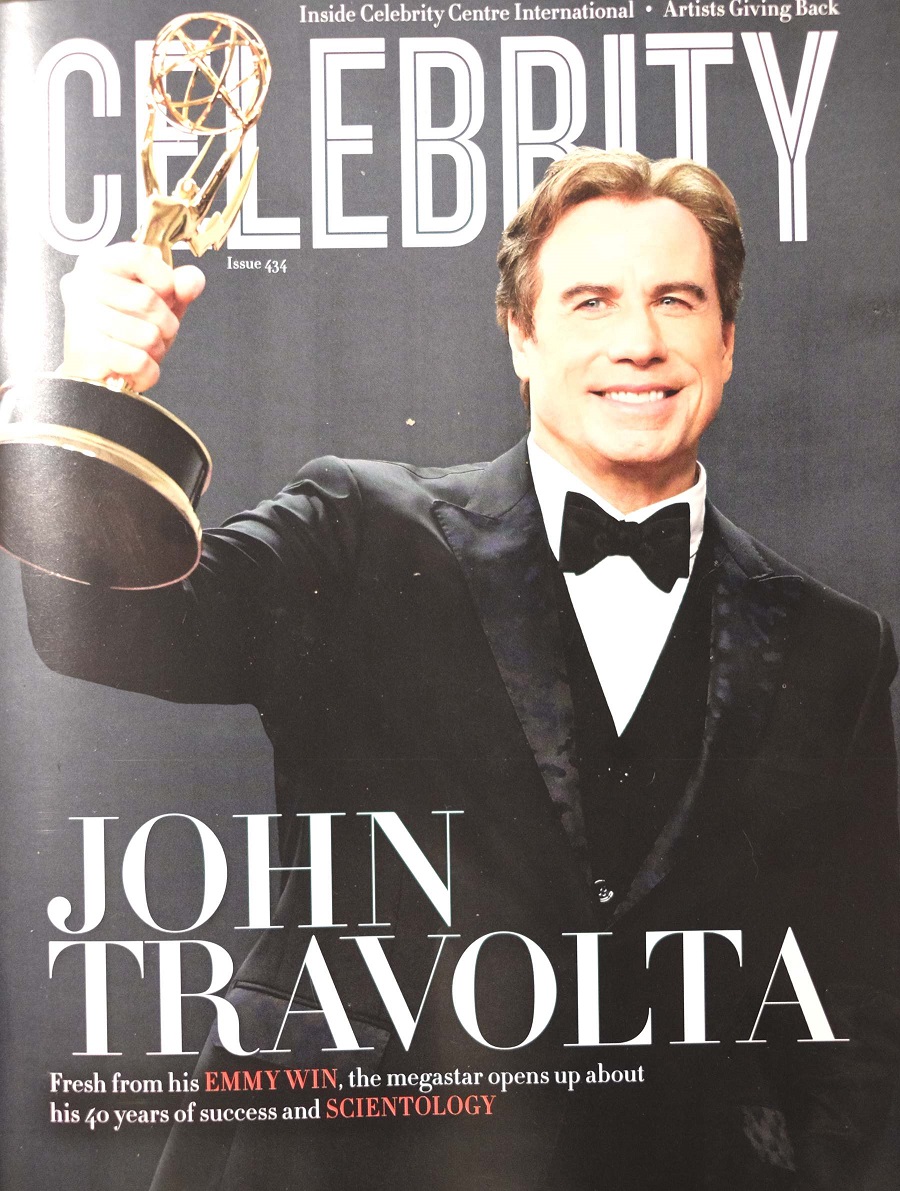 They put John Travolta on the cover. He is their biggest hitter. Well, erm, except the "most dedicated scientologist I know" and "the biggest star in the world" – Mr. Tom Cruise. So, where is Tom? He has gone strangely quiet about scientology. Of course, with the shitstorm being generated against disconnection and breaking up families, he is not in a good position to talk. 3 failed marriages. Disconnection from Suri. etc etc It would appear that someone advised him that talking about scientology was not good for his career (the same advice that resulted in Miscavige persuading Cruise to fire the brilliant Pat Kingsley as his publicist so many years ago). I guess Tom figured his job was done when he hit the 2 billion disseminated mark. He did one third of the planet alone, time for others to "keep scientology working"?
Ah well. They have to settle for second best. But Tom staying out the fray IS setting a bad example – hardly a reflection of the dedicated glare of a true scientology believer. Though he is following the courageous example of Dear Leader, the bestest and smartest spokesman of all time who maintains his Sphinx-like response. John's very lame "I don't need to watch that show to know it's all lies" is the best they're going to get as far as an actual response goes.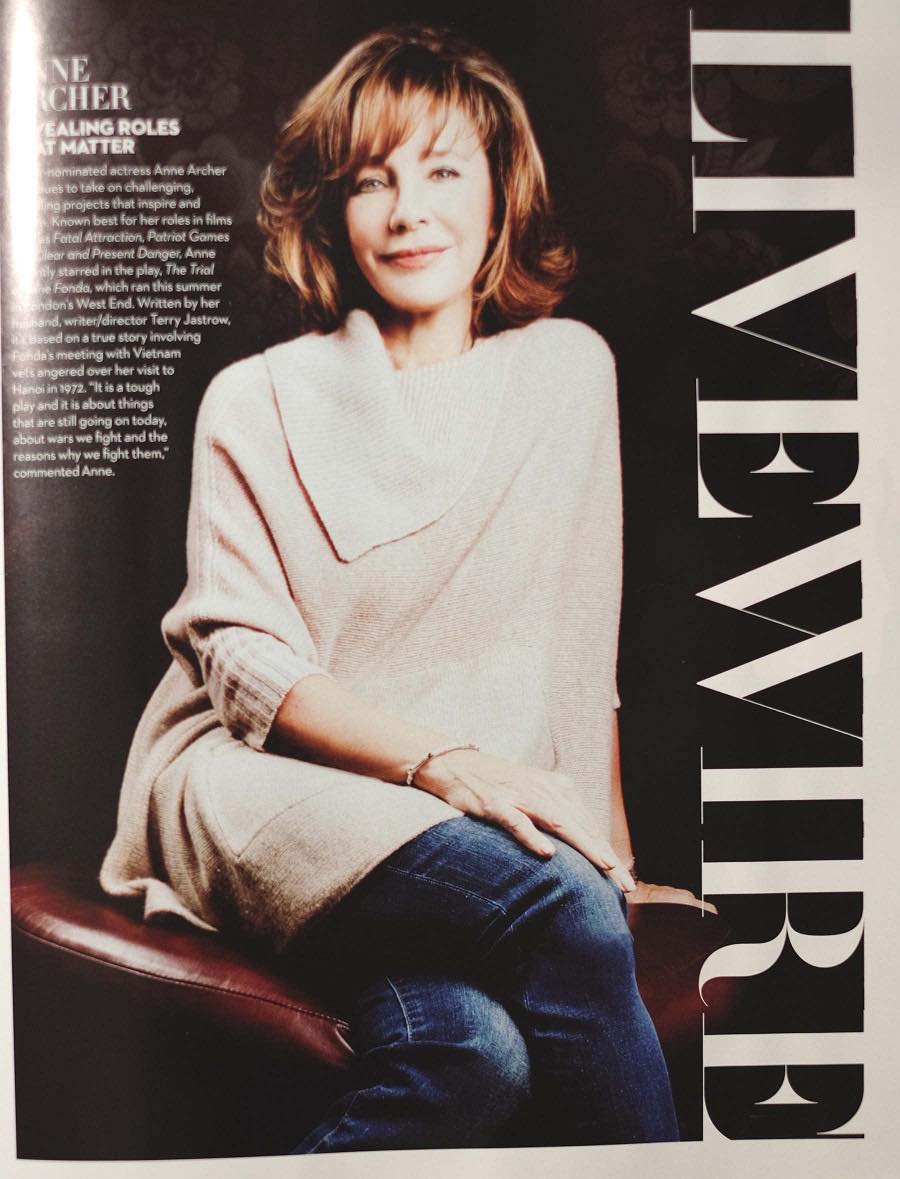 And then there is Anne Archer. Hardly a household name these days, but Tommy Davis' mom is a staunch advocate and supporter of scientology and Miscavige, so she is given second billing to JT. But she doesn't make any statements,  mostly because nobody cares what she has to say about anything. This is likely the only magazine she has been in for years…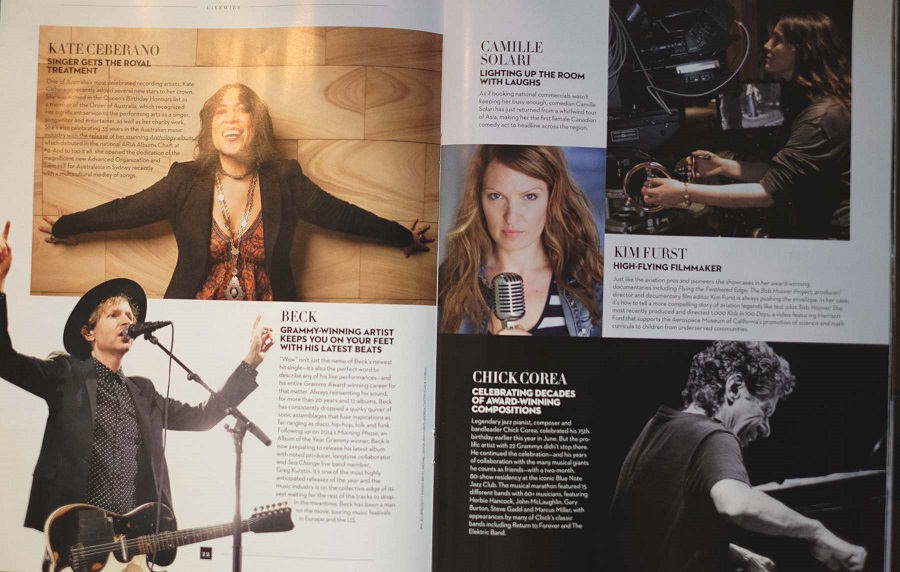 The "Musicians Page" surprised me — Beck? His parents have always been KoolAid guzzlers but for years he has been very distant and loathe to talk about scientology. I wonder what has changed other than the desperation to get as many people as possible included in this magazine? They brought a lot of pressure somehow…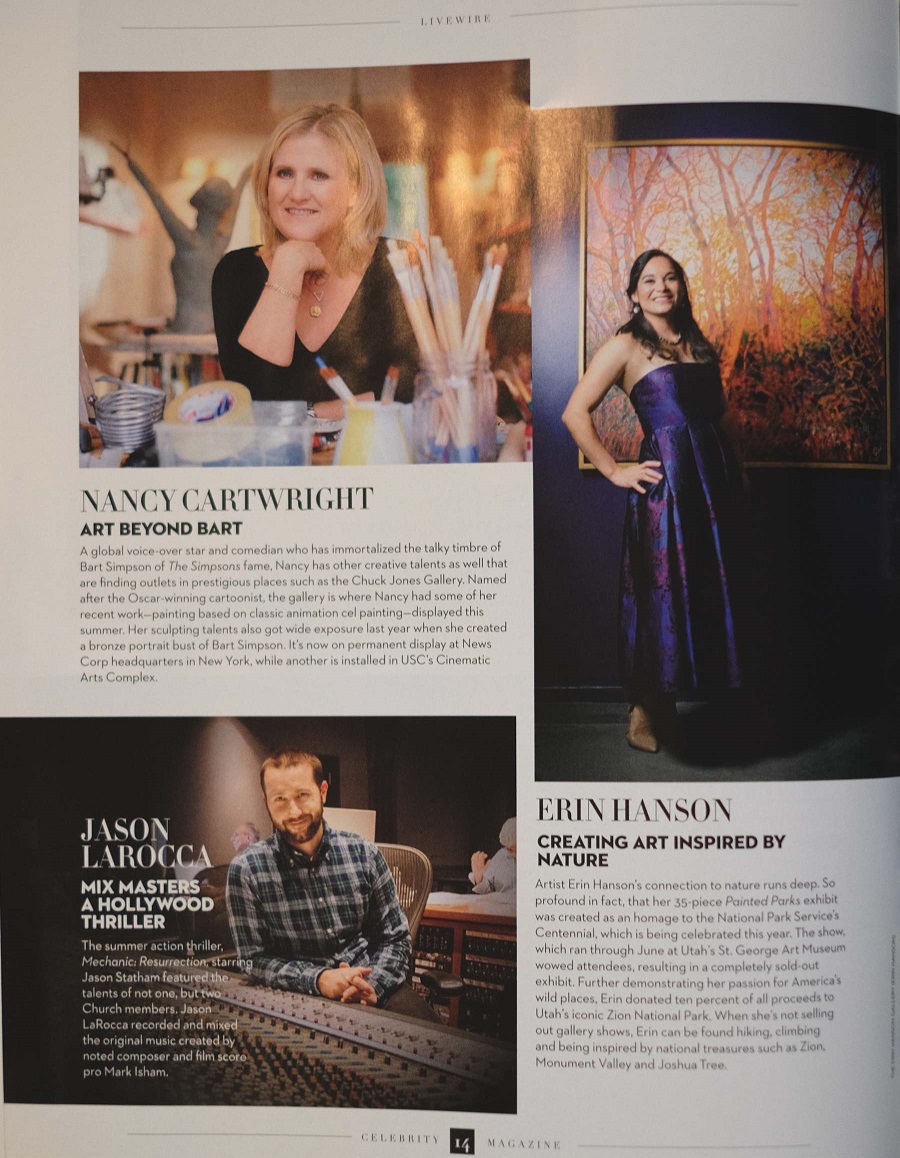 Nancy Cartwright the cartoon artist? Seriously? I guess it's hard for her to leave the impression that she knows anything or speaks with any authority when it's the voice of Bart. As for these other two, never heard of them…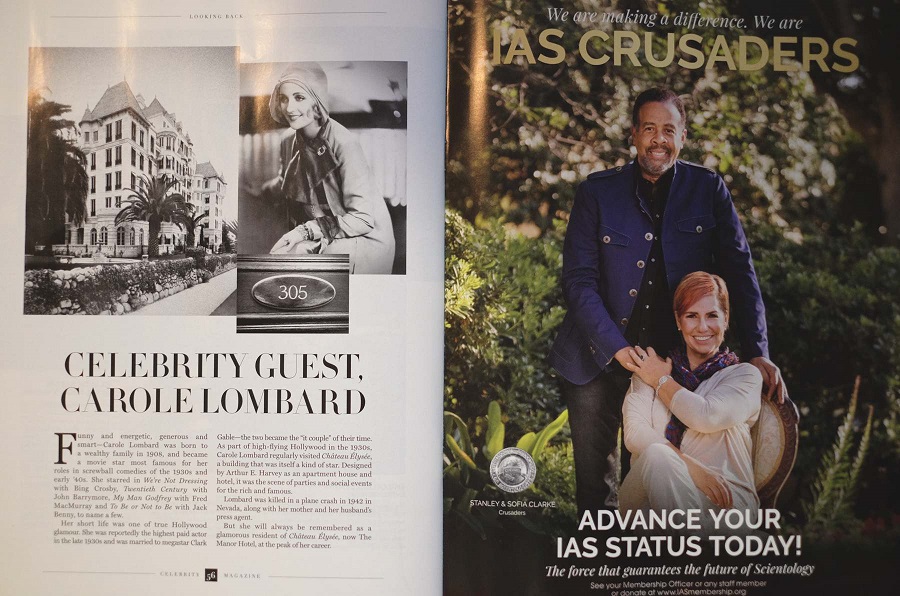 Carole Lombard? Huh? Ran out of people to include pretty fast… Maybe she is one of those people Hubbard claimed was a scientologist at one time.
And how sad to see Stanley Clarke sucked back into the fold, pimping for the IAS.
But what the hell happened to Kirstie Alley? Has she so destroyed her reputation that she is even toxic to scientology?
Jenna Elfman? Also too toxic? Or just "no career"? Hardly a scientology success story.
Laura Prepon? She IS current and a big star. Couldn't get her to agree to destroy her career with an appearance in the mag and an endorsement of scientology? I can imagine the fear in scientology circles that if she were to do an endorsement there would be a story arc about scientology on OITNB – and it would not be complimentary.
Danny Masterson? A PR liability.
Vonni Ribisi? Who knows.
Erika Christensen? A true scientology fundamentalist. An odd omission. But nobody is really that interested in hearing from her anyway.
And when you think about it, that may well be the end of the list.
What is obvious about the scientology celebrity bubble is that like the rest of scientology, it is shrinking. There are no new additions. No celebrity of note is joining scientology. Probably the last ones to dabble were Will Smith and Jada Pinkett-Smith who were lured through the education of their children. But they have distanced themselves and never got into the bubble.
The sun IS setting on scientology.
PS: Do not forget to watch the SPECIAL ADDITIONAL EPISODE of Scientology and The Aftermath TONIGHT (Monday) at 10pm. With the help of some friends we answer questions viewers have had about the shows that have aired so far. Episode 4 (The Rise of Miscavige) airs tomorrow night at the regular time.