Scientology repeatedly denies this, but here it is in black and beige.
The "Director of Clearing" of the Portland "ideal org" is proudly announcing how the "4D campaigns" (anti-drug, education, WTH, human rights, Volunteer Ministers) are really "dissemination tools" to get people into the org so they can be "closed" to buy scientology books and services. They are even conducting a seminar on "how to disseminate with these campaigns."
The truth is these campaigns are ONLY supported for two reasons:
For photo ops to try to present the image that scientology is selfless and provides some form of public benefit
As a means of enticing people to "find out more about the works of L. Ron Hubbard" and suck them into the money vacuum that is scientology.
Period.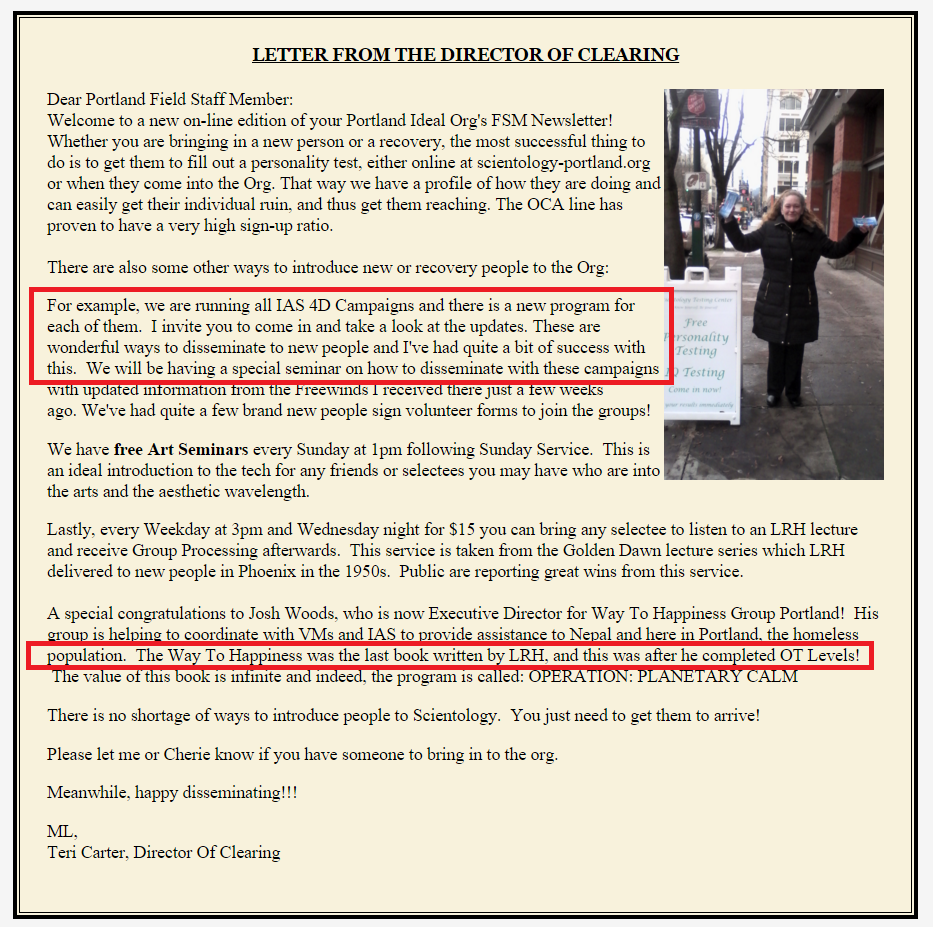 And here is something you didn't know (partly because it is simply made up) the WTH is the most OT of all things written by L. Ron Hubbard.  Except perhaps the running program, which is really off-the chart OT and is the last "rundown" he went off to do. But the value of WTH is "infinite" and it's called "Operation: Planetary Calm" so it's got to be epic, right?
The things these people come up with is absolutely stunning.
It is truly a culture of lies and deception.
PS: That picture kind of tells the story of this "ideal org" – a cold looking lonely woman standing on the sidewalk trying to persuade anyone to come inside for a "free personality analysis."