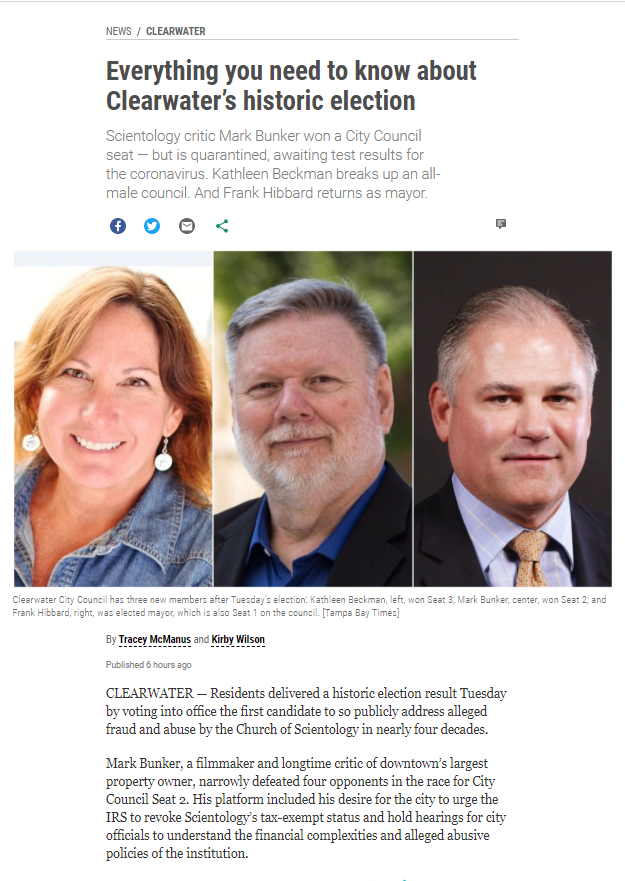 The news has sunk in, Mark Bunker is now a Clearwater City Commissioner-elect.
As Tracey McManus put it, this is a historic day for Clearwater.
There is another piece in the Tampa Bay Times (top of article screencapped above) this morning.
It makes some interesting points – first of which is noting Bunker's "desire for the city to urge the IRS to revoke Scientology's tax exempt status…"
Some have poo-poo'd this idea "The City of Clearwater doesn't grant tax exempt status, the IRS does" — as if Mark Bunker is unaware of the difference between a city government and the IRS. "We can only play with the cards we are dealt and tax exemption is not in our hand." So, do nothing at all.
What these naysayers (and mouthpieces for scientology) are missing is this:
The IRS does act based on outside pressure. The scientology exemption itself is proof of this. If you bring enough pressure to bear on this agency, they bend. Of course, the City of Clearwater does not need to resort to scientology style Fair Game tactics to move the IRS.
The IRS responds to political, media and public opinion pressure. The IRS oversight committees and appropriations committees in Congress have enormous sway over their direction. A single federal elected official demanding action from the IRS can have enormous impact.
Put this scenario into perspective.
The BIGGEST single loser in scientology being granted tax exempt status was the City of Clearwater. No other municipality on earth felt the impact of this decision more. As a percentage of the city's revenues, scientology dominates Clearwater unlike any other city. They may own more property in Los Angeles in total, but the impact on a huge city like LA is negligible.
Clearwater is being harmed more than anyone else, thus they have the biggest incentive (and standing) to change it.
Scientology will whine that this is "bigotry" and "discrimination" as they do any time anyone ever dares challenge or question or expose their abuses. It's their pat reply.
And of course, the City of Clearwater has an unfortunate history when it comes to their attempt to enact a "Charitable Solicitation Ordinance" that targeted scientology. It was struck down in the courts and ultimately the city ended up paying scientology's fees and costs of more than $600.000. But that was foolishly and rashly done. They can learn from that episode and be far smarter.
Local politics is part of the far flung roots system that ultimately supports the trunk that is the federal government. It's all interconnected. Elected officials in the city have connections to people in the county and state who in turn connect to the federal level officials. These lines should be burning with requests for assistance and IRS review of the tax exempt status of scientology. Pressure CAN be brought to bear. There is plenty of evidence available to support the contention that scientology does NOT qualify for tax exempt status on public policy grounds, if no other.
The City of Clearwater could solve a LOT of their problems if scientology was no longer exempt.
Not just in the revenue it would generate for the City, but also in the oversight it would afford. Scientology operates in secret. They do not have to file tax reports. Don't have to submit to labor/pay laws. Hide behind the separation of Church and State protection laid in by the First Amendment.
A first step has been taken with Mark Bunker being elected — proving once and for all that scientology has NO political clout to trade on in Clearwater — but this is just a bloody nose for the bully that has dominated Clearwater for so long. Now it is time for the City to start using political connections and pressure to get the IRS to review scientology's tax exempt status. That will be a knockout punch they will not get up from.