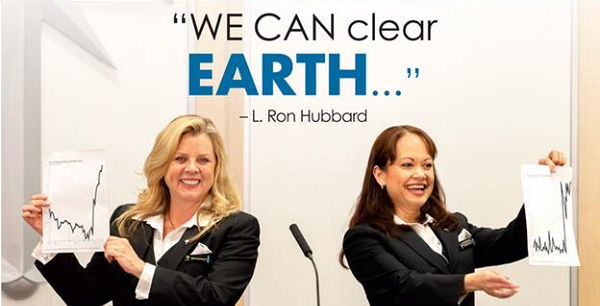 It's a catchphrase in scientology. "We are clearing the planet." "We are making planetary clearing a reality." There are a dozen different variations.
It's a time-honored hot button that is used to get people to hand over money and "progress up the Bridge." One of our readers sent this new promo piece to me recently, with some comments that made me think we should address this topic again.
In part, this is what the contributor said:
When I looked at this promo piece, it reminded me of the jarring, shocking and unpleasant experience of finally, after clawing my way up into the OT levels, after the huge ARCX of finding out that being Clear just put me in the danger zone, that I needed to put on a happy face and set a good example and tell my wins here and there and everywhere. Suddenly I was being pressed to speak with new people and pressed to be a buddy for someone who is coming to an event and to fake my happiness at being a scientologist and fake my amazingness as an ot and to be an example.
I found the scrutiny and pressure to be an opinion leader to be really unpleasant. I once talked to someone about their OT 8 experience and they didn't have much to say about OT 8 specifically, or their wins specifically. It was all general rah-rah crap, and I looked at this person and I said, once you become OT 8 does that mean you have to do even more? This person got a really hunted look on their face and they didn't say anything and then they pointed out that they had been encouraged to make the OT Committee more active in our area. The raw, unhappy look on the face of this person who probably didn't realize they were revealing how disastrous this demand was, never left me.
It was that unconscious upset face that I think of when I see this African American man with his hip hair. I wonder if it was a shock to him that now that he's achieved this level, they are going to be dragging him around for, as LRH would say, time immemorial, to promote their toxic brand.
I believe black lives matter. I believe this guy shouldn't be used as a token black life to add legitimacy to Scientology.
She is not just making random comments here.
When  you reach the state of Clear you are informed at once that you are in "danger" unless you get to OT III. Here is one Hubbard reference that states this explicitly.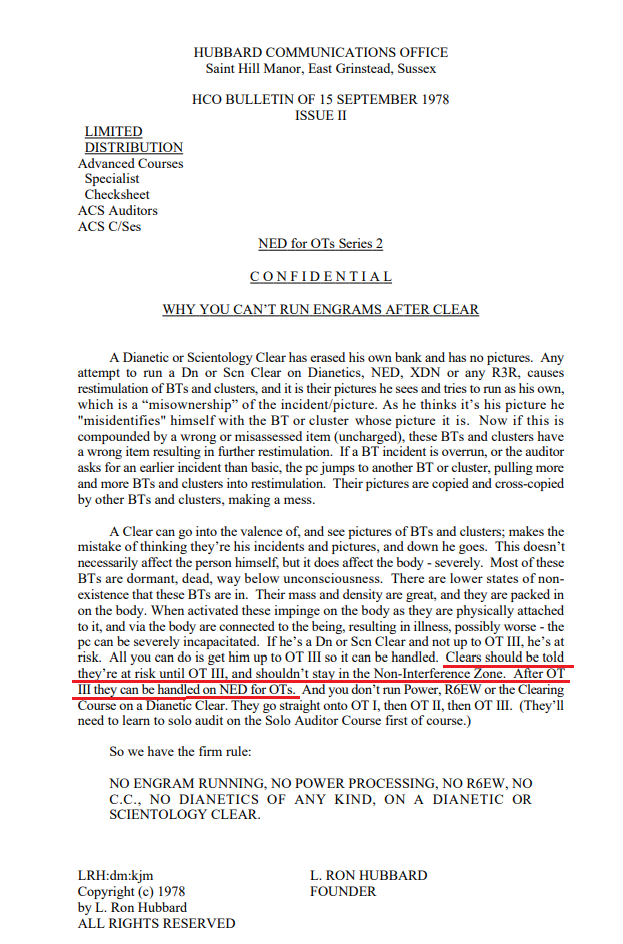 So, in fact, clearing puts you at risk?
A "Cleared Planet" is therefore a planet at risk? WTF?
And here is the Hubbard reference concerning the added responsibility and demands placed on a clear: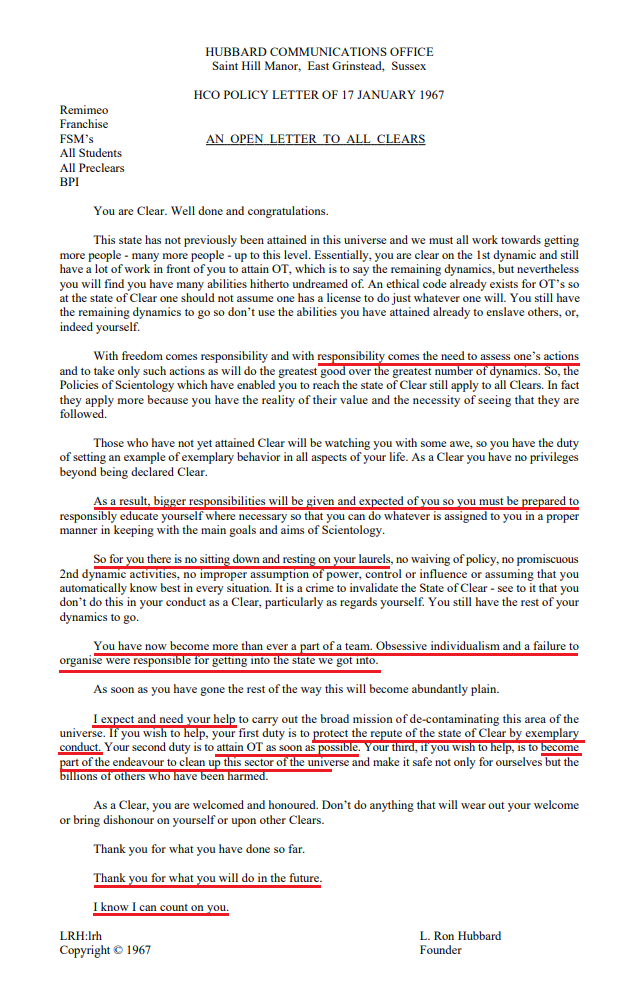 But the icing on this cake is the CONFIDENTIAL information about what Clear consists of.
Hubbard sold the world on the idea that he had discovered the "hidden source of psychosomatic ills, unhappiness and irrational behavior" — the "Reactive Mind." According to Dianetics, his book about the reactive mind, it was created unknowingly in moments of pain and unconsciousness in life and in the womb (NOT in "earlier lives" — that would come later and is a convoluted story in itself).
Hubbard promised the world that he had the "technology" that he had carefully researched and tested which would eradicate the "Reactive Mind" and make "Clears." He promised that Clears would have remarkable abilities: eidetic memories, perfect health — literally make the blind see and the lame walk (like he claimed he had done for himself with the techniques of Dianetics).
Hubbard's "auditing" techniques that would erase the reactive mind was pitched relentlessly — always a new "breakthrough" technique that would finally make it possible to achieve this vaunted state. There are hundreds of lectures and bulletins where he claimed he had "finally" found the certain route to clearing. From 1950 until 1966 it was one thing after another. And then he came out with the "Clearing Course" which was now a whole new thing — "Solo" auditing. And it conquered a new beast, the "R6 bank." Everything that had gone before, all his earlier promises were forgotten. This was now IT! (Until it wasn't again in 1978 when he "rediscovered" that you could actually go Clear with Dianetics — it was full circle).
But the ultimate joke was this.
What Hubbard finally said made a "Clear" was when the person realizes he is "mocking up" the Reactive Mind ('bank"). Before contacting Dianetics and Scientology, he was completely unaware such a thing existed. After paying huge amounts of money and devoting a great deal of time to it, the mark will come to realize he was "mocking it up" (meaning creating it in his mind). What Hubbard had told him he had, he now understood he had created himself… Bizarre — but it isn't seen this way by those mesmerized by Hubbard, any more than the end of the world coming and going without incident deters the followers of doomsday preachers.
Perhaps this explains one of the huge, glaring contradictions of scientology. How is it that people who are NOT Clear are capable of doing anything at all? Let alone being geniuses or massively successful or talented? Perhaps BECAUSE they don't know they have a reactive mind they are not "effect" of it and don't have to "mock it up" in order to have something to erase?
But don't just take my word for it. Here is Hubbard's explanation in his own words — in a confidential issue (it is a massive crime in scientology to tell anyone the "Clear Cognition"). You can certainly understand why from a sales perspective. Who would want to pay to get rid of something you are told you have — but the way you "get rid of it" is to stop imagining it exists…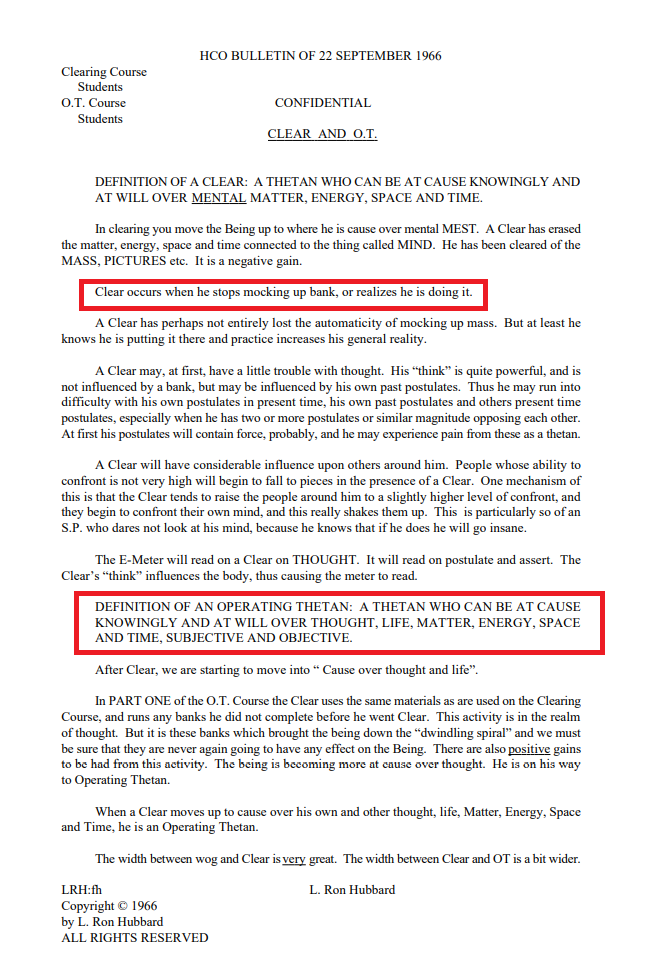 This is a later, also confidential issue, that makes it even "clearer."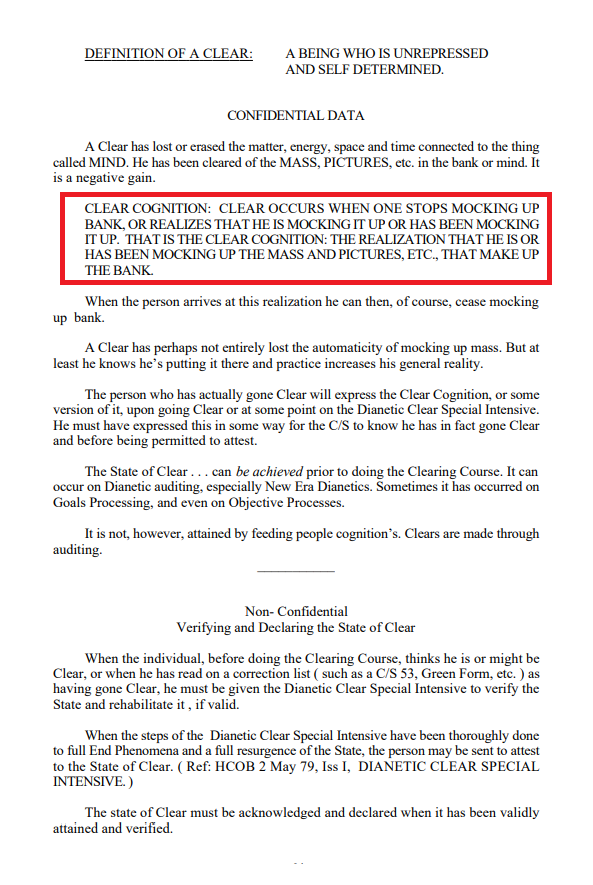 And the final joke of all this is that after going through the OT levels to deal with all the disembodied thetans who are stuck to you that cause you to think and act irrationally and get diseases etc etc (the second "reactive mind"), you get to OT 8 and find out that was all BS too….