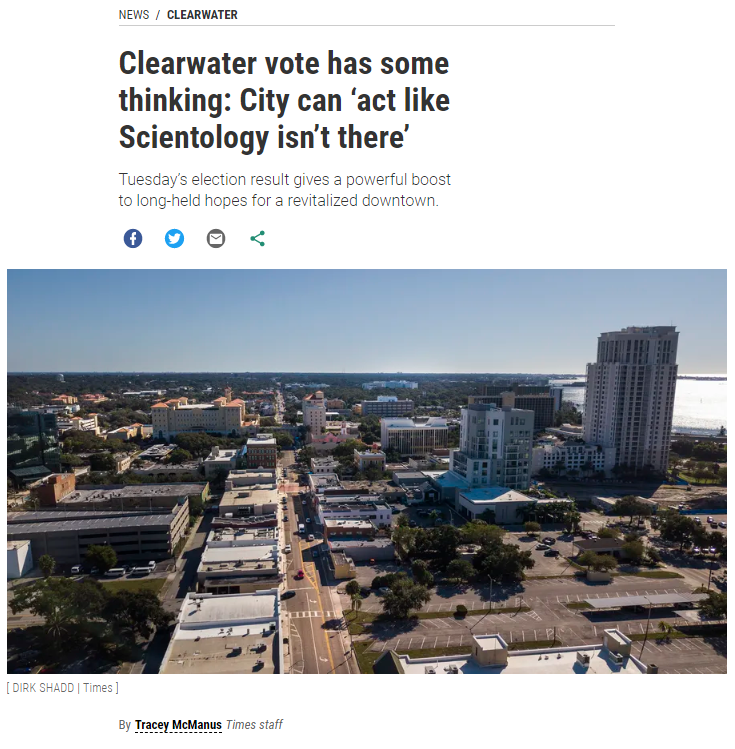 Happily, the referendum passed to allow the City of Clearwater to sell property to developers. Tracey McManus reported on the outcome.
The development aims to bring up to 600 apartments, a 158-room hotel and a half dozen restaurants and retail spots along the city's bluff. Right in front of the Ft Harrison and between it and the Sandcastle.
Miscavige and scientology are no doubt very unhappy with this turn of events. I suspect when the information becomes available we will learn that the majority of "No" votes came from scientologist heavy precincts. The measure passed by a 2 to 1 majority.
The big question now is how will scientology react.
As Tracey has documented, scientology, scientology front groups and scientologists have bought up 160 parcels of land in downtown over the past 5 years.
In a "gesture of good faith," Miscavige announced plans to renovate 3 buildings on Cleveland St managed by scientologists (and yet scientology always claims they have no control over what scientologists do or don't do, so how is he the one offering it?) He was trying to leverage a land swap deal for properties he wants, including the former Aquarium lot next to the Oak Cove where he claimed he wanted to build a swimming pool and tried to buy it for more than 3 times its value. I always maintained his interest was not in any swimming pool (there is vacant lot they own next to the Ft. Harrison and across the Street from the Oak Cove where he could build swimming pools to his heart's content) but to prevent anyone building something there that would directly oversee his properties. Now, the old City Hall lot condominium will have direct line of sight into the back of the Ft. Harrison…
Of course, absolutely nothing happened with these 3 properties in his goodwill gesture. One building permit was applied for. Nothing more. That was the extent of the good faith. Zilch is going to happen with those properties now and the claims by Miscavige that he and scientology have always wanted a "vibrant downtown" are going to be exposed for the lies they always were.
The developers are investing $400 million in revitalizing downtown Clearwater. Miscavige has lost enormous leverage. He is no longer the big player in downtown Clearwater's future. While he still controls a lot of property (much of it sitting vacant), there is a new gorilla on the block make its presence felt.
Hopefully, this will be the first step in Clearwater taking back its downtown from the cult of which has dominated it for so long.