Leah and I were speaking with our old friend Mark Bunker, who was telling us about the injunction scientology obtained against him and other members of the Lisa McPherson Trust back in 1998.
Amazingly, scientology still seeks to enforce this injunction against him to this day – its language prevents him from protesting in front of some specified scientology buildings and from coming within 10 feet of any scientologist (it's a mystery how he is supposed to know who is or isn't a scientologist…) but they tried to get him thrown out of his condo because a scientologist lived next door, and pull it out any time they feel they can persuade the police to give him a hard time.
We were also discussing the land scientology keeps buying in downtown Clearwater — land they have absolutely no use for. They have turned some into parking lots and others into "parks."
One in particular is on the site of the old Checkers drive through burger place on the corner of Drew and N. Ft Harrison. It's now a "park" that sits entirely empty except for a few days in the year when they construct Winter Wonderland.
It's basically a large patch of grass with a few benches around the edge.
The park has an interesting sign at its entrance.
The "Clearwater Community Volunteers Center" (the word scientology does not appear on the sign anywhere or on the park anywhere, it is disguised to look like a city park) "welcomes you to the Osceola Courtyard" (courtyard??). "We hope you enjoy your visit."
It goes on to proclaim that use of the property is subject to the following rules and then gives a legal disclaimer about how they are not responsible for any injuries. Visitors are informed they can't let off fireworks, have glass bottles or carry weapons. No loud noises. No swearing. No "racial, discriminatory or homophobic language". No drugs or alcohol. And then a final catch-all that the "Clearwater Community Volunteers Center" can remove anyone who does not comply with these regulations or anyone "whose presence on the property could reasonably be construed as harassing or damaging."
They try to give the impression this is some sort of community facility where all are welcome unless and until they violate one of those rules or act in a manner that is "harassing or damaging."
What the sign does NOT say is "we will also evict people based on their religious beliefs, specifically if you do not agree with scientology". Not even in the fine print.
We were a little incredulous about what Bunker had told us, so here is what went down.
Mark Bunker sat on a bench in the park, all by himself. He was the ONLY person present. He had no fireworks, drugs, alcohol, glass bottles, weapons and was not even talking to himself so there was no inappropriate language.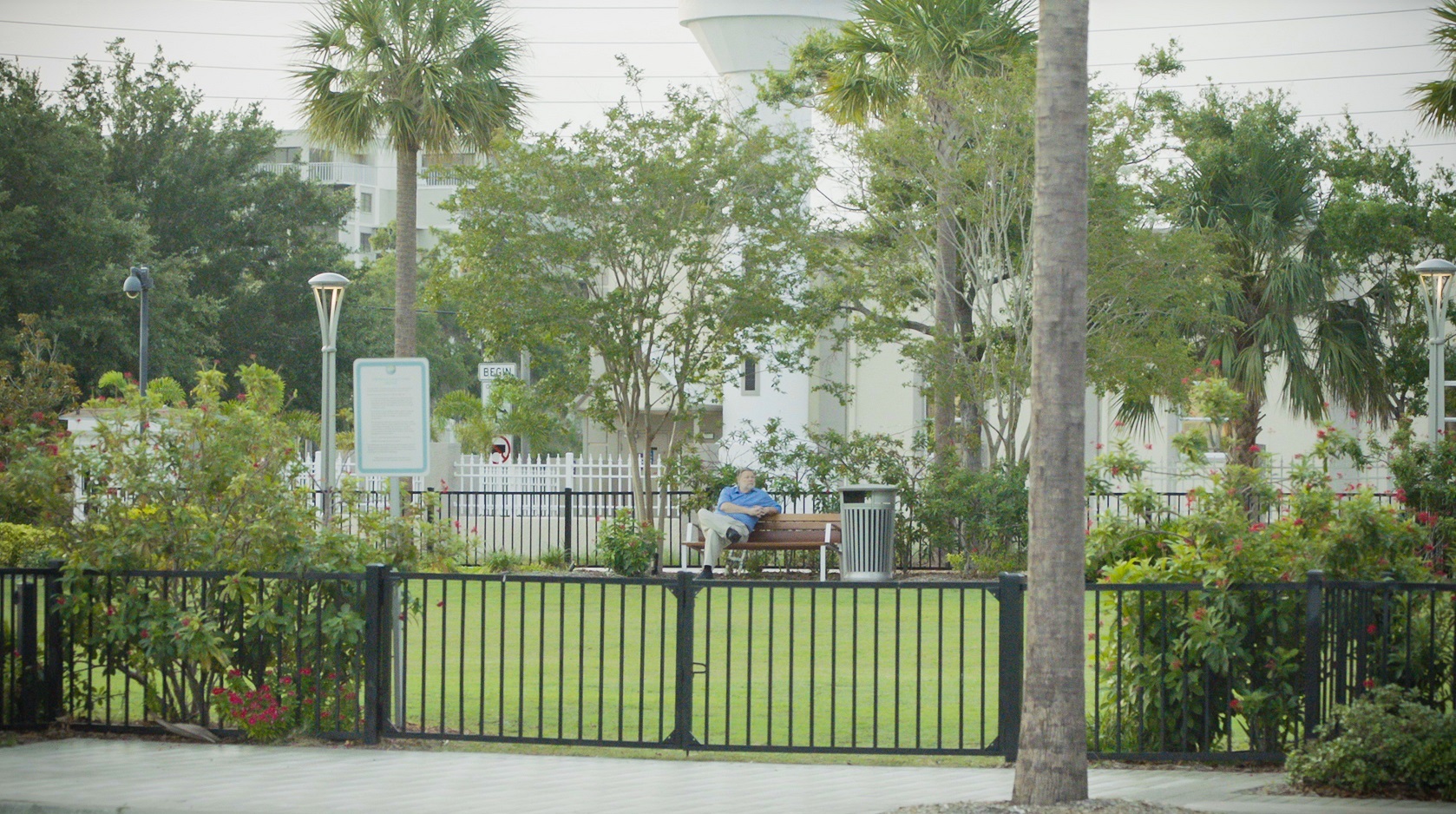 Scientology, with their numerous surveillance cameras and security guards, soon spotted him. They didn't have anyone go over and ask him to move along, they simply called the Clearwater Police Department. Which is when it got interesting.
Leah and I drove up as a second police car arrived on the scene.
Mark walked over and we chatted on a bench at the front of the park. The two police officers did not approach us, but instead went across the street to the parking lot of the scientology Osceola hotel building to speak with some unidentified scientologists. (I have included a map at the end of the post to help identify the locations). They huddled with them for about 20 minutes.
Next another CWPD vehicle shows up with what turned out to be their boss. Still nobody had approached Mark Bunker or us to say anything.
Then the police came over holding a copy of the injunction against Mark Bunker, all bound in an official looking pack with a red cover.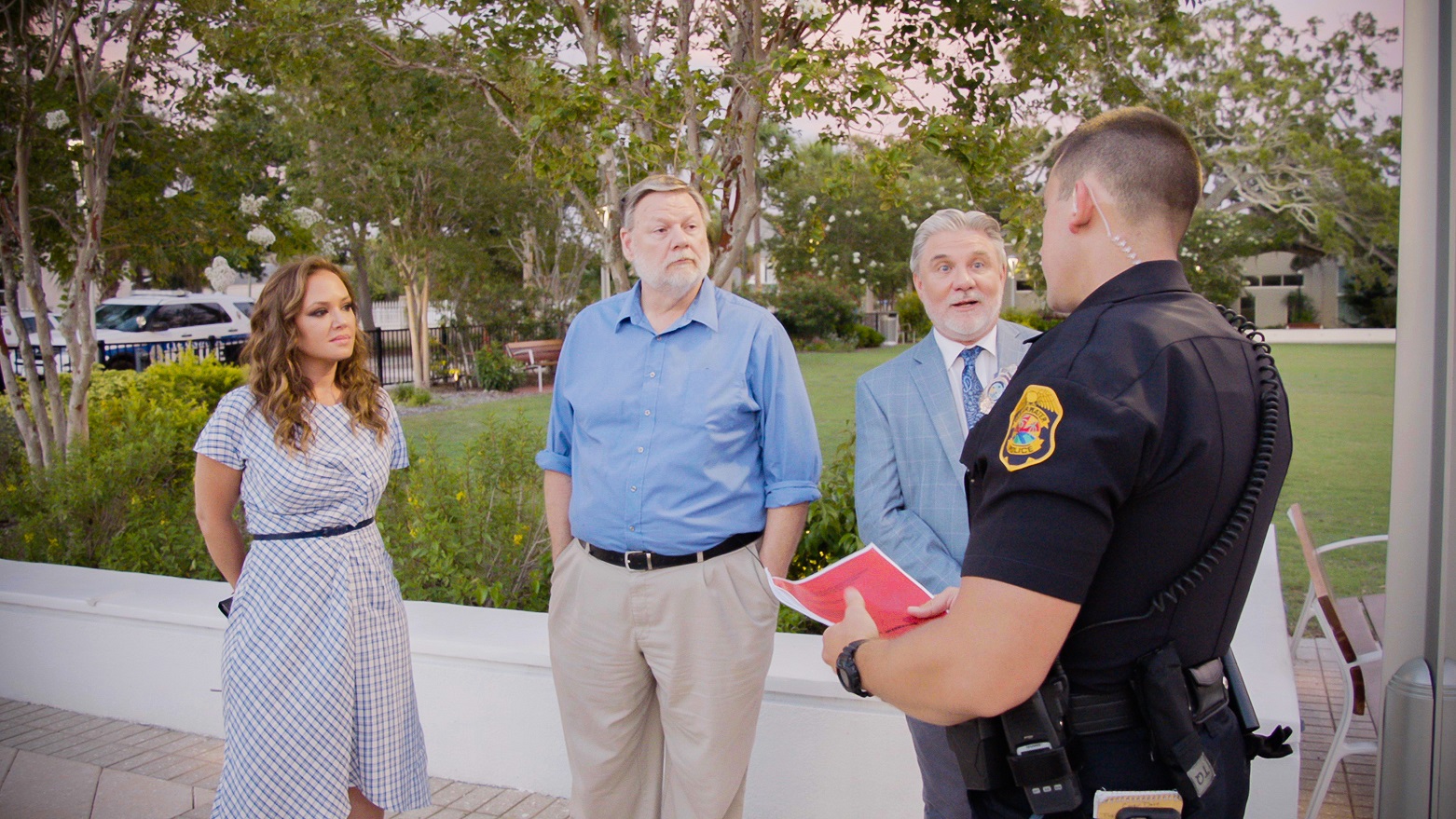 I explained that the injunction did not apply to this location and there was no scientologist within 10 feet unless any of the Police officers happened to be scientologists. They said they were not. And that the injunction was not something they wanted to interpret and would leave as a "civil matter" (though I guess they were hoping that by carrying it with them it would magically resolve the problem of a man sitting in the park). They didnt seem to know what to do next.
Meanwhile, fans of the show were stopping their cars and honking, one family even parked and came over with their daughter to get a photo.
While we chatted a fourth car from the CWPD arrived, with apparently an even more senior member of the force. Now 4 police cars and 4 police officers are present apparently not knowing what to do.
After the 4 of them had some internal discussion, the most senior walked across the street and into the office of the "Scientology Community Volunteers" (it is the last of the Potemkin Village fronts to open along N. Ft Harrison Ave.). He emerged some time later to inform us that "they" wanted Mark to be issued a trespass warning and also Leah and me. I told him to have them come on over and so inform us.
Though we had been there about 45 minutes by this time, NO scientologist had approached Mark or us, and had certainly not asked Mark to leave the bench he had occupied. Instead, they called the police. Though they did have many cars driving around the block taking photos of us.
We inquired when the scientologists (I assumed it would be Sarah Heller, the Legal Officer OSA Flag) would be venturing out to inform us we were not welcome in their empty park.
The head cop said "it would just be a couple of minutes" and "he would get Sarah on her cell phone."
We waited 5 more minutes and told him we were going to walk down N Ft. Harrison Ave to check out the old Lisa McPherson Trust building. He asked us to "Have patience please." It was a very odd comment — scientology had called them, not us. 4 police officers were standing on the sidewalk. No scientologist had come to the park to speak to them but had summoned the police over to their building instead. Why were they not at the "scene of the crime" and why were they not doing what was required to issue a warning when they had called the police?
You would think that if you call the police to get someone off your property 1. You would have first asked the person to leave and only if they DID NOT DO SO would you call the police, and if you did 2. you would have the courtesy of showing up to the location where you had asked for police assistance. Scientology called the police to their park, then summoned them to their parking lot across the street and then to their office and then sent them back across the street to wait.
You can imagine that these antics did not go unremarked upon by Leah.
Had I been the police I would have been pretty unhappy about the imperious disdain with which I was being treated by scientology. Frankly, we felt sad they were being put in this position and that they were not using their time to do real police work. Anyone who knows Mark Bunker knows what a polite, gentle man he is. Had someone come along and asked him to leave their empty park he certainly would have done so.
We waited a little longer and no Sarah Heller (or anyone from scientology).
I told the police officers we were walking across the street and would pass right in front of the Scientology Community Volunteer building so it would be easy for Sarah to pop out.
Nobody appeared when we were right in front of their building looking in the window. Instead, they cowered inside, making sure not to be seen. Meanwhile 4 CWPD officers stood in front of their now completely empty park.
Each of the other scientology storefronts for their fake front groups were empty as we walked down N. Ft Harrison. All the time cars kept slowing down, honking and shouting "we love your show, keep it up."
10 minutes later we walked back past the "Clearwater Community Volunteers" building in which Sarah Heller was holed up, apparently too afraid to step outside to issue the "trespass warning." Though not too afraid to call the Police Department and have 4 police officers waste an hour watching us stand in front of a park.
By the time we got back to the park, only one police officer remained and when we got in our car and left, so did he. A complete waste of police time.
A scientology PI's/OSA person followed us as we left to go to eat dinner.
What an interesting microcosm of life in Clearwater and how taxpayer dollars are being spent.
A Google map image identifying the locations — it's a bit old, still showing the location of the now "Courtyard" as a Checkers drive-thru: