After the last post Child Sexual Abuse in Scientology it is ironic that the next day I came across this piece of PR spin.
This is the other side of the scientology equation. On one hand, they groom people to be victims of sex abuse and seek to cover it up when it happens. On the other, they seek to create a good image of themselves so stories of abuse are rejected on the basis of "It couldn't be true — look how they LOVE children and support and protect them." It is an aircover operation done on the basis of what is good for scientology.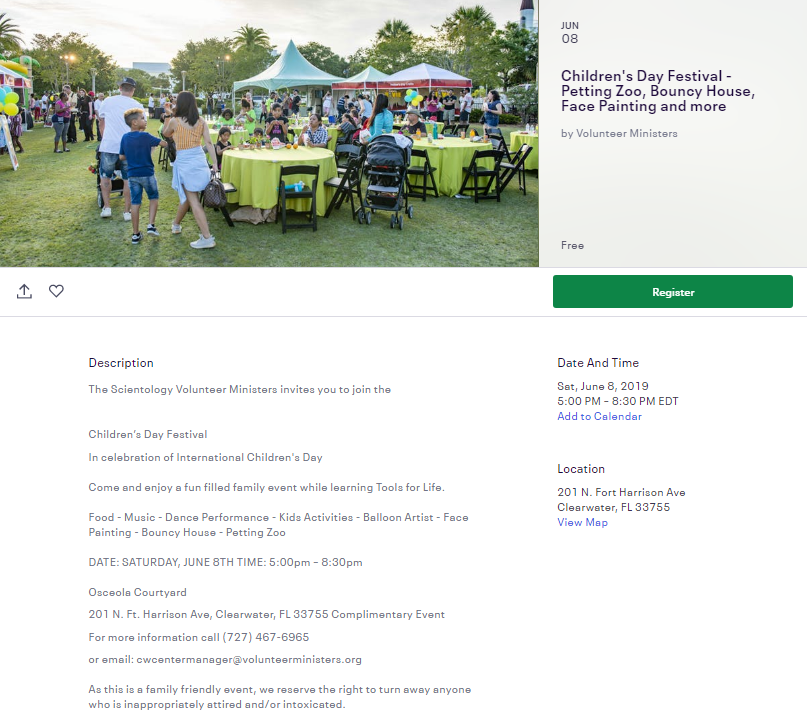 And here is another one — they are really going to town on this subject…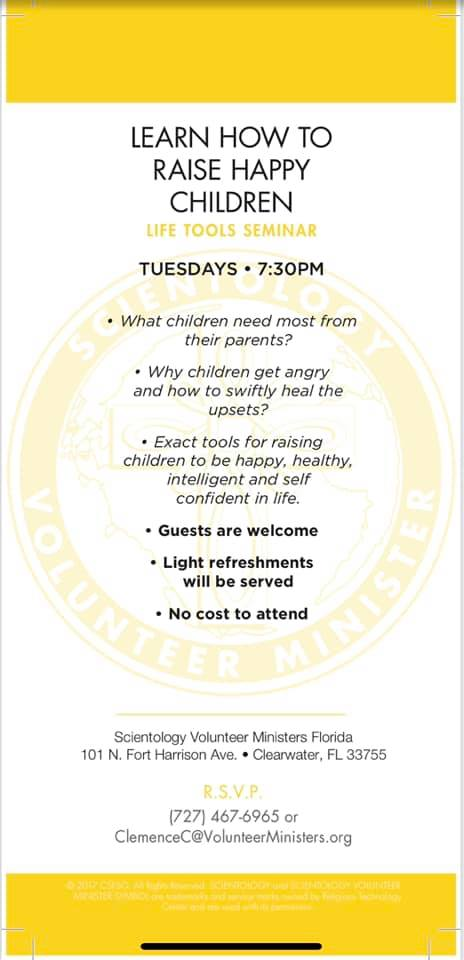 This is the same sort of thing they do with their "Human Rights Campaigns" — while wholesale abusing human rights, especially of Sea Org Members, they loudly and repeatedly claim themselves to be "champions of human rights" with staged events they video and show over and over again.
They have even taken to calling the people who give them the most money "Humanitarians" — not based on anything other than the amount of money… They use the word humanitarian more than any other organization on earth. Literally.
This is the way of the sociopath. No normal person believes someone blatantly lies without embarrassment because they could not do it. So cannot conceive that anyone else could. Sociopaths use that to their advantage. Scientology is founded by a sociopath, run today by a sociopath and thus displays the characteristics of a sociopath.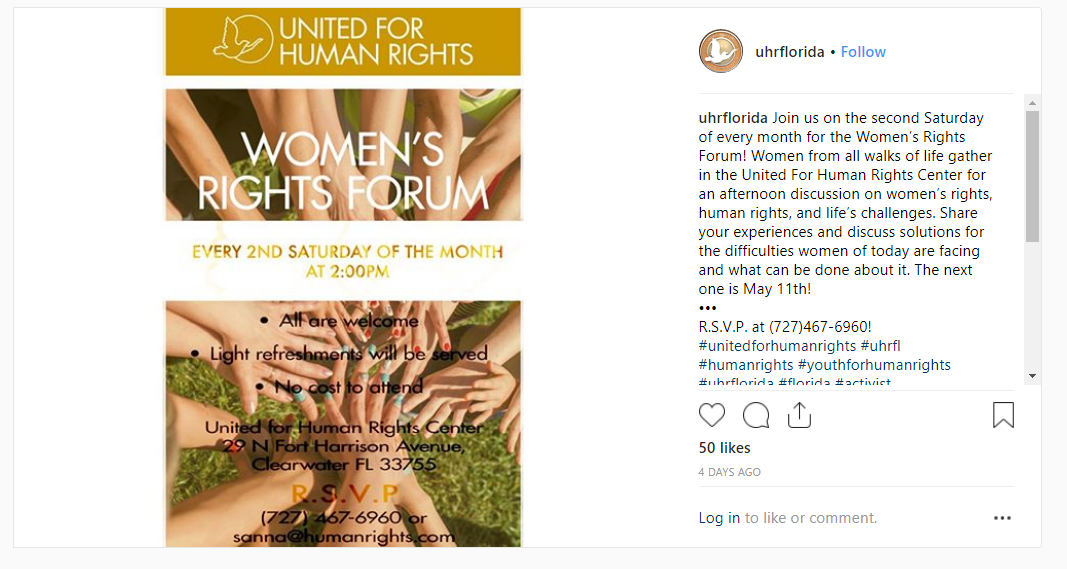 And note the irony of this children's event being held in the "Osceola Courtyard" — the "community" open and available "park" that is off limits to anyone scientology decides they don't like (See earlier post here: Clearwater Follies). If you are the child of someone scientology does not like, you will NOT be welcome at this event under any circumstances. That these children did NOTHING other than have parents scientology doesn't like is enough for them to be discriminated against. How is that for humanitarianism? This is NOT idle speculation. When they held Winter Wonderland in the same park, Aaron Smith-Levins daughters were escorted out by security. They were 6, 8 and 11.
What scientology presents to the world is one thing. The reality is something else entirely.
This is one of the scientology policies being followed here — working to ingratiate themselves with the local community and establish "Safe Points". There will still be members of the community that will participate and support this event on the basis of "It's for children, I support children" and those people will be used to promote the "good works" of scientology in Clearwater.
Excerpts from Hubbard Policy of 12 January 1973 "THE SAFE POINT"
"You cannot operate without a base to operate from. You cannot deliver without somewhere to deliver it. You cannot sell what you cannot deliver. The optimum action is to send a PR Area Control team to the area you want to operate in, and have it establish PR Area Control first.
"The most important action to undertake when going about making a Safe Point is to carefully and painstakingly find out who exactly are the top dogs in the area in financial and political circles, and their associates and connections, and to what each one is hostile.
"One must learn carefully his Ps & Qs with regard to these people and take care not to step on their toes. 
"Without a Safe Point established as above, it is a waste of time to rush into dealings with a government or to promise them anything. It is too easy to step on hostile toes and to arouse suspicion of you or make you difficult to account for.