THANK YOU TO ALL WHO HAVE RESPONDED TO THIS ARTICLE HERE, ON SOCIAL MEDIA AND IN PRIVATE MESSAGES AND EMAIL.
BUT TELLING ME IS NOT WHAT IS IMPORTANT. REPORTING IT TO THE AUTHORITIES IS.
LEAH AND I CANNOT REPORT TO LAW ENFORCEMENT THAT YOU TOLD US SOMETHING. IT DOES NOT WORK THAT WAY.
IF YOU EXPERIENCED OR WITNESSED SOMETHING YOU BELIEVE TO BE A CRIME, YOU MUST REPORT IT. EVEN IF THAT AGENCY DOES NOTHING, THERE WILL BE AN OFFICIAL REPORT ON FILE.
IF YOU THINK THE CRIME IS "TOO OLD" REPORT IT ANYWAY. LET THE LAW ENFORCEMENT/PROSECUTORS MAKE THAT DETERMINATION. UNLESS YOU ARE A LAWYER, YOU DON'T KNOW.
PLEASE, STEP UP AND DO THE RIGHT THING.
THE SCOPE OF THE ABUSE IS TERRIBLE, BUT IT REMAINS CRIME HIDDEN IN PLAIN SIGHT IF NOBODY FILES THE PROPER REPORTS — AND THAT IS ABOVE ALL, WHAT SCIENTOLOGY WANTS MORE THAN ANYTHING: NOBODY REPORTING THEIR CRIMES.
Last Tuesday Tony Ortega wrote a disturbing piece highlighting yet another atrocious story involving the Freewinds and scientology's attitude towards its children.
It somehow seems sadly appropriate to focus on this issue on Mother's Day to remind us that many mothers have been split from their children by scientology and how powerful the control over minds this cult has to be able to break this bond.  My mother disconnected from me and it was heartbreaking.  I really believed that would never happen. I know many mothers who have had their children disconnect from them. It is achingly painful. It is wrong. It is scientology.
But as terrible as disconnection is, it pales in comparison to the abuse of children that stems from the same twisted belief system that pretends to be the champion of family values.
As Leah and I have attempted to explain, the latest story from the Freewinds is not new news.
Many have tried to bring scientology abusers to justice, but are met with a Goliath of an organization with enormous resources, but even more significantly, an ironclad belief system that makes it OK to lie to authorities when they believe doing so will benefit scientology.
This is a "church" that strikes fear not only into victims, but witnesses as well.
Scientology is well aware of decades of physical and sexual abuse against its members, including children, and it uses its power over people to keep those skeletons hidden in the closet. Concealing crimes is part and parcel of scientology scripture and conditioning.
Sexual and physical abuse is epidemic. It's important to understand how scientology and scientologists cover it up, otherwise it will remain hidden and law enforcement and the courts will never penetrate the cone of silence that envelopes scientology.
Scientology Grooming
Scientology is all based on the words of L. Ron Hubbard. His word is the word of God, it may not be altered, interpreted or discarded.  This is the "scripture" of scientology and it is learned and taught under supervision. There are drills to learn the basics of scientology verbatim. You are constantly tested to make sure you are learning it exactly and not thinking for yourself.
There are mandatory books and courses that ALL are required to buy and do. There are no variations to Scientology teachings.
These teaching are called the "tech" or technology. It is unalterable policy of the organization. And there is policy that Hubbard's policy cannot be changed by anyone other than Hubbard.  He died in 1986 and despite his promises, he has NOT returned to re-assume his role as the leader of scientology. So nothing will be changing in the way scientology conducts itself. Ever.
Cult expert Steve Hassan opines that scientology is the worst cult because of the format in which the indoctrination takes place. Believers are required to sit and read Hubbard's words or listen to his lectures each day, look up words to ensure "duplication and understanding", pass tests and learn things verbatim — this is "self-brainwashing."
Most importantly, there is very specific teaching in scientology to "contain flaps", not to report situations to law enforcement and that protecting scientology — "man's only road to spiritual freedom" is more important than anything, including the well-being of one or more children. There are plenty of children, there is only one hope for mankind…
It's the scientology way
Scientology wants to be recognized just like "any other religion." In covering up crimes, it is doing a good job of fitting in with a lot of other religious organizations, though even the Catholic church is now confronting reality.
Unlike the Catholic church now, scientology has never admitted to a single wrong-doing. Not one. Despite hundreds of accounts of child abuse.
Why?  Because the command to keep this (and anything else that might bring bad PR) away from law enforcement and the media is laid out in Hubbard's teachings.
First: It is a "High Crime" to report another scientologist to the authorities or bring them to court without permission of scientology.
Decide not to follow these rules and the penalties are severe. You will be declared a "Suppressive Person" and expelled. Your family and friends who are scientologists will be forced to disconnect from you. If your employer is a scientologist he or she will be required to fire you. Your life will end as you know it.
This is a list of a few of the things denominated as High Crimes in scientology (these are all published in an easily available book called Introduction to Scientology Ethics):
Delivering up the person of a Scientologist without justifiable defense or lawful protest to the demands of civil or criminal law.
Reporting or threatening to report Scientology or Scientologists to civil authorities in an effort to suppress Scientology or Scientologists from practicing or receiving standard Scientology.
Bringing civil suit against any Scientology organization or Scientologist, including the nonpayment of bills or failure to refund, without first calling the matter to the attention of the International Justice Chief and receiving a reply.
Writing anti-Scientology letters to the press or giving anti-Scientology or anti-Scientologist data to the press.
Continued membership in a divergent group.
Continued adherence to a person or group pronounced a suppressive person or group by HCO.
Failure to handle or disavow and disconnect from a person demonstrably guilty of suppressive acts.
Public statements against Scientology or Scientologists but not to Committees of Evidence duly convened.
Testifying hostilely before state or public inquiries into Scientology to suppress it.
Scientology convinces its followers that turning in any scientologist to "Wog Law", or "wog solutions" would only make the person worse ("wog" is scientology terminology for non-scientologist or anything not scientology). The only hope for a child molester, rapist or pedophile is to be cured by scientology auditing (counseling). And certainly not to fall into the hands of the criminal justice system which is controlled by psychiatry and is thus bent on destroying people.Second: Even the terminology is different. The words sexual abuse, abuse, rape and pedophile are not taught or used in scientology, instead these perversions are all denominated as "abberations" which is defined by Hubbard as:
Abberation: a departure from rational thought or behavior. It means basically to err, to make mistakes, or more specifically to have fixed ideas which are not true.
The word is also used in its scientific sense. It means departure from a straight line. If a line should go from A to B, then if it is aberrated it would go from A to some other point, to some other point, to some other point, to some other point, to some other point, and finally arrive at B. Taken in this sense, it would also mean the lack of straightness or to see crookedly as, for example, a man sees a horse but thinks he sees an elephant.
Aberrated conduct would be wrong conduct, or conduct not supported by reason. When a person has engrams, "
Engrams are defined as:
An engram, as used in Dianetics and Scientology, is a detailed mental image or memory of a traumatic event from the past that occurred when an individual was partially or fully unconscious".
Scientology teaches that one is abberated because he has engrams. Once those engrams are treated (erased — through auditing), the abberated become "normal."
Changing the meaning and significance of words is part of the grooming in scientology.
Third:  Scientology children are considered to be old thetans in young bodies. Fully capable of rational thought and reactions. They are also "raised" by scientology. Children in the Sea Org are rarely even see their parents. But even non-Sea Org scientologists will have their children "handled" by an auditor or sent in to their local org, often following a written report about their "out-ethics".
Any child who progresses in scientology is subjected to "security checking" on a scientology e-meter. These are questions designed to uncover "sins", including being asked about sexual matters. These sessions are recorded on video and written down and kept in a folder indefinitely.
Fourth: It is a considered a terrible crime against humanity to do anything that brings ill repute to scientology. Scientologists believe that ONLY scientology can save mankind. Hubbard explained in his seminal writing "Keeping Scientology Working":
"We're not playing some minor game in Scientology. It isn't cute or something to do for lack of something better. The whole agonized future of this planet, every Man, Woman and Child on it, and your own destiny for the next endless trillions of years depend on what you do here and now with and in Scientology.
"This is a deadly serious activity."
Scientologists believe that the well being of scientology trumps all other factors and concerns, even the well-being of children (who, after all, are merely old thetans occupying young bodies). If the reputation of scientology were to be sullied to might prevent people from coming into scientology and being saved.
This could be a 20 page dissertation, but to keep it as short as possible, in scientology this is a "Security Check" so called because it was intended to ferret out spies and "plants" Hubbard was convinced were sent into the organization.
It is done using a scientology lie detector — an E-Meter.
Scientology HATES it when the E-Meter is described as a lie detector, but here it is in the words of L. Ron Hubbard: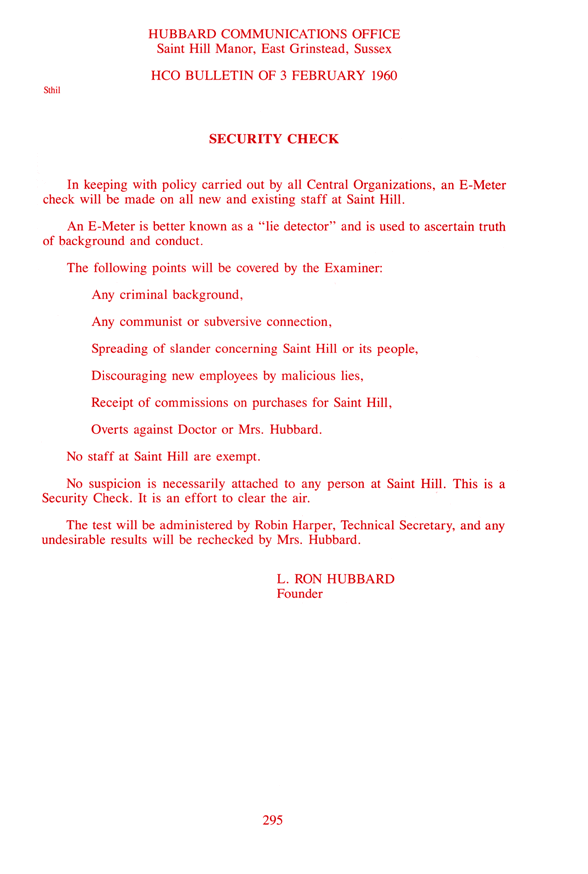 Children (like adults) are subjected to sec checks. There is even a specific sec check designed for them as you can see here: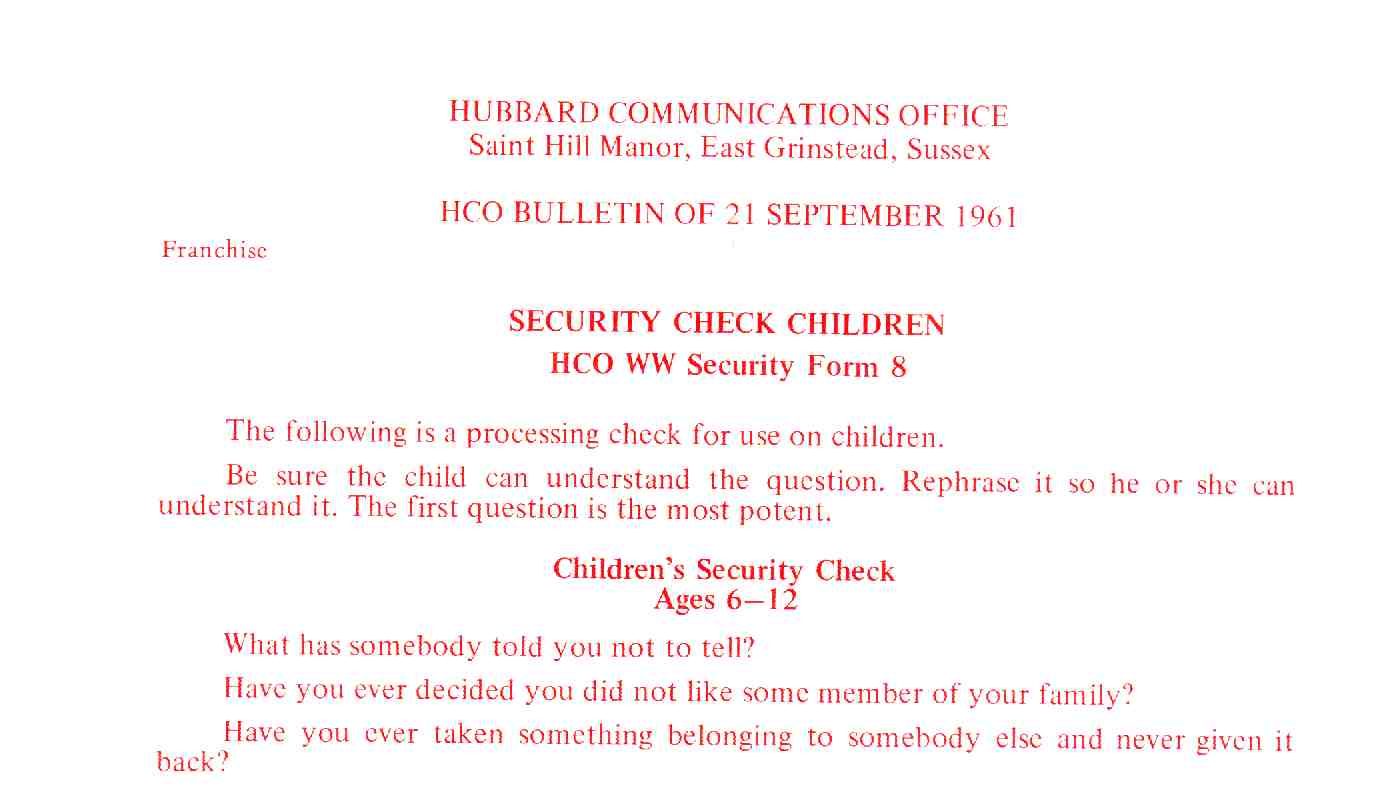 The person being sec checked is required to answer questions and if they have no answer, they will make up things in order to get out of the interrogation (again, scientology will protest this, but if you ask ANY former scientologist who has been sec checked they will tell you they HAVE invented things to try to get a sec check to end).
And there are other twists within the scientology "scripture" such that if something bad happens to you it is because you have done something bad to another.
So, for example, if a child says they were molested or raped they will be asked: "Do you have a similar overt (transgression) of your own?"
If the child was a girl and responded: "Well I don't have a penis, how could I rape someone" the auditor would then remind her that she has lived many lives and perhaps was a man in other lives….
Then the auditor would steer the child to "take a look" and would say:  "when I ask you the question again, just tell me what images come to mind."
From there, the imagination takes over, and the result is often wild stories of raping or molesting another in another lifetime. This "proves" to the victim that they have done similar things and that is the only reason they are really upset about being raped or molested this lifetime.
The perpetrator of the crime is called in and "handled" with Scientology technology. The incidents are never reported to Law Enforcement.
Further, this made up and coerced story is in this child's folder to use against them should they ever leave Scientology. Scientology uses this "evidence" to "prove" this person is guilty of the most alarming crimes (and of course Hubbard decreed that anyone critical of scientology invariably has heinous crimes so this makes complete sense to scientology).
To give you an idea of the sort of questions that are on a sec check, this is perhaps the most famous sec check in scientology. It is given to every scientologist on Grade II and sometimes more often than that. These are screen shots of the CURRENT official "Technical Volumes" of scientology. This is not "old" or "outdated" — this is current scientology practice.
Victim blaming — an art in scientology
In scientology, the victim of sexual assault is labeled "a problem" and abberated, promiscuous and having gone "out 2D" rather than "this child or person was a victim of a crime."A scientologist who reports an assault against them usually learns a lesson that this is an unwise choice. Many Sea Org members have been assigned to the RPF when they are the victim, the theory being that they must have done bad things to "pull it in" and need "rehabilitation" (which consists of hard labor, sleep deprivation and intensive interrogations).
Regular scientologists are usually ordered to undergo security checking at their expense to uncover what they did to be raped or abused. Once this has been established, they are sent to "Ethics Department" to work through "lower conditions" and "make up the damage to he group."If the rapist or abuser is a big donor or scientology celebrity there is an immediate lockdown of information. The victim is placed under a "Non-Enturbulation Order" (as talking about a celebrity scientologist involved in a crime is definitely upsetting to the organization).
Should the victim violate the order and speak of the incident again, they are automatically declared a Suppressive Person and expelled from scientology with the consequences to family, friends and jobs described above.  The Non-Enturbulation order is made public for other scientologists to see and they are required to write a report if the victim mentions the abuse.
It is a perilous position to be a victim of sexual abuse in scientology. Even more perilous if the abuser is a prominent name in scientology.
Thus, many victims do not tell their scientology friends and family what happened to them.
A terrible case of child molesting in Burbank
Leah provided me with some more details based on information people have given to her directly. This is one first hand account:
Other Coverage