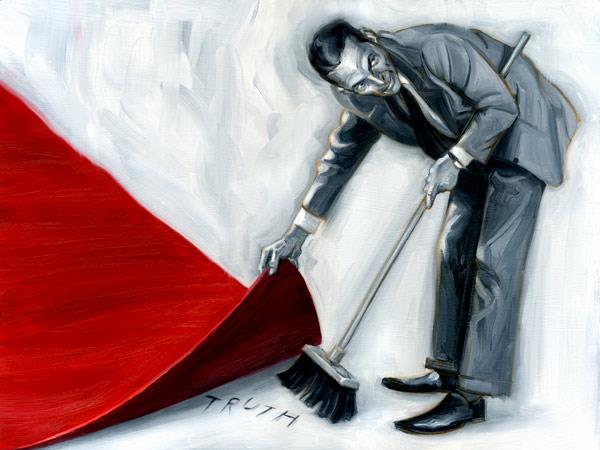 I often put up postings that are tongue in cheek and poke fun at Miscavige and his Merry Band of Minions.
This however is NOT one of those.
It highlights a systemic problem in Scientology, in some ways similar to the Catholic Church. The comparison is both apt (as the interest is in society's right to protect children and the well being of the children themselves) and somewhat strained (because child molesting is not generally widespread in scientology organizations and certainly not among its "priesthood"). But what is completely parallel is the desire of the church to keep these incidents secret at all costs. To hide the perpetrators and facts from authorities and to "deal with it internally" which usually results in NOTHING being done.
This story is NOT an isolated incident. The fear of authorities is ingrained in scientology — after all,  LRH said "the FBI" (and various other government agencies) are beneath the level of pond scum and the "wog" judicial system is corrupt and victims are penalized and criminals walk free.  And in the eyes of the church, bad publicity and the merchants of chaos in the media make up the second pillar of evil seeking the worldwide destruction of scientology. Thus the FIRST thought when something like this comes to the attention of OSA is "keep it quiet, we don't want this to flap."  And all actions are taken based on this operating policy. Just like the Catholic church. 
I am sure this posting will elicit stories from others who have similar experiences. Thanks to Robyn for speaking out. It's not an easy thing to do.
I also note that we have not included the name of the perpetrator in deference to the child involved. The point is not to expose him, it is to expose the way the church deals with such situations.
My name is Robyn Capella and I was a Scientologist for nearly 20 years. I was a Sea Org member for 10 of those years, and during that time was posted in CMO, Flag Bureau, and was a Flag Rep (mostly at LA Day).
In 1996, shortly before the SO to Class V org policy was cancelled, I became pregnant and my then-husband and I were sent to Mountain View org, where I remained as the DSA for the next few years. I left the SO in 2001 and spent the next 6 years as an active volunteer at the San Francisco org.
After many years of being pressured and manipulated into silence, it is time for me to finally expose the worst thing I encountered while in Scientology. This incident has a lot to do with why I eventually left and illustrates how endemic some of the issues are within the Church.
In about the spring of 2001, shortly before leaving the SO, I worked for a few months at San Francisco org for the DSA, Jeff Quiros. While there, I came across a report sitting on Jeff's desk that an org public had admitted to molesting the 4 year old daughter of his girlfriend. Even though some time had passed since the report had been written, not only had the police not been contacted, but the father of the child had been told specifically that he couldn't go to the police and that this would be 'handled internally'. The perpetrator was also still allowed in the org.
When I spoke with the DSA and the HAS (Josh Mooney-Capella – also my husband at that time) about this, I was told that the police would not be involved. I was informed that the perp's sister — a prominent OT VIII (who at the time ran a study-tech based school and has since passed away) — was doing some ethics handling on him. The DSA had coordinated 'handling' the situation with OSA West US and OSA Int, so the decision to not go to the police was not just a local one. Frankly, it seemed like a given to everyone but me and the father that the police would NOT be involved.
At one point, I spoke with the father myself and expressed that I would go to the police if I were him. I was outraged at the way this was being handled and I remember that he thanked me for caring and not simply wanting to brush it under the carpet like nearly everyone else who knew about it, in order to 'protect the church'. The lack of outrage in others over this was really quite shocking in and of itself. I regret to this day not just going with the child's father to the police station and handling this the way it should have been. But I was told over and over again that it would be bad for everyone, including the victim, if the police got involved. The mother (who I did not meet), reportedly did not want to go to the police, although I do not believe this was an independently-made decision based on what I had seen happen with the father. I couldn't even get any agreement to have the perpetrator of this crime declared suppressive. I was told it 'would not fly'. But I could do one thing myself — I issued a PTS declare order, barring him from service and from coming into the church. There was reluctance to this by certain people as it would 'upset his sister'.
At the same time all of this was happening, family members of the DSA, Jeff Quiros were unfortunately also harmed by a sexual predator. That perpetrator was not involved in Scientology and Jeff worked with the police to have him prosecuted and put in jail. This was also made known to OSA West US and OSA Int, and there was no opposition to his involvement on sending this perpetrator to jail. I bring this up to illustrate the incredible hypocrisy within the church.
Within a year, that PTS declare was lifted and the child molester was allowed back in the org and on service. I complained, but was told with no uncertainty that I was wrong and to keep out of it. I was told that I was an ex-SO member and so had 'no say". At about that same time, all ex-SO with freeloader debts who were volunteering at the org (including me) were kicked out because we were found to be a 'why' for fundraising income being low (surprise, surprise, but this action didn't result in increased income).
Fast forward to a few years later, when the org was in a big push to go 'St Hill Size', the perpetrator was actually recruited onto staff and remained a staff member for several years. This was shocking to me and I complained, but was shut down yet again. I was told I needed to 'get over it'.
Some time ago, at the urging of Steve Hall, I did contact the police, but was told that nothing could be done based on my report alone as so much time had passed and the girl was not in danger. I wanted to at least expose this at the time, but was told by my now ex-husband Josh Mooney-Capella (who is still on staff) that the victim was doing well and that I would just be harming her by bringing this up. I let myself be silenced yet again.
Well, I never have been able to 'get over it' and at least I can finally expose the hypocrisy and criminality of the Church. I now know that this was far from an isolated incident and that the church has covered up and committed many crimes over the years.