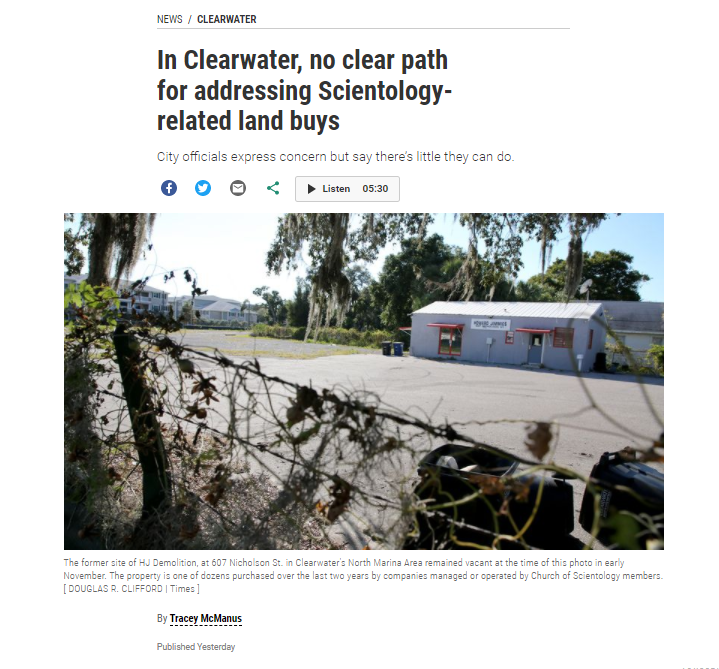 The latest article from Tracey McManus in the extensive reporting she had done on scientology's land grab in Clearwater. You can see some of her earlier reporting here: Scientology members fuel another land buying surge in Clearwater and  Clear Takeover
The recent activities prompted Mark Bunker to raise concerns at the city council meeting which is what the latest story covers. He didn't get much support.
While some of the city council are willing to acknowledge scientology taking over Clearwater as  a "problem" they simply throw up their hands and claim there is nothing that can be done.
This is in fact the biggest problem the city faces. They are investing tens of millions to try to revitalize downtown with their Imagine Clearwater plan and the scientology strategy is pulling the rug out from under them.
The FIRST step they have to take is change the PERCEPTION problem the city has. They are seen as being impotent to the bullying tactics of scientology. Comments like "there is nothing we can do" and "they're no different from the catholic church buying property" reinforce that image. People will be reluctant to invest money or even visit downtown Clearwater as long as they believe scientology can dictate what happens in the area.
It's a long road to change the state of downtown Clearwater, but the city has to take the first step on that road by making it clear they are no longer willing to be pushed around by scientology without so much as a whimper of resistance.
The ostrich strategy has not worked. Not doing or saying anything under the misguided notion that doing anything "forwards the narrative that scientology controls Clearwater" is short-sighted and foolish. Scientology has been playing the long game for decades and have nearly accomplished their stated objective of making Clearwater the first scientology city.
Like all bullies, Scientology has created an atmosphere of fear. People are afraid to visit downtown. Politicians are afraid to speak up about them. Scientology targets those who are brave enough to speak, invariably calling them "bigots" and "haters" (Ben Shaw claimed in this article that Mark Bunker is "harassing" them). There are a few voices who continue to try to stir some action: Councilman Bunker, The Tampa Bay Times and Pastor Willy Rice. There needs to be a full chorus. Aaron Smith-Levin is hoping to add to the equation by being elected to the City Council. It's time more people in this city decided to do the same.
Bullies go on bullying until someone finally stands up to them. It's never too late.