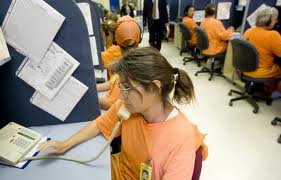 Listen to the new voicemail being left by Flag on people's answering machines twice a day.
They must be pretty concerned about the turnout for this event as 1100 outer org trainees left Flag. And judging by the dismal turnout for last week's Most. Important. Event. In. All. Universes. Ever. they are going to have to spread out the chairs in the circus tent to make sure there aren't too many empty ones visible.
Just in case this audio download doesn't work for some, here is the substance of the message:
We are 7 days away til the first time ever celebration of the live IAS anniversary event.
I thought there was something strangely creepy about those previous IAS Anniversary events. His Eminence looked sort of like one of those Disney animatronic Presidents. I wonder if it was that or CGI. But that's quite a gimmick now, it is actually going to be presented "live" (via teleprompter). Impressive. I do note that GAG II might have included some sort of grammar course….
Late breaking news of how we, as the IAS, are eradicating suppression and barriers to clearing the planet.
Looking forward to hearing them. Things seem to be moving along oh so well in the world of Scientology Suppression handling….
Then on Sunday we are having Sunday Service with the Reverend Alfreddie Johnson.
Presumably because there is no staff member in all of International Management, the IAS or the FSO that can do this at our "mecca" so we are going to use a Baptist Minister and NOI liaison. (Where is Heber? Surely if there is ONE function he should be performing at the inaugural "Sunday Service" of the most important building on earth, it would be this).
You can get yourself a personal tour of the new Flag building….
I guess the most important building in the history of Scientology at the "friendliest place in the world" isn't really "open". It has been "opened" but in order to enter it you must be part of an official "guided tour".  It just gets more and more like North Korea as every day goes by.
Oh, and almost forgot: …there will be free crush regging Case Checks.