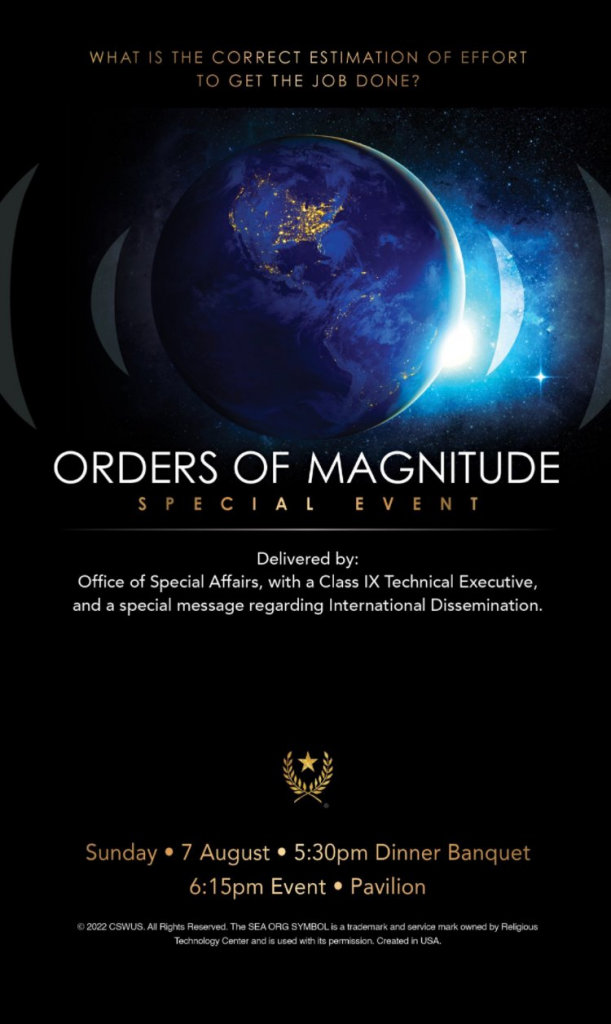 This is one of the things scientology is absolutely insane about.
They convince themselves they are "clearing the planet," "changing the civilization" and "salvaging earth" because they tell themselves it is so. Yet the truth is they have no measurable impact on anything except the lives of those they come in direct contact with.
This "briefing" will of course be a complete joke. Their special message about "International Dissemination" is not going to be anything remotely close to covering what the "correct estimation of effort" is because that would be so unreal and uncomfortable that people would walk out.
For shits and giggles, I ballparked what the correct estimation of effort would be.
Let's set an unrealistic target of clearing the planet in 100 years. Why 100? No really good reason — scientology has been trying to Clear the planet for 72 years now. 75 years is about the life span of average humans these days. So, add on 25 more years. It makes the math easy. It's arbitrary, but at least it is SOME number. Scientology NEVER puts any number on their "we are clearing the planet" bs.
Let us also assume the population of the planet remains at 8 billion for the next 100 years and also discount anyone dying or being born (so no loss of Clears because they die).
Simple math — 8 billion Clears in 100 years.
That's 80 million Clears made a year.
Let's say an org makes 10 Clears a week (most have not made 10 in a year, no org has EVER made 10 in a week for a year). So, each org  makes 520 Clears a year. Let's double that and say each org makes 1,000 Clears in a year just to keep the math simple.
This means, right now scientology needs 80,000 orgs producing 1,000 Clears per year.
They have had the same 150 or so orgs since the 1980's. No expansion for planetary clearing, just more real estate and empty buildings. Still not a single org in India or China which is 1/3 of the world's total population. Not a single org in a Muslim country, about 15% of the world's population.
Do you think the "Office of Special Affairs" and "Class IX Technical Executive" are going to lay this out?
Nah, they won't even mention the real correct estimation of effort.
But that's par for the course in scientology. Just tell people what they WANT to hear… That then becomes "fact," and they carry on, handing over money and their lives