The news from Los Angeles that the Danny Masterson Preliminary Hearing resulted in the judge ordering him to stand trial for rape was more than welcome. It was a relief to know the victims have finally been heard and taken seriously. It was also long overdue.
Tony Ortega did a magnificent job of reporting over 4 days of the hearing. It was amazing the level of detail he was able to take down and relay to all those unable to attend in person.
My message to the 3 women who took the stand: Brava. Brava. Brava.
And Brave, brave, brave.
It takes guts to testify before a court under any circumstances. It requires inordinate inner strength to do so when you are recounting details of a violent, physically and emotionally traumatic incident.
While the hearing was going on, there was a great deal of media coverage of Lady Gaga, after disclosing she was raped 16 years ago and the lasting scars and the huge impact it had on her. I highly recommend the Oprah Winfrey/Prince Harry series The Me You Can't See on Apple TV+ where Gaga and Oprah discuss the ramifications of their own sexual abuse/rapes and the long term impact it has had. It is an insight into the incredible strength of women who expose sexual crimes.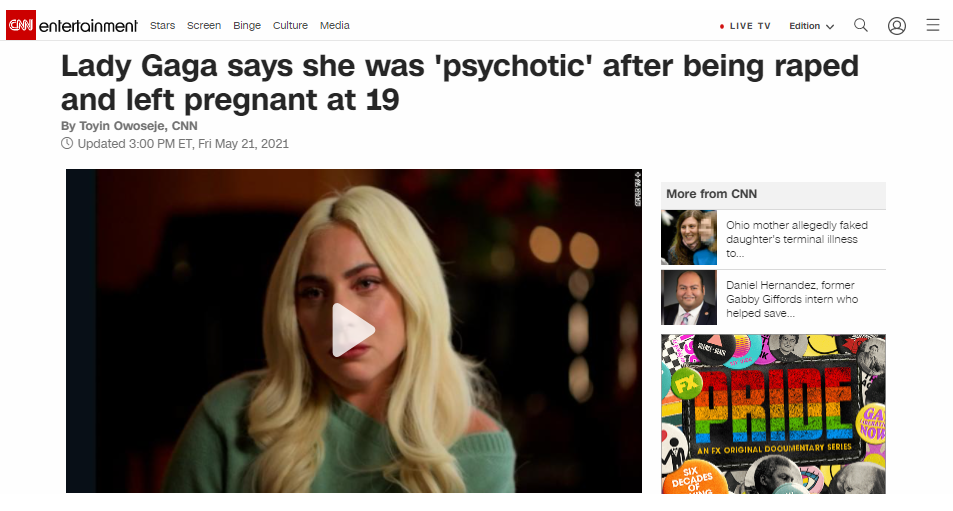 Sadly, the cocky, "I'm too cool for school" attitude of Masterson during the hearing was not unexpected. It's not just scientology celebrities who suffer from an inability to introspect. It is a characteristic of sociopaths everywhere. When confronted with horrific lies and heinous crimes they act as though the person exposing them is crazy/lying/vindictive. It's a level of insanity and complete lack of conscience that most find difficult to comprehend. Unfortunately for scientology celebrities, they have the additional burden of being surrounded by the most fervent of all sycophants. A lot of celebrities and leaders have an entourage of yes-men and women who reinforce their brand of delusional self-assurance. The problem is magnified when they are all scientologists. This is especially dangerous to one's mental health. No doubt the good scientologists around Danny Masterson are telling him "those women are being victims" (a terrible indictment in scientology — meaning "they have done terrible things which is why they are complaining"), "they are just SP's," and "you know, LRH says SP's target artists" and a whole lot of other things they all agree are absolute truths that make Danny a victim and his victims the lowest of the low.
It is going to be the job of the District Attorney's Office to put together a case that will convince a jury beyond a reasonable doubt that Masterson should be found guilty. Masterson's lawyers are going to try to undermine the credibility of the victims with vicious attacks on their character and attempted distractions. As the old lawyer's adage goes: when the facts are in your favor, argue the facts; when the law is in your favor, argue the law; when nothing is in your favor try to bamboozle them with bullshit.
The harrowing recounting of the rapes we witnessed during the Prelim Hearing reminded me of Danny Masterson's "DJ name." He apparently thought calling himself DJ Donkey Punch was a great joke.  He was proud of it. Seems he was a cocky asshole long before now. I remember when one of my friends who had hung with Masterson first told me about it. I didn't know what it meant. After I heard the descriptions of his victims, that he chose this name for himself took on a whole new significance. This is what his name refers to: "The Donkey Punch is a relatively simple maneuver. When engaged in anal sex from behind, simply punch your partner in the back of the neck so that the sphincter clenches up."
I hope, as Masterson's lawyers try to discredit his victims, that the jury sees him and thinks always of the name he chose for himself as an adult, not the name he was given at birth. It will be a constant reminder that the man sitting in the court room, charged with these horrendous crimes, is not a victim but a proud and cocky, self-proclaimed "Donkey Puncher."