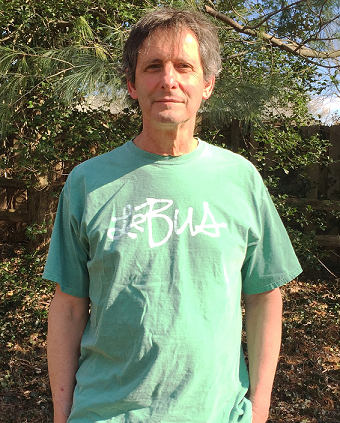 For those of you who don't know me,  my name is David Braverman and I live in East Falls,  which is a suburb of Philadelphia,  with 2 cats and an amazing Steinway baby grand built in 1914.  I have 3 kids, although their mother Andrea and I are divorced.  I own a wholesale bakery which delivers fresh European-style bread every day throughout Philadelphia, and frozen bread all over the country.  It's really quite a big business, even though I didn't plan it that way.
Oh, and I'm an SP, and I didn't plan that either.  In fact, I never would have believed it when all this started, which was in New York City in the early spring of 1971.
I was music major at NYU at the time, my junior year, and I was walking down 5th Ave towards Washington square.  A cute lady in a miniskirt (her name was Molly Harlow) handed me a card which said "Scientology Works".  I had no idea what Scientology was, regardless of whether or not it worked, even though I had been handed the same card hundreds of times before.  But this time I asked the lady in the miniskirt "what is this?'' and she said, "well, you want to see a movie?"  and I said "when does it start?"  and she said "right now" and grabbed my arm and took me into the (long-since defunct) 5th Ave mission.
I thought the movie was awful.  I remember some actor in front of an observatory-size telescope (Stephen Boyd?), and I wanted to leave, but Molly intercepted me and sat me down and we talked.  My ruin was that I couldn't play piano as well as I wanted.  Molly said Scientology might be able to help.   So I bought the comm course.
I loved my course supervisor whose name was Joe Pinnelli, who only had one good eye.  The first thing he gave me to read was the Student's Guide to Acceptable Behavior, and then it was pretty much right on to TR's.  In those days you did TR's the hard way right from the start (the way they should be done, if you want my opinion).
I did TR-0 for 2 ½ hours a night, night after night, for WEEKS.  I actually can't explain what motivated me to keep going, considering the agonizing physical and emotional responses I experienced.  I remember twitching, spasms, extreme butt-pain, itchiness, burning, convulsions, light sensitivity, grief, loneliness, foreboding.  Then one evening after about an hour something happened and I was looking down at the top of my head and the other students doing TR's from what seemed like 3 or 4 feet up,  and I felt nothing but calmness,  and the feeling that I could stay there forever.  I raised my hand and Joe came over and I said "I think I just had a Major Stable Win" and I described It to him.  He opened a small pink booklet with "Scientology Abridged Dictionary" printed on the cover and told me to read the definition of Exteriorization,  and my jaw dropped and I said  "that's what happened"  and at that moment I was hooked.
The mission was owned by a good guy named Howard Rower who was declared about a year after I started while I was on the HQS course.  I of course had no idea how a guy like that, who had helped me a lot, could be declared.  I wasn't even sure what being declared was, except he was gone.  But of course back then in my naïve state I didn't know how things were done in the Church of Scientology.  Also there was an auditor on staff whose name was Julio Delatorre who was clear, and he was funny and personable and really seemed to have it together, so we all wanted to go clear to be like Julio.
At the end of the school semester I went to work as the musical director at camp Ramah, a Jewish summer camp in the Poconos.  Before I left I asked Joe Pinnelli to recommend a book to read over the summer, and he recommended "Dianetics 55!" which I bought and took with me to camp.  Some afternoons I would walk into the woods outside of camp and read a chapter, and then I would do TR-0 with a tree, just to keep in practice.  As you may have guessed, there were no Jewish Scientologists to twin with in camp.
When I got back to New York in the fall I started the HQS course.  Then later on while I was on course Joe was removed as course supe.  I had no idea why since he seemed like a great supervisor to me.  Then someone on staff suggested I write to Ron about it.  I thought it was a  bit of a reach to think that Ron  himself would look into the matter,  but the policy I was shown said I could write to him about anything.  So I wrote Ron a letter about Joe, and put it in the little box they kept in the org for letters to Ron, no postage required.  About 6 weeks later Molly, who was my new course supe, came to me with a twinkle in her eye and handed me an envelope with "L Ron Hubbard" typed on it.  Oh my god, a response from Ron!  I mean, wasn't he really busy??  The note inside looked like it was really signed by Ron, and he said he was concerned about my supervisor Joe getting fired,  and that he had asked his Director of Franchises WW to look into it,  and best of luck on my future studies!  Well, Joe never came back to the mission, so I guess the Director of Franchises WW wasn't able to get the job done, but I think I still have the letter.
On the HQS course I co-audited with a woman who was a modern dancer named Tina and we did the self-analysis lists.  I remember clearly the very first auditing question of my very first session was "recall a time you were happy", and I remembered when I was little my parents took us to a swim club we belonged to every day in the summer and I swam and swam and learned to dive and we ate pizza from the snack bar for lunch, and I cognited that I used to be happy and line-charged (although I didn't know the term) for about 5 minutes with tears coming out of my eyes.  After I was done line-charging Tina kept going on with the list because it was her first time as an auditor (first question really) and I guess she figured I couldn't have had the EP yet, but it didn't matter.  After about a week I mysteriously found myself feeling really good for the first time since high school.  Another reason I was feeling good was that sometimes Tina (who was really cute) would sleep over, you know, after course, even though I'm pretty sure it was against the Student's Guide to Acceptable Behavior.
One day later on that year, at the end of course, Molly told me she was joining the Sea Org and leaving right away.  She gave me her bike as a gift, which I rode to school every day that spring.  Later on I saw her name "Molly Harlow" at the bottom of the Board Technical Bulletins, and later it changed to "Molly Gilliam".  I wonder where she is now.
Then a field auditor named Roger Sorkin who toured from mission to mission  came to  5th Ave and he was electrifying PCs with his auditing.  It was the spring of my last semester in college but I wanted to stay in NY during the summer so that Roger could audit me too.  I raised money by going to the financial aid office at NYU and I convinced them to give me a spending-money stipend, which I then used for a few intensives with Roger.  He did my life repair which consisted of a "green form 40" as I recall.  I remember the questions were so simple, and, if I just looked, the answers were so obvious.  Yet each step seemed to uncover something deep in my mind even though it was right there on the surface.  I can't describe the feeling exactly, but I began to feel unstuck, like everything became less solid.  Then after about 2 weeks the D of P (I forget who she was) said I could attest to "keyed-out OT", which is something they had back then.
I have never attested to anything since then with as much certainty, not even close.  The physical universe all around me seemed to be transparent and shimmering and alive and I could totally decide to move into it or out of it or even permeate it.  I mean, I actually knew what was going on in the next room…walls had no mass at all to me, in fact nothing did, not even my body.  The "keyed out OT" lasted for months, then it sort of faded away, but after that I always believed I knew what it felt like to be OT.
The next fall I took graduate courses in music at Temple University in Philadelphia, and I started a college-age choir in Philadelphia which specialized in Israeli folk music and music by Jewish composers, which I conducted.  Then late that spring I heard that someone named Yvonne Gillham-Jentzsch was opening a Celebrity Center in New York and Roger was auditing there.  So I got a bank loan and went to get auditing from Roger over the summer.  I think I was the first ever PC at Celebrity Center NY (although I was curious why they took me, since I wasn't really a celebrity).  And I LOVED Yvonne!  But after a week or so Roger told me that Ron had contacted him telepathically to come to the ship immediately.  I totally believed that Ron, being Ron, could contact him telepathically.  But I wondered why Roger couldn't contact Ron back, even if he had to resort to conventional means such as writing or using the "telex", and tell him that he was in the middle of auditing a PC.  I thought Ron would want him to finish before he left for the ship.  But I didn't say anything and Roger left and I never saw him again.  I don't know if Roger ever made it there, but soon after I heard that he had been declared, something about squirrelling.
A woman named Helen Hochman took over my auditing after Roger left.  I got mostly HSDC.  Then a year or two later I heard that Helen had been killed…run over by a bus.  I was shocked of course, and very sad, since Helen had become a good friend when she audited me.  Also, silly and naïve as it may sound, I didn't think that kind of accident was supposed to happen to a Scientologist.
Over the next few years the choir became very successful and well-known around the city.  We sang in large synagogues and concert venues and I became kind of a young musical celebrity, at least in Jewish circles. We even gave a big city-wide choral-orchestral concert in front of Yitzhak Rabin, prime minister of Israel, with a large orchestra made up mostly of talented players we hired from the Curtis School of Music here in Philadelphia….I still have my baton!  Philly had no org back then so all this time I was taking courses in the mission of Ardmore (a Phila suburb) which was near where I lived.  I was working each summer at Camp Ramah as the music director, and during the summer of 1977 I hooked up with a young woman named Deborah Siegel who taught Israeli dancing.  Deborah went to the University of Penna, also in Philadelphia, and that year after camp we moved in together in an apartment in Ardmore near the org.  Deborah had become a Scientologist (on her own) after she met me.
One day in 1978 I was on course and at lunchtime I asked my friend Tony if he wanted to get lunch with me.  He was giving out free personality test "tickets" or some such thing in front of the org and he said he had to finish first, so he handed me some tickets to give out to help him finish quicker.  I really didn't want to….I always kept my involvement in Scientology to myself, because I knew it wasn't safe.  But I took a few tickets and started to hand them out.  As luck would have it I handed tickets to two girls who walked by who I didn't recognize at first glance but were campers at Ramah (in fact one had been in a camp choir that I led) and they stopped and looked at me bug-eyed and said "David???"  I realized I had fucked up big time and I sputtered something like   "oh, it's no big deal…I just took a course cause my friend here is into it…." except it was a big deal for the two girls and they ran home to tell their parents, one of whom was a big Jewish lawyer in Philadelphia.
At that time there was an "anti-cult" mania in the city, and the incident with the girls led to an "investigation" and a meeting of a bunch of rabbis and Jewish community leaders, who decided I was dangerous.  They attacked me publicly as a cult member and a religious convert, which stigmatized me and the choir.  I defended myself and Scientology publicly with an open letter to the Jewish community stating that Scientology for me was a kind of self-help method, that I was NOT a religious convert.  I pointed out that I had been a Scientologist throughout my entire career as a Jewish musician and teacher, and that all during that time I had contributed to Jewish life and culture in Philadelphia far beyond the average Jewish person my age.  It was to no avail, and by the end of that year I moved on from the choir and my career in music as well.
Deborah had been in touch with a Scientologist named Joe Scogna (who was OT-3!) who had come up with a TR's based "how to handle the customer's origination" system for selling newspaper subscriptions which would guarantee that we would sell the subscriptions and get commissions (which we would split with him),  and we would work our way across the country (me and Deborah, not Joe) earning money selling subscriptions, and we would wind up in LA with lots of money to go clear (and be like Julio).  So we did the training and Deborah and I worked the entire summer in New York and Detroit.  It was my job to go door to door, and Deborah's job to sit in the office and, well, do the books or something.  She always got angry when I asked.  It was a miserable time for me….I had gone from being a big conductor to a door to door salesman.  But after a few months we didn't earn a penny and told Joe we were out, and we went home.  Also, at the end of that summer, Deborah and I got married.
At that point, having left my music career behind (temporarily, I thought),  as well as my newspaper career,  I got the idea of the food business since I was always a good cook even when I was little,  and my father was in the food business so I had grown up around it.  So my parents co-signed on a $3000 bank loan and I bought an old school bus to start a deli-vending business.  We fitted it out with food equipment and called it "LeBus" and opened on the University of Penna campus in 1978.  We hired lots of Philly org staff (there was an org now) to work for us on their days off, just to help them out.   It was really hard work and after a few months Deborah decided that she had had enough of the vending business, and enough of me as well, and she split for New York to join the Sea Org.  She eventually landed at the Landlord's office at Gold, and, according to Claire Headley who answered my email, she is still there today (holy shit, almost 40 years!).  A young woman named Ruth Drye, who had recently come to Philadelphia from Kentucky to play baroque flute with her sister had been working part time at the LeBus take-out window, and she became my full-time business partner the day Deborah left.  She also became a dedicated Scientologist.
For the next 10 years we worked like crazy, and the business grew into multiple restaurants and a wholesale bakery.  I spent lots of time travelling to bakeries all around the US and France and Germany and learned to bake European sourdough and French style breads by watching and asking lots of questions.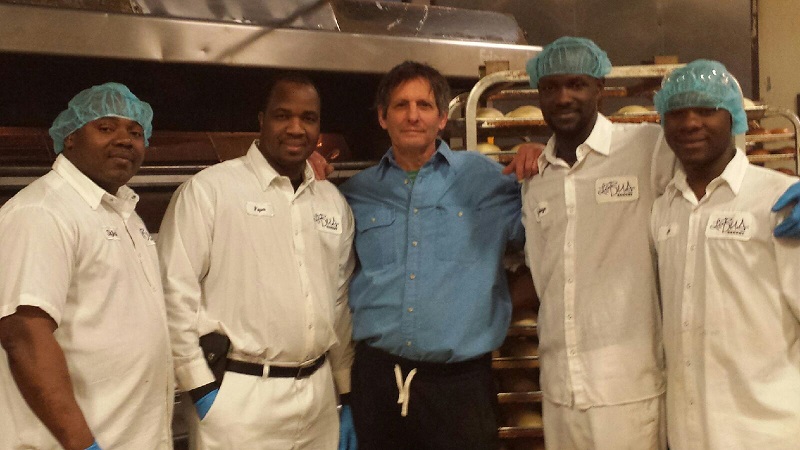 Eventually LeBus was delivering artisan breads and pastries to hotels and restaurants all around Philadelphia.   During this time I was on course in Philly and getting auditing.  I went to Flag often and became a Patron several times over, donated to all the book drives, CCHR, etc, etc.  Also, sometime around this period I attested to clear.  I decided I had actually gone clear when Helen had audited me on HSDC back at CCNY.  I didn't develop a sense of humor like Julio, but I felt pretty good.
By the way, I never thought Flag was the Friendliest Place in the World.  I hated the constant pounding for $$$, the interminable routing forms, even when you were trying to leave.   I considered the pool (as seen in the brochures) off-limits because it exposed you to IAS reg's, and every other reg, not to mention Sea-Org recruiters.  I once spent an hour in session handling the ARC break following a disgraceful and degrading pool-side encounter with about 4 or 5 recruiters who surrounded me.   They told me that my current life, once the "veneer" was removed, was no better than a smelly pile of dogshit  (yes,  those words exactly)  because I wasn't on-purpose in the Sea Org.  This did not get me to sign up.
Also, I never thought the auditing at Flag was any better than at a local Org.
One day I was in the lobby of the grades HGC which used to be on the lower level at the Fort Harrison with the entrance by the pool.  I was talking to someone when I heard a sort of commotion at the board-in-charge desk, about 10 feet away from me.  I turned around and saw a rather tall, slim woman with very long, very red hair standing there attracting quite a bit of attention.  She was angry, grumbling, complaining in a whiney, petulant sort of way about her auditor making her wait.  The person I was talking to said to me, in my ear, "that's Diana".  I reflexively turned away and kind of looked down at my feet, like I shouldn't be witnessing this.  It wasn't possible.  Ron's daughter?  Shouldn't she be glowing??  I'm not kidding….I really thought that.  It may not seem like much, but that image stayed with me for a long time.  It was very troubling.
But getting back to Philly, the lead course supe at Philly org at the time was a guy named Rich Fyke.  Rich had gotten married and had a newborn.  To support his family Rich worked for us full-time 5 days a week and supervised nights and weekends.  Then one day there was a Sea Org mission in the Org and Rich was ordered to quit his job at LeBus to supervise days at the org as well.  He refused.  Then I was ordered, as a Scientologist, not to allow him to work at LeBus.  I don't think they had the authority to do that, but I didn't know that then.  I refused also.  As a result they Comm-Ev'd me and Rich.
It was horrible, every night late into the night after course, for several weeks.  I remember at the beginning they passed around a few Knowledge Reports that had been written about me that I didn't know existed.  They were some comments I had made about the org or other Scientologists that org staff had overheard, usually on their day working at LeBus.  When I read them I did remember making the comments, but taken out of context on the KR's they sounded more negative than they were intended.   At that stage in my life as a Scientologist I had heard of KRs, but I guess I supposed nobody actually wrote them.  I don't know, it just didn't seem right.  It made me angry.   Nevertheless it was very eye-opening, and definitely taught me to watch what I said around other Scientologists.   To this day, I have never written a KR like that on anyone.
After the Comm-Ev a week or two went by waiting for the findings, which never came out.   Instead, the ED of the org John Bair told us "listen, don't worry about it, the Comm-Ev was a mistake; Rich can work at LeBus after all, no problem".  It was beginning to dawn on me that maybe Scientology wasn't the sanest group around after all.
In the summer of 1987 I went to Flag for some review auditing.  Then somehow the Director of Training talked me into staying and doing OT-3.  She said everything, solo 1 and 2, set-ups and eligibility, and OT 1, 2 and 3 would take about 6 weeks.  Incredibly, I believed her.  About 5 weeks later, I had just finished the solo courses.
But the worst was Eligibility.  On the one hand, I liked my auditor, whose name I forget, who told me that her daughter, who was about 5 years old, had been Golda Meir in her past life.  But I hated the auditing.  I really didn't think I had committed all these harmful acts I needed to cleanse before I was pure enough to get on the OT levels, but I would always try to come up with something to get it over with.
Back then the False Purpose Rundown was the new thing, and each transgression I revealed on eligibility had to be run FPRD.   I would close my eyes and stare at blackness for what seemed like hours trying to find an evil purpose till I just made one up, or something.  It went on for 2 or 3 torturous weeks, and we were only about half way done.  Everything took so long that eventually I only had about 2 hours left on my last intensive and no money left to buy more and I told my auditor we were done.  I said I'd have to go home and come back to Flag when I could afford it.  She said maybe we could finish the list in the remaining 2 hours, which was crazy since we were only about half through.  But she said let's try!
And we did,  and she read off all the remaining questions one after the other without stopping once,  like I was FNing,  which I assure you I wasn't.  It only took about 15 minutes.  This was totally nuts since the first half of the list had taken weeks.  Something seemed fishy, but I was happy enough to be done with it.  I'm thinking my auditor knew how useless eligibility was and she just ignored the meter and phoneyed up the worksheet.  Hey, I don't think there were many video cameras in the auditing rooms back then.  Good for her!  For the record, I have never had an eligibility cycle that didn't leave me feeling worse when I finished than when I started.
But now I was ready for OT-1 and 2 and then the Wall of Fire!
I remember the moment when I was handed the OT-3 materials.  Needless to say my anticipation was at a peak.  But when I read through them my first reaction was that, like pretty much everything else Ron wrote, it was really confusing.  I thought to myself that,  considering that this was the Wall of Fire,  at least Ron could have taken the time to explain it better,  you know,  sort of flesh it out,  maybe include some background material to make it easier to follow.  So I read it over and over, and finally I sort of thought I understood what had happened.  And, well, I believed it.
But the solo auditing on OT-3 made me feel sort of panicky and nervous.  I audited for about 2 or 3 weeks and then the CS said I could attest.   Right away after I attested I began getting anxiety attacks and depression which was really bad and the R-factor I was given by the D of P was that I just needed to keep going through OT-4 and on to NOTS to get it handled.
Of course I had been at Flag all summer and I had to get back to Philadelphia, and so I went home, in really bad shape.   I couldn't raise the money and drop everything and go to Flag anytime soon, and besides I thought OT-3 was supposed to change my life and make me feel great and this is not what I had signed up for.  So I managed to push through the mental problems and eventually I felt a little better, and I kept working hard at LeBus and in 1990 got married again to Andrea (a non-Scientologist) who I met because she frequented one of our restaurants, and in the years that followed I worked harder than I had ever worked in my life building the business, and Andrea gave birth to our 3 children:  Benjamin, Joseph, and Jamie.
In 1995 I decided to gift sweat-equity shares of the company to three people; my brother Joel who worked for the bakery, a general manager named Adam Ritter, and Ruth.  Neither Adam or Joel were Scientologists. We had had various Wise consultants in over the years and we were trying to implement admin tech, and later on Adam became quarrelsome because he disagreed with the policies and how some things were being done.  Eventually he became so disruptive that I decided to fire him and buy back his shares as per the shareholder's agreement.  Then Adam filed a discrimination lawsuit which claimed he was fired because he wasn't a Scientologist.  We settled the suit in arbitration, but soon after that Adam approached a writer at Philadelphia magazine to do an article about LeBus and Scientology.  We knew this definitely was not a good thing, but there was nothing we could do to stop it.
Ruth and I consulted with the OSA rep here in Philly, and we agreed to be interviewed for the article.  The writer also spoke to Joel and other LeBus employees.  The subject was a perfect fit as a juicy human-interest story:  a well-known area business, a dispute between partners, a religious cult, money, discrimination lawsuits, you name it!  Well, OK, there was no sex.
While this was going on the OSA rep informed me that I had been "ordered" down to Flag for ethics handlings to find out why I had "pulled in this entheta".  I told him that I had "pulled it in" by having a successful business which people were interested in reading stories about,  but he kept telling me that I better get down to Clearwater, the MAA was waiting for me.  So I went.  Unfortunately, when I got there and showed up at the MAA office, no one seemed to be waiting for me, or even to know anything about it, as much as I tried to explain to them that they were the ones who had ordered me down there.  So I sat around for 4 or 5 days, and went home.  I did get in some good runs in the sun on Clearwater beach, however.
The article, which was front-page in the magazine, hit the newsstands in September 2000.  As you may have expected, it really seemed to have been written long before the writer even started his investigation.  He painted a sordid picture of a sinister atmosphere within LeBus, with sums of money secretly flowing to the cult, and creepy, low-level indoctrination of employees, everything a typical Philadelphia Magazine reader would want to read while sitting on the john.   Really, LeBus was not that way at all.  He even relayed a snide comment by an anonymous employee who remarked that my hyper-active kids misbehaved noisily in the restaurant and, if not for Scientology, they would at least be on Ritalin.
Interestingly, though, he painted me in a rather favorable light.  He gave a long background on my history as a baker, claiming that I had "taught Philadelphia to bake", and went on to characterize me as an unapologetic, dedicated craftsman of artisan baked goods, and that I was happy as long as my products met my high standards, and that I believed I had the right to damn well spend my money on whatever religious cult I pleased, and I really didn't give a shit what Philly mag or anyone else thought.  I kind of liked that.
In the end, if the article affected business, I really didn't notice.
About a year later the anxiety and depression came back and it was 10 times worse than before, and lasted 3 years and I didn't think I was going to make it.  Most nights I couldn't sleep and during the night I began reading self-help books (secretly, so I wouldn't get in trouble since they were "other-practicy").  Gradually I began to feel better and in 2004 I went back to Flag to do OT-5  (I had previously been back to Flag,  years earlier,  to do OT-4,  which didn't help my condition).  My time at Flag lasted way longer and cost way more than predicted.  The worst thing was that I was told I wasn't really clear,  except they couldn't show me the reference,  and had to get about 2 or 3 intensives of HSDC until they told me I had had the clear cognition and I could attest (again).  It was happening to a lot of clears back then.  It was a total waste of time.  I eventually did get half way through OT-5 but I ran out of money and time and came back home.
While I was at Flag I had gotten an email from a woman named Isa Goldfarb who I knew from the old days at Camp Ramah.  Isa had spent 10 years of her life living mostly alone in the jungle in Costa Rica!   Then she had come back to Philadelphia when her father had gotten sick.  She wanted to know about Scientology since she knew I was into it and she thought maybe it could help her.  I gave her an exuberant reply, mostly out of habit and training I guess, because by then I really wasn't feeling that way.  This led to Isa getting some Book One auditing at Philly org, which she liked, and then she bought about 3 intensives of introductory auditing which did not go well, in part because she was told that the auditing had to be done all day long, "intensively," which led to typical sessionabilty issues of having to overeat all day and feel stuffed and try to nap when you can't, and so forth, and she had a bad experience.   I never agreed with the intensive auditing thing….the best auditing I ever had was one session a day.  She also was sold the Purification Rundown which she got through without much benefit, followed by TR's and Objectives, which went on forever and didn't work out either.  I was feeling kind of bad since I knew she was doing this on my say-so, and in reality my enthusiasm for Scientology at this point had been waning for a while.  Nevertheless Isa and I spoke often and began to develop a close relationship.
As time passed I became less and less interested in any more auditing which seemed to be of no benefit to me,  although I did get talked into going to Flag 2 or 3 times for review auditing and ethics handlings since it was considered such an out-point that I wasn't moving on the bridge.  Each visit got more and more arduous and expensive, and the auditing tedious and useless. It really did not have the intended effect of me jumping back on the bridge.   But I did stay involved in Phila org as an OT committee member and got quite involved in fundraising for the Philly Ideal Org.  Over time I donated about $100,000 to the building purchase.  I also donated refreshments from LeBus for all the Ideal Org fundraisers, and once LeBus did a large-scale, very expensive catered dinner for free, which raised a lot of money.  Also about this time Andrea and I split up.  The kids were teenagers and aside from having raised the kids we really didn't have that much in common.
Then Philly Org got the good news that the 8 million dollar, 15- story building on Chestnut Street that we had found to be our new Ideal Org had been "approved by Int management" (thanks guys!).  At the time it didn't make any sense to me since the existing 2-story org building was pretty empty, but I wanted to help.
I remember the week leading up to the deadline for purchasing the building (I don't know where the "deadline" came from) we were coming to the org practically every night, planning "strategy", getting as many public as we could to show up for fund-raising meetings where we would play the Rocky theme and people would be expected to come up to the dry-erase board and write down how much they would donate.  Of course the most fun activity was when we were given phone lists of people, who in some cases we hadn't seen in decades or were possibly deceased, and we had to call them to get money.  This was a waste of time because of course no one in their right mind would answer a call from the Org, and anyone who did, by accident, pretty much laughed us off the phone.  Essentially no one gave any money except the 30 or 40 of us hard- core adherents.
Then one afternoon during all this we found out that Golden Era was coming that very evening to capture on tape the wonderful excitement of feisty Philly org sprinting toward the finish line to purchase their Ideal org and then clear all of the Tri-State area within weeks.  We were told the segment would be featured during the next International event, with COB narrating!!!   Naturally we ALL got emergency calls that afternoon to show up by 8:00 to stage this freak show for the cameras.  And naturally, we all did!
The scene I was chosen to be part of depicted a bunch of us calling other parishioners on our cellphones, ostensibly raising thousands of dollars.  Of course I have to admit that when the time came I had a little stage-fright.  But no problem!  The Gold professionals had been through this before!  To set the scene they carefully seated about 9 or 10 of us around a table (attractive women in front).  Then they showed us how to smile like morons, gesturing and talking animatedly into our cell phones, as if we all had multiple people lined up on hold, waiting their turn to donate their kid's college funds.
Why did we participate in this phony nonsense?  I guess that what bubble-dwellers do.  Much to my relief, I missed the International event where they ran that feature, if they ran it at all.
As for raising money, we were 1.2 million short the night before the so-called deadline.  So two OT committed members, Chuck Simon and Michael Holstein, gathered about 15 of us together around midnight, and said that they would get a bank loan for the 1.2M balance the next day if we each would sign an agreement to pay back our share, which came to $76,000 each, with interest, at the rate of $1000 per month for the next bunch of years till it was paid off.  Some of the guys refused, the rest of us signed.  Later the Org knighted us the "Legion of Heroes."
So we bought the building, which is still sitting there, about 7 or 8 years now, boarded up, much to the displeasure of Philadelphia Department of Licenses and Inspections, waiting for the money to be raised for renovations.
After all this I began to go on course less and less, and always found excuses to avoid fun things like International events, and (always exciting) OT Committee meetings.  I even dusted off my piano and used the extra time to start to play again.
Then one day I saw a NY Times front page article on Scientology and somehow I got myself to read it.  In it, a few women, including one that I knew, talked about their coerced abortions, and I really couldn't believe what they were saying.  It didn't seem possible….not in Scientology.  Then one night I stumbled onto a radio interview of Marc Headley, a real SP, and I mustered up the courage to listen to it.  He talked about the insanity of life at Int Base, decades-long sleep deprivation,   Miscavige's brutality, the motion detectors and in-facing razor-wire, and his escape when the blow-drill guys practically ran him over.   Amazingly, he sounded like an honest guy who was telling the truth.  One thing led to another and I bought "A Piece of Blue Sky" and I hid it and carefully and slipped it out when no one was around and read it.  I was shaking every time I reached for it.   After that I read more books (I couldn't stop!) and started looking on the internet.
All the time I kept to myself hoping to just quietly disappear from Scientology.  The main reason I wanted to keep a low profile was Ruth, who was working in the bakery as my Human Resources manager.  Her two kids were both Scientologists, one in LA in the Sea Org, and the other on staff in Philly.  I knew it would be real rough on her if I was declared since presumably she would have to leave LeBus, and I didn't want her to leave plus I knew she depended on the job.  As for me, none of my family was in Scientology (thanks to my non-Scientology wife, who hated Scientology and thankfully kept the kids out of it), so that was not an issue.
Then about 2 years ago AOLA had a tour in Phila and "Willie Wong " was giving free sessions and I got a phone call from a guy named Frank to come get a session.  I told him I didn't need a free session from Willie Wong and also there was no way I was going to AOLA for services.  Presumably he had been told that I had a business and some money to spend so he was REAL persistent and after about 20 minutes on the phone I agreed to meet him at Starbucks.  When I arrived at Starbucks I spotted him right away with a suit and an IAS button and a painted-on smile and fake TRs and I knew I had made a mistake,  especially when,  I guess to build some ARC with me,  he said he'd been in the food business also,  before he joined the Sea Org.  He told me, acting nonchalant, that he had had fifty pizza restaurants rated "Best in the Country" by some magazine.  I asked him what had happened to his Best in the Country restaurants when he joined the Sea Org.  Had he sold them?   He told me "no, all fifty went out of business because I had an SP on the lines".  Seriously?  Must have been one hell of an SP.
Anyhow as you can imagine the conversation didn't go well, and after a few minutes I began to let him know that I didn't like the way Int Management was running the Church, specifically the excruciating regging, the catastrophically stupid Ideal Org program, the cruel realities of disconnection, and the fear Scientologists had of seeking information or speaking their mind, among other things.  I asked him if he had received Debbie Cook's email and he said he had.  I asked him what he thought of it and he looked at me like I was an idiot and said "well I didn't read it," you know, once he realized that the contents were critical.  I said  "OK, let's get this straight:  Debbie Cook,  CO of Flag for 13 years,  who had gotten more people up the bridge than you'll ever even meet,  has something to say and you are not even interested?"  He muttered something about how some enemy line had gotten to her.  And not only that, but he also said that I must be a "borderline" SP.
Well, I had never heard of a "borderline" SP, but I figured a sharp guy like Frank would know one when he saw one.  At any rate, I saw no reason to continue the conversation so I got up and began to make my way to the exit, with Frank yelling across Starbucks at me that I had "evil purposes", and now even the baristas knew.   The man was a total robotic bubble-dwelling tape-loop.  No room for conflict in his life.
I guess it took about 2 or 3 months before the envelope arrived from the International Justice Chief informing me that I was now an SP, just like Marc Headley.…maybe even worse!  (Only kidding Marc, if you're reading this.  I'm sure you're much worse.)  There was no inquiry, no committee of Evidence, not even a request for a meeting or a phone conversation or any clarification on my part (just in case maybe Frank had misunderstood).  The declare itself was not in the envelope, just a letter and the suppressive acts policy with all the bad stuff I had done highlighted.
I practiced in my head a few days how I would tell Ruth, and finally asked her to meet me at Starbucks (I picked a different one this time).  I was really kind of trembling sitting across from her and when I began to speak I said "I have something to tell you but please don't get up and leave before I finish…" but before any other words came out of my mouth she reached for my hand and said "David, I know".  Apparently the goldenrod itself, which I hadn't seen, had been posted in the org for a week or so prior to me even getting my letter in the mail.  Now that I think about it, I guess that's SOP so that people will disconnect from the person being declared before the new SP gets a chance to communicate with them.
Almost four decades ago while I was being exiled from the Philadelphia Jewish community, I remember sitting with the ethics officer in Philly org.  He asked a question that made a lot of sense:  Why didn't the rabbis or community leaders try to help me?  Considering my noteworthy contributions to Jewish education and culture in Philadelphia, and lifetime identity as an observant Jew, wouldn't you think they would reach out to come to my aid?   If they really believed I was being misled or duped by an evil cult, why didn't they at least attempt to embrace me back into the fold, inquire about what had gone wrong that had caused me to lose my way?
Clearly they were acting out of fear.  Too many young Jews were abandoning their faith as they got older, and the leadership needed a scapegoat, which in this case was me and "fake religions" such as Scientology which, I heard repeatedly, was "antithetical to the principals of Judaism".
I believed at the time, of course, that Scientology would never behave so blindly and ignorantly.  Clearly, I believed wrong.  My excommunication from Scientology was even more violent and abrupt and final than my excommunication from Judaism.
I was talking to my son Benjamin about this about a month ago, and he pointed out that I have the distinction of having been kicked out of two religions in my lifetime.  And, frankly, it's not so bad.  I moved on from the first quite easily, and needless to say the Scientology declare has freed up a huge amount of time, not to mention MONEY.  The phone calls, inviting me to events, or to get back on course, or show up at a fundraiser, or someone at Flag calling me ordering me to get my butt down to Flag to see the MAA so I could be told what to do to get my damn ethics in (answer:  buy a complete set of the Congresses),   have stopped!
And mercifully my recycling containers are way less heavy given the load of Scientology junk mail that has steadily diminished.  Now I only get mail from NY Org where I had a brief stint as a student while I was married to Deborah.  Apparently they haven't gotten the memo.  And please don't anybody tell them.  I kind of like getting the occasional magazine or promotion.  I keep them in the bathroom and peruse them now and then, just to remember old times.
About 6 months ago I was driving in my car and my cellphone rang.  When I answered a young woman asked if I was David Braverman, and said she was in the Sea Org and she was doing some sort of search or inquiry into the history of Celebrity Center NY.  I'm still not really clear on what it was about or why she was doing it, but she seemed very sincere and sweet.  I told her I had been a PC at Celebrity Center in 1975 when Yvonne was there; in fact I think the very first.  We had a very pleasant conversation for a few minutes.  She sounded very young.  Then she asked what service I was on, or something, and I said, well, none, since I had been declared.  She paused and said:  "Declared?  Declared what?"   I answered "You know….declared."
She sort of gasped and hesitated briefly I guess to try to reconcile how the nice guy she was talking to could be an SP,  and started to say something but nothing came out.  I said, "look, I know you're probably thinking you're not supposed to be talking to me, but really it's OK.  You see,  first of all,  the reason I was declared is that I disagreed with Int Management,  and as far as I can recall,  Ron never said you couldn't disagree.  Actually, he said the opposite.   Second, I'm not really an SP.  I'm really a good guy who likes to help people."  She said to me, kind of softly, like she didn't want anyone to hear that she was talking to an SP, "why don't you do A to E?  I know someone who did it and got through it…."   I said, "well, it wouldn't work for me.  You see, to start, I could never get through the 'recant' step, since how can a person honestly recant something he believes to be true?"  I decided not to point out to her that I had no desire at all to be part of the church.  I didn't think she would understand how that could be possible.
After my declare I was still paying off the $1000 per month "Legion of Heroes" money,  which had dragged on for reasons I won't get into.  Of course, I had no interest in the Ideal Org, but the money at this point was a debt I agreed to pay Chuck Simon and Michael Holstein as individuals, and I didn't want to not pay them.
Then I decided to try something.  Typically my bookkeeper would communicate with Chuck concerning payments or balance, but I decided to email him myself and ask him to send me a statement, and I threw in a few inquiries about the rate of interest.  I wanted to see if he would respond to my email, you know, communicate with an SP.  After all, if he didn't it might jeopardize him getting his payments.  I know this sounds a little cynical, but I guess I was feeling a little cynical.  By the way, I had heard that quite a few of the other members of the "Legion of Heroes",  (you know,  the heroes who were not SP's)   had never finished paying.
Chuck did write back,  but his responses were extremely brief and terse…as few words as possible,  like he was trying to lessen the time he was going to have to spend in a sec-check to handle it.  And I continued paying.  Then on a hunch I went on the "Philly Freedom" Ideal Org website to find my name on the donors list.  I figured I was at least in some upper status like "Super Emeritus" or something.
Surprise, surprise!  My name was not on the list at all.
Now, don't misunderstand, I could give a shit whether my name is on the Ideal Org donors list.  But this pissed me off.  I mean, I gave a lot of money (not to mention the catering, and my supporting role in the Golden-Era-productions-Philly-Ideal-Org feature).  So I wrote a letter,   a real letter,  on real paper,  explaining that I know I'm an SP and all,  but nevertheless I donated to the Ideal Org with a sincere desire to help,  a LOT of money,  and therefore why was my name removed from the donors list?  I sent the letter to Chuck, Michael, Steve Oleck (the ED of the Org), and the chairman of the OT committee.  Of course I had no expectations of actually having my name put back on the donors list, but I thought they should at least be made aware of their hypocrisy.
I sent each person the hard copy of the letter, and emailed it to each of them as well, twice.  I got no response from anyone, except Chuck.  He told me he would look into it.  This went on for several months, during which time I sent him reminders every couple of weeks.  Finally he sent an email back saying why didn't I contact the people in charge myself.   Well, I thought I had done that, but I asked him who he suggested I contact who would communicate with me.  He said he would get back to me on that,  and a couple of days later he sent me email which said  I should contact the International Justice Chief,  and he conveniently provided me with the address.
So I wrote back to Steve, explaining to him that if my name was to be put back on the list, the decision would have to be made on a local level, by individuals choosing to actually do the right thing, defying whatever policy they thought they were following.  I told him that if I contacted the IJC as he suggested there were two possible outcomes.  Outcome #1:  (most likely) no response at all, or outcome #2:  I would be told to do A to E, which was not going to happen.
By that time I had finished paying Steve the money, and I haven't heard from him since.  I haven't written either.  I suppose I could pursue this matter more vigorously, but life's too short.
I have to say my life since being declared just gets better and better.  It feels like being let out of a cage.  One thing of course is I can spend guilt-free time doing what I want to do, which is great.  But even greater is not having the mental pressure of worrying that maybe I had a  critical thought or sexual thought or that I'm not doing enough to clear the planet or "oh my god,  I just looked at the D of P's boobs now I'll have to get it off in session".  Also I have gone back to piano and I'm playing classical and taking jazz lessons as well.
You may remember, from the first or second paragraph, that helping to clear the planet was not why I got into Scientology.  The reason I got into Scientology was to play the piano better.  And, just so you know, the way to play piano better is:  practice.
And I have a great 2-D with Isa (yes, I still use that term), who I wrote about earlier.  We share a strong interest in natural foods and holistic health.  And we also read books and use the internet to explore the mind and spirituality.  It's amazing how much information on the subject is out there, and I can try whatever I want!
Nevertheless, if I think about it, I guess I would say that I'm still a Scientologist, if that means I use tech in my life.   You just can't spend 40 years taking courses and reading books and not have some things become second nature.
I guess maybe if I had chanced on a different mental or spiritual practice instead of Scientology I would have been similarly helped.  And OK, yeah, it would have been a lot cheaper.
But ultimately Scientology did change my life for the better; at least what I gained during the early days.  I understand the nature and capabilities of a static, and I know that I am eternal, and that I will always be me.  And I understand something about how the mind works.  At least my mind.  And I don't usually get stuck in negative emotions or attitudes that I don't want.  I can sort of spot them and make them move away.   When I started being able to do that is when I figured I went clear.  Maybe not clear as described in Book One, but clear for me.
Oops… I hope that doesn't sound like a success story.  I don't want to lose my readership here!  But we all got helped somewhere along the way.  That's how we got in, right?
Oh, and I know this may seem silly, but I've never gone out-security on the OT-3 materials.  It's not a big deal, but I gave my word and I just don't see the need to talk about it.  Does that mean I'm still being mind-fucked by the cult?  I don't know…. I don't think so.
And also, I'm sick of journalists and critics claiming that the OT-3 story is the central theme of Scientology,  or the Scientology "creation story",  or that to be a Scientologist you need to buy it.  It's none of those things.  To me it's totally peripheral.  I mean, Scientology is a big subject.  Any benefits I ever got came from other parts of the philosophy, or from my early auditing, not from the OT levels.   As for the Scientology creation story, check out The Factors, which I always liked.
I never met L. Ron Hubbard,  but many who knew him and worked with him describe a deeply flawed man;  narcissistic,  hypocritical,  insecure,  cowardly, belligerent, a pretender.  He could also be cruel.  His research for the most part was sketchy or non-existent, and much of his work plagiarized with no credit given to actual sources.  And the final indictment of his spiritual and mental technology is that he died sick, reclusive, and sociopathic.
But on the other hand he was clearly a complex man, at times brilliant, talented, and certainly charismatic.
But while it is true that that I became increasingly disillusioned about the effectiveness of the technology the further I traveled up the Bridge, my break from Scientology stemmed not so much from that, but rather from the obvious criminality of Miscavige and his regime.  Although it can be said that the ruthless nature of the organization as it exists today evolved from Ron's own paranoia and vindictiveness.
But whatever you believe about Ron, it is hard to accept the assertion that he did all that he did only for money, self-aggrandizement, or fame.   Anyone who has done even a peripheral study of the mountains of books, policies,  technical bulletins,  taped lectures,  assists,  correction lists,  tone scale,  the technology of the eight dynamics, TR's,  Code of Honor,  and all the rest,  would have to recognize the truth and workability of at least a portion of it.
And he kept going, writing more and more long after he had all the money and fame he needed.  Who knows, maybe buried deep down was an actual desire to help.  It is unfortunate that he had to discredit himself and his writings by embellishing and lying about his life and accomplishments.
So Ron, dude, if you ever make it back to earth from Target 2, just be yourself.   No one needs you to be a war hero or explorer or Eagle Scout or whatever.  And tone down the rhetoric about how Scientology is a massive evolutionary step, surpassing every prior mental science or spiritual pursuit.  Really, it's not.
During the 5 or so years that I have been free of the cult, I have kept a low profile because of Ruth.  But Ruth worked her last day at LeBus just last week, having accepted another job less demanding than Human Resources manager for a 250 employee company.  So now I have written this little (or not-so-little) memoir, and it feels good.  Thank you all for reading it.
David Braverman
03/12/15