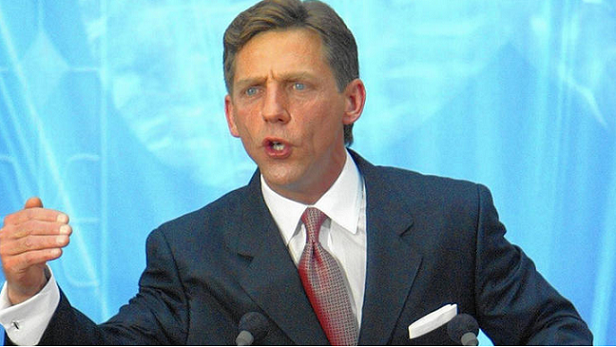 Caught with his appendage in a wringer, David Miscavige has done what he has always done. Shouted "THEY'RE LIARS, THEY'RE LIARS."
But this time he is truly the boy who cried wolf.
He had his lawyer, Michael Hertzberg say this to the LA Times:
"Please be advised that Mr. Miscavige does not know Mr. Powell, has never heard of Mr. Powell, has never met Mr. Powell, has never spoken to Mr. Powell, never hired Mr. Powell and never directed any investigations by Mr. Powell."
This of course is contradicted by the police report where Mr. Powell told the police that Miscavige HAD come on the phone to tell him to let his father die and not call 911 when they thought he was having a heart attack. He wants everyone to buy into the idea they just made this up.
What Miscavige is actually saying is what he ALWAYS says: These people who are impugning my wonderful reputation all lied.  And I know NOTHING ABOUT this whole affair.
Though in typically sleazy fashion he does not specifically and literally say that.
Let's break it down and I will explain things based on my experience and what I believe this means.
Mr. Miscavige does not know Mr. Powell — probably literally true. He likely did NOT know his name. Many of the PI's working on this sort of assignment for the church use altered/false names or code names (Powell had a fake ID). Powell was probably known to those who were aware of this operation — a VERY limited number of people — Miscavige, his secretary Laurisse, Warren McShane "President RTC", Linda Hamel CO OSA Int and perhaps one other person in OSA Int as well as some attorney who was the "cut out" — by a code name: "Bullwinkle" or "Harold" or "The Kid" (the name used for Dave Lubow) or a variation of his actual name such as "Mr. Power" — Dave Lubow was known as Lebow, Lublow, Lablow and a few other names. So, if asked: "Do you know Mr. Powell?" it is literally true to say "I don't know Mr. Powell" (I know "Mr. Power" who is the same guy, but you didn't ask me that).
has never heard of Mr. Powell — same as above, probably only heard of "Bullwinkle" or "Mr. Power"
has never met Mr. Powell — same as above — it just sounds better when you say the same thing three times. Repeat it often enough and it MUST be true.
has never spoken to Mr. Powell — clearcut lie, but could have been "literally" true "I only spoke to Mr. Power…." And actually it's better to say it four times. Makes it even more convincing.
never hired Mr. Powell — of course he didn't. Nobody "hired" him other than the "cut-out" lawyer. A choice of 3 — Elliot Abelson, Rick Moxon or Gary Soter. My money is on Eliot Abelson.
never directed any investigations by Mr. Powell — I doubt he ever issued a "direction" to the investigators except when he was on the phone. The way it works is he tells Lou or McShane and they then implement it through Linda Hamel. But he had to say he didn't talk to the PI on the phone or he couldn't deny his involvement otherwise. It sure wouldn't be believable that suddenly one day out of the blue he talked to PI's on the phone and two minutes earlier he didn't know they existed or that they were following his father.
Of course, you could say "they didn't ask him the right questions." I bet there were plenty of other questions, but this is the only answer they were given. And believe me, no matter how you asked, even if he was on a lie detector AND under oath, he would figure out a way to deny any knowledge of it.
But here is the real rub: there is NOT A SINGLE PERSON IN SCIENTOLOGY who would dream of taking ANY ACTION AGAINST DAVID MISCAVIGE'S FATHER without a direct ORDER FROM DAVID MISCAVIGE.
I have made mention of this before. There are certain subjects that are too hot to touch. Miscavige is the MicroManager from hell. He has to approve everything from the type of carpet in reception in Malmo to the lettering on a promotional flier for one of his events.  And then on top of that there are subjects that nobody would dream of even breathing on without his orders and/or explicit permission. These include, but are not limited to:
Marty Rathbun
Mike Rinder
Leah Remini
Tom Cruise
Shelly Miscavige
Ron Miscavige
Jenna Miscavige
John Travolta
So, what is the truth here? David Miscavige ABSOLUTELY knew about the surveillance of his father. He absolutely knew that obscene amounts of money were being spent on it. He gave carte blanche for any amount of funds to be allocated to this and it could NOT be cut from Financial Planning allocations.
How do we know this? It is EXACTLY how the PI's were run who surveilled Pat Broeker for 20 years.
And I know for a FACT that Miscavige got routine, regular reports for the entire time on that investigation. And Miscavige's father was much more volatile even than Broeker. Why was he so worried? His own father could corroborate the testimony of a lot of others about the Hole and abuses meted out by Miscavige and the fact that he too had escaped from Miscavige's compound in Hemet, California. Literally a planned and executed escape.
But how else do we know this statement is a lie (and note, the statement is NOT from Miscavige, he still keeps another level of plausible deniability "I didn't lie, my lawyer misspoke") — because this would have been a ridiculously elaborate scheme cooked up by these two PI's in coordination with the police and prosecutors to frame David Miscavige. What motive did these guys have for lying? They were getting $10,000 a WEEK. If it was just an attempted shake down, why didn't they shake Miscavige down 2 years ago? Why has there been NO NEWS of this at all?
There is NOTHING plausible about David Miscavige trying to proclaim, like Sgt Schulz, "I know nuffink." Anyone who has been around Miscavige or has worked on these sort of matters knows that he was ALL OVER this investigation and not a move was taken without an order or explicit approval from him.
The good to come out of his latest round of blatantly lying denials (check out the representations he has made in the Monique Rathbun lawsuit for some excellent earlier wolf crying) is that it so clearly demonstrates to the world that this guy, even when caught to rights, will lie about anything to protect himself. And his constant shouting that everyone who has ever exposed the rotten abuses inside scientology or the fact that he is a sociopath is simply a liar now doesn't even pass the laugh test.
He has dismissed everyone up til yesterday with various labels that are supposed to give credence to his claim that we are all liars:
They are bitter defrocked apostates
Bigots
Propagandists
Paid haters
They have an axe to grind (probably right about that…)
We removed them for malfeasance 75 years ago
They have no up to date information etc etc
Last night he hit the wall. The Powells and the West Allis Police Department are none of the above. So he is reduced to just shouting "Liar" and he has nothing at all to back him up. Literally nothing.
It's quite amusing to watch a man who has accused EVERY SINGLE PERSON WHO HAS EVER CRITICIZED HIM of being a LIAR to be exposed as the biggest liar of all.
Karma sucks.