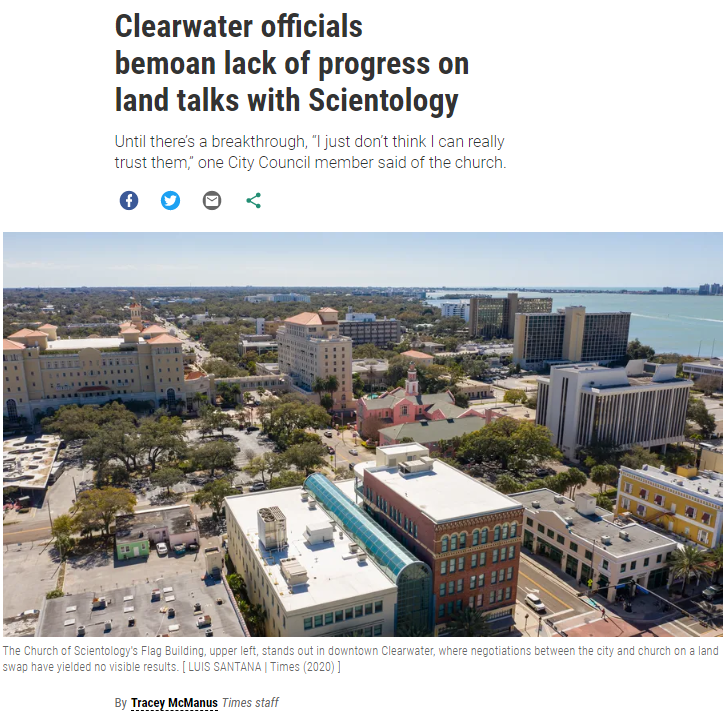 A new article by Tracey McManus reports on the contacts between David Miscavige (Mr. Mickiewicz to his friends) and the former and the interim City Manager of Clearwater.
Remember, on 27 December, William J. Schifino (former head of the Florida Bar) and 2 Washington DC lawyers from powerhouse lawfirm Williams and Connolly (Joseph Terry and Krystal Durham) made "special appearances" (cost is no object when it comes to defending the COB, why use one lawyer when you can hire 3?) filed a motion claiming that Miscavige has not been properly served in the Baxter/Paris lawsuit. They claim he was never at any of the numerous scientology buildings where service was attempted, and that he is not a Florida Man, but instead a resident of California, even though when the Masterson victims sought to serve him in California, the lawyers there claimed he was in Florida of course.
Part of their argument is that Miscavige is "not doing business in Florida."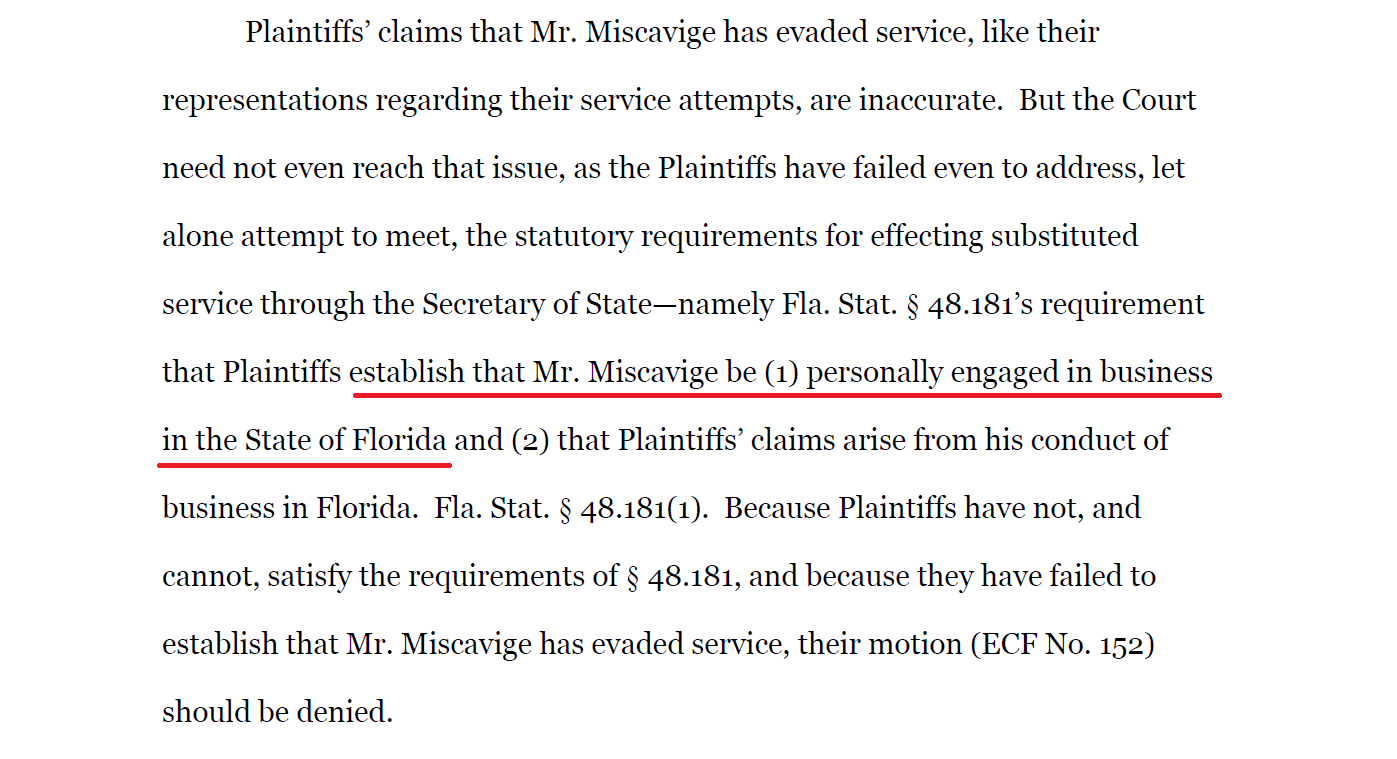 Yet, just 4 days after they filed this, Miscavige was definitely doing business — appearing in person to conduct the New Year's/IAS Patron celebration at the Ft. Harrison Hotel (one of the addresses where he "isn't located").
Almost certainly, when this is raised in the hearing, these lawyers are going to claim this only proves he was there one day.
Which is why Tracey's latest article is so relevant. Here are some highlights:
The day after the City Council fired City Manager Jon Jennings and appointed Jennifer Poirrier as his interim successor, a series of blocked calls appeared on Poirrier's cell.
She picked up on the fourth "No ID" call in a row. It was Church of Scientology leader David Miscavige.
"He called my personal phone, so I don't know how he got that number," she said.
Miscavige called on Jan. 6, Poirrier said, to explain he would soon arrange a meeting to catch her up on the discussions he'd been having with Jennings about the church's plans for its downtown real estate.
The show of urgency from Scientology's leader comes in contrast to the lack of progress on those plans despite 14 months of negotiations between Jennings and Miscavige.
Dozens of downtown properties are being held vacant by companies tied to Scientology, a situation Jennings said he was trying to remedy through a land swap with the church. But council members have expressed frustration that a deal has yet to materialize. They also said they are in the dark about the status of the negotiations with Miscavige because Jennings never disclosed details with them.
"Until I see some kind of something from the church … I just don't think I can really trust them," council member David Allbritton said at a work session on Monday.
"If they really wanted to have a vibrant downtown, why aren't they doing something?" Allbritton said. "Are they waiting for us? I mean look what we've done. We've got Imagine Clearwater, and we've got development on the bluff planned. There's a lot of things that are happening on our end, nothing on their end."
Jennings spoke regularly on the phone with Miscavige, in some periods on a weekly basis, he told the Tampa Bay Times in previous interviews. It was a new era, since Miscavige went years without talking to city officials consistently before Jennings' arrival in November 2021.
Jennings and Miscavige had six in-person meetings, the last held at Scientology's Fort Harrison Hotel on May 29, 2022, according to public records. For their other five meetings, which took place between November 2021 and March 2022, Jennings and Miscavige met at a church office on Drew Street and North Fort Harrison Avenue, always after 5 p.m.
Jennings did not respond to voicemail on Friday asking for an update on those discussions. But he previously said the swap the two were negotiating potentially included the church receiving a 1.4-acre city lot on the downtown waterfront and Clearwater receiving Scientology-owned land that could help the city's downtown revitalization efforts.
Any land swap would require City Council approval, and council members expressed frustration that Jennings never updated them about his talks with Miscavige. They said Jennings did not tell them which city properties he was suggesting to trade or which church parcels the Scientology leader was offering.
"I've asked repeatedly, 'What's being discussed? What's on the table?'" council member Lina Teixeira said. "It's always like, 'We're working on it, we're working on it.'"
In an interview last February, Jennings said he and Miscavige agreed on a partnership where the church would renovate three parishioner-controlled buildings on Cleveland Street and recruit high-end retail to the storefronts. He called it a show of "good faith to the community" by Miscavige while the two negotiated the land swap.
Jennings characterized the church's renovation of the three Cleveland Street buildings as the first phase of a broader activation for other downtown properties controlled by Scientology.
I think the court is going to be a little peeved at the game playing Miscavige is engaging in.  I suspect his run of avoiding lawsuits is about to come to a close.
Just as a final note of humor, right at the outset of their filing with the court, Mickie's lawyers (no doubt at his insistence, because they don't have a clue who I am) claimed that I "sponsored" this lawsuit. Hahaha. It is good to know they think I am so powerful and that everything that happens must somehow come from me… It's a nice compliment, but as with virtually everything else they say, not true.