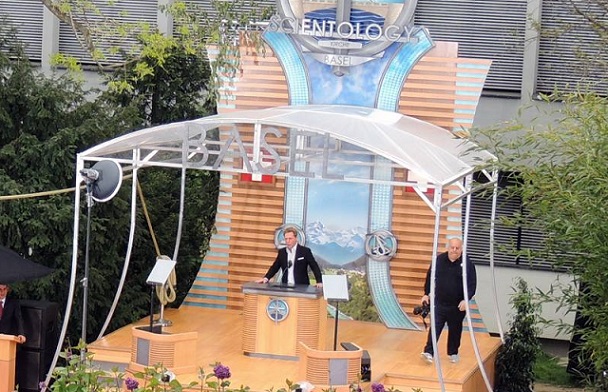 Miscavige is so out of touch with reality, that he no doubt doesn't realize how arrogant and condescending he sounds.
This is from the report on the ribbon yanking ceremony in Basel — as found at scientology.org.
Switzerland is a nation long renowned for its exquisite craftsmanship of everything from watches to pocketknives and culinary delicacies that remain the envy of the world.
And consistent with that uncompromising emphasis on quality, the first Scientology Ideal Organization (Org) in that European nation's dazzling history opened its doors to a grateful public on Saturday in an historic and dignitary-studded dedication ceremony in the picturesque Swiss city of Basel.
Really? Pocketknives? Culinary delicacies? Dazzling history? Dignitary-studded?
Turning point in European history? The ribbon cutting on a tiny scientology church?  Of course, it dwarfs events in Europe's history. WW II. WW I. Waterloo. The Roman Empire. etc etc etc
To properly mark the import of the moment, Mr. David Miscavige, Chairman of the Board Religious Technology Center, summed up the Basel opening's significance in addressing the audience—maintaining that the new facility gives the phrase "Swiss-made" a "whole new definition."
I can imagine how thrilled the Swiss are to know that Miscavige's building gives a whole new definition to "swiss-made."
Mr. Miscavige continued, "Now we come to a long-anticipated turning point in European history. A moment when a ribbon falls on a new Ideal Org and so signals a new era of tolerance, brotherhood, compassion and spiritual power. A breathless moment that will never be forgotten, so long as suns shine and planets swing."
No words are adequate to describe this sheer idiocy.
Joining the Scientology parishioners and Church officials on Saturday were luminaries representing all levels of the Swiss cultural landscape. They included Robert Mesey, Federal Justice of Switzerland, Ret.; Dr. Johann Bauer, representing the Department of Medicine at Ludwig Maximillian University; Ayhan Seker, Vice President, Basel Muslim Commission; and finally, Marco Pulver, Executive Director of Implenia North-West Switzerland.
The best they could do is a retired judge, someone "representing" the Medical Department of a university in Munich, the "vice-president" of the Muslim Commission and someone from the construction company that built out the building. Wow, what an impressive line up for an event that was a turning point in European history….
Does ANYONE actually buy this bs?