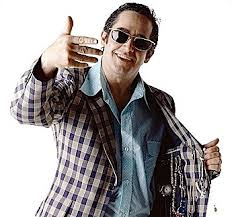 OK, someone screwed up. 
They sent out an email with a bunch of earlier emails attached. Including travel itineraries and internal emails that presumably were not intended for public consumption, let alone showing up on a blog on the very outer fringes of the internet….
To remind you who Dennis Nobbe is, see the story here at Tony Ortega's blog. In very abbreviated terms, the US Equal Opportunity Employment Commission (EEOC) took the unusual step of suing him for forcing people to take Scientology courses as part of his dental practice. 
Michael Chan is a professional FSM who has apparently attended the Grant Cardone school of self-promotion. Can you imagine sending out an email where you announce yourself as a "thetan's thetan."  I wonder if he has super developed biceps from patting himself on the back?
It seems the Freewinds is paying Chan's airfare to do a "seminar" at Miami org which is just an excuse for a reg event. And the Freewinds wants to ensure the Miami whale is in attendance because their local bird dog, the OT Committee Chairman, has told them he should be there.
Interesting to get a behind-the-scenes glimpse….
Someone is in trouble. 
From: "alexandra potter" <alexpotter.freewinds@gmail.com>

Date: Oct 11, 2013 9:58 PM

Subject: A LETTER FROM MICHAEL CHAN

To: 

Cc: 

Hello fellow OT!

I wanted to introduce myself as many of you may not know me. I'm Michael Chan, OT VIII, Flag and Freewinds OT Ambassador, Power FSM, 2012 WISE member of the year, and I am coming to Miami this weekend to deliver a number of seminars to help each of you win along all of your dynamics.  The underlying theme for all of my talks have to do with what is it that make a thetan strong and what makes him weak and how he can tell the difference and do something about it. I give a very special talk for OTs that I will be delivering on Saturday, October 12, at 4 PM at the Org. Here is what one OT in Portland wrote after hearing this talk:

I am an OT VIII, OEC Grad, business owner/operator. I own a WISE Consulting company. My passion in life is getting hatted on Green on White and Red on White. I am currently doing the ACCs.

I attended every talk Michael gave while he was in Portland. They all spoke to me. He is On Source, he gives great examples to bring it alive, he goes at a pace that allows everyone in the room to cognite.

My favorite talk however, was the talk he does for the OTs. He started it by saying this has no agenda, there will be NO regging. And there are only OT 5 and above thetans in this room. Then he begins. He speaks truth and a lot of it in a hurry. And I knew it was true, understood it, and it rekindled my burning desire to have Scientology for every person who reaches. It was a look at the tech in a new light, from a different OT viewpoint, and it rang VERY true. It is what LRH says. It is delivered directly from Source, it shows us what we are doing as OTs, where we are headed as OTs, and what it's going to take…..which in my own words is….a concerted effort on our part as OTs to work together, and to avail ourselves of the Tech given to us by LRH, and not waste this brief chance we have to go free.

Michael Chan is a thetan's thetan. You will enjoy him immensely. He is very uplifting, very sincere, and will hold your attention and interest every moment he stands in front of you and talks.

Phil LaClaire

I hope you are able to make it and look forward to seeing many of you there!!

Much ARC!

Michael Chan

I hope this helps!

Let me know if you need anything else!!

ML
Michael

PS I wasn't sure if all the events were at the Org so you can change my email if the talk will be held elsewhere.

________________________________
From: alexandra potter [mailto:alexpotter.freewinds@gmail.com]
Sent: Fri 10/11/2013 4:07 PM
To: Michael Chan
Subject: RE: Chiu Hoi Chan e-ticket itinerary

Is there an email you could send me that I can email to the OTs as to invite them to come. I don't know what you deliver so just a comm on why its important for them as OTs to be briefed separately .

Thanks so much,
Ml, Alex

On Oct 11, 2013 4:02 PM, "alexandra potter" <alexpotter.freewinds@gmail.com> wrote:
>
> dennisnobbe@yahoo.com
>
> On Oct 11, 2013 2:26 PM, "Michael Chan" <mchan@durablerestoration.com> wrote:
>>
>> Hi Alex!
>> I left Dennis a message but would love to email him too if you get me his email. Thanks!
>> Ml
>> Michael
>>
>>
>> Sent from my Verizon Wireless 4G LTE Smartphone
>>
>>
>>
>> ——– Original message ——–
>> From: alexandra potter <alexpotter.freewinds@gmail.com> 
>> Date: 10/11/2013 1:59 AM (GMT-05:00) 
>> To: mchan@durablerestoration.com 
>> Subject: Fwd: Chiu Hoi Chan e-ticket itinerary 
>>
>>
>> Hi Michael,
>>
>> Here is your itinerary. We will be there to pick you up.
>>
>> Oh can you help me ? There is a very upstat OT here in the field and we are trying to get him to your OT TALK on Sat at 4 pm. Marie Williams the OTC Chairman asked me if you could call him to personally invite him. He really needs this Talk .
>>
>> His name is Denise Nobee and his cell # is 305 772 2909. He is an OL here so if he comes we will get more.
>>
>> Thanks for the help, see you soon.
>> Ml, Alex
>>
>> ———- Forwarded message ———-
>> From: "Ray Palmer" <freewindstravel@freewinds.org>
>> Date: Oct 11, 2013 12:28 AM
>> Subject: Chiu Hoi Chan e-ticket itinerary
>> To: "Alexandra Potter" <alexpotter.freewinds@gmail.com>
>>
>>
>> PSGR: CHAN/CHIU HOI
>>
>>
>>
>> AN ELECTRONIC TICKET HAS BEEN PROCESSED ON THIS
>> ITINERARY. PLEASE BE PREPARED TO PRESENT YOUR
>> ID AND TRAVEL DOCUMENTS AT THE AIRLINE CHECK-IN
>> COUNTER TO RECEIVE YOUR BOARDING DOCUMENTS.
>> –
>> 12 OCT 13 – SATURDAY
>> AIR AMERICAN AIRLINES FLT:1161 ECONOMY
>> LV TAMPA 950A EQP: BOEING 737-800
>> 01HR 00MIN
>> AR MIAMI INTERNTNL 1050A NON-STOP
>> LOCATOR: LSXURN
>> CHAN/CHIU HOI AA-61K9M54
>>
>> 13 OCT 13 – SUNDAY
>> AIR AMERICAN AIRLINES FLT:2378 ECONOMY
>> LV MIAMI INTERNTNL 955P EQP: BOEING 737-800
>> 01HR 00MIN
>> AR TAMPA 1055P NON-STOP
>> LOCATOR: LSXURN
>> CHAN/CHIU HOI AA-61K9M54