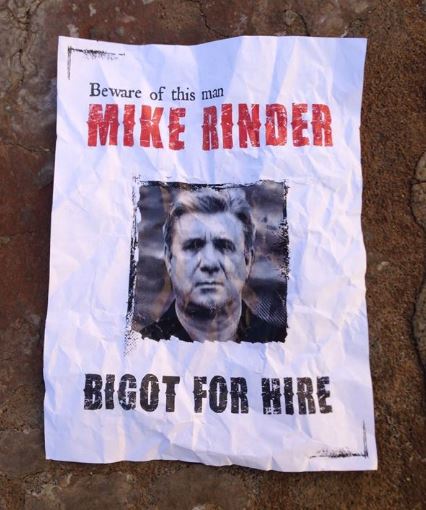 Clearly, this blog is creating an impact on the ever shrinking world of Miscavige.
The insane reactions from Dear Leader are dead give-aways. I am not doing anything else to trigger his knee-jerk insanities. Or maybe its just the fear factor that a big SP is in town and needs to be warned that this is "his territory"?  
His latest kick the cat idiocy is reported on Tony's blog this morning.
And a very appropriate comment from John P (nice to see him back) pretty much sums up my views on this:
The Mike Rinder "Bigot for Hire" flyer is laughable. There's no web site to go for more information about why, exactly, Mike Rinder is someone to be feared or cast out of the community. So if anybody is curious about the flyer, instead of thinking it is the product of anyone unhinged mentally, the obvious next step is a Google search. And, of course, what does Google's search turn up? The first result is a Wikipedia page, which in the first paragraph describes Mike as an ex-Scientologist and activist against the cult. The second result is Mike's own blog. Several later results are some of the hate sites the cult has set up, but most people only look at the first one or two results anyway, especially if Wikipedia is involved.

So the net result of leafletting thousands of flyers will be even more people who despise Scientology. The number of times Rinder is refused service in a restaurant in Mission Viejo or turned down for a car rental as a result will be absolutely zero.

Way to go, OSA! Engaging in the favorite modus operandi of fundamentalist morons everywhere: "If it doesn't work, do more of it."
In spite of Tony cautioning me that I should not announce my travel plans, I have nothing to hide (unlike Miscavige who sneaks around under massive secrecy and security details). After enjoying the wonderful hospitality of Luis and Rocio Garcia in Irvine for 3 days, today we are heading to the heart of Miscavige's fiefdom in Hollywood . So maybe some more flier distribution? Nothing like pooping in your own bed Dave. Really, dropping fliers in a mall that is 15 miles away from where we are in the vast untapped suburbs of Orange County is kind of pointless.  You do understand that Scientology is utterly invisible here don't you and that your one "Ideal Org" is dead and reaches nobody?