Our Israeli Special Correspondent sent in this report. In light of events in Joburg, it seemed particularly appropriate to hear how things are going in Haifa.
It's been a little over a year since Dror Center of Haifa, Israel left the Church of Scientology. Their departure in July 2012 made big news and was reported by Marty Rathbun and here.
DrorCenter left 'en masse' following the 'declare' of Tami and Dani Lemberger, the founders of DrorCenter. Their story was covered in the media, by Tony Ortega and by the leading Israeli newspaper, Haaretz. 
I visited the Dror Center and was greeted by Dani Lemberger, Managing Partner of Dror, on Nov. 7th who was friendly and willing to share with us their news.
Q. How has this past year been?
DL:  A rocket ride! Frightening at times, but quite an adventure. After 20 years of being 'safe and stable' we were out on our own. Maybe like a prisoner who is released from jail and finds himself lost on the streets, no one telling him what to do, having to figure things out for himself.
Immediately after we left, OSA stooges in Israel and abroad launched a vicious attack to intimidate our staff and public. Sadly enough, about ten of our public left us. From about 50 public we dropped to about 40 people on lines. I felt sorry for those who left because I knew they caved in to terror. They will never receive the friendship they had here and will not be able to go up the Bridge, like I believed then we will be able to deliver at Dror.
Q. What actions did you take to guarantee your survival?
DL:  We quickly took actions to stabilize the activity and get back to servicing our public. We realized we need materials and training to be able to keep our promise to deliver the full Bridge including the 'Advanced Levels' – Clear, OT III, NOTs and beyond.
We were helped generously by many and in September 2012, we hosted Claudio Lugli who trained us on NOTs and we began delivery of this level. (See: "Claudio Lugli in Israel")
In March 2013, Silvia Llorens spent a month here. Silvia crammed our tech team thoroughly on delivery of NOTs and on the Solo Auditor NOTs Course. (See: Silvia Llorens at Dror)
This effort was capped in July 2013 when we traveled to the US to train further. We spent time with Greta Alexander, Mary & Frankie Freeman, Gary Webber and other stellar Tech specialists. We can now deliver Power processes, the Alternate Route to Clear, the Integrity Program, Super Power and the 'Original OT Levels', OT IV to OT VIII. " (See: "Grand Tour of the Indies 2013")
Q. Is Dror 'self-sufficient' now or do you still work with these specialists?
DL:  Both. We have all the know-how and materials we need but constantly help others and consult with our friends, Indie auditors around the world. KSW point One, "Having the Correct Technology", is being worked on daily, to ensure we have LRH's entire Tech to perfection.
Q. Can you share with us your key stats since leaving the Church?
DL:  Sure. Here's a graph we just put together for the past 20 months, March 2012 to October 2013.
Dani shows me the graph and explains, Before we left, we had about 50 people on lines, in May 2012 we serviced 51 individuals receiving auditing and students in training …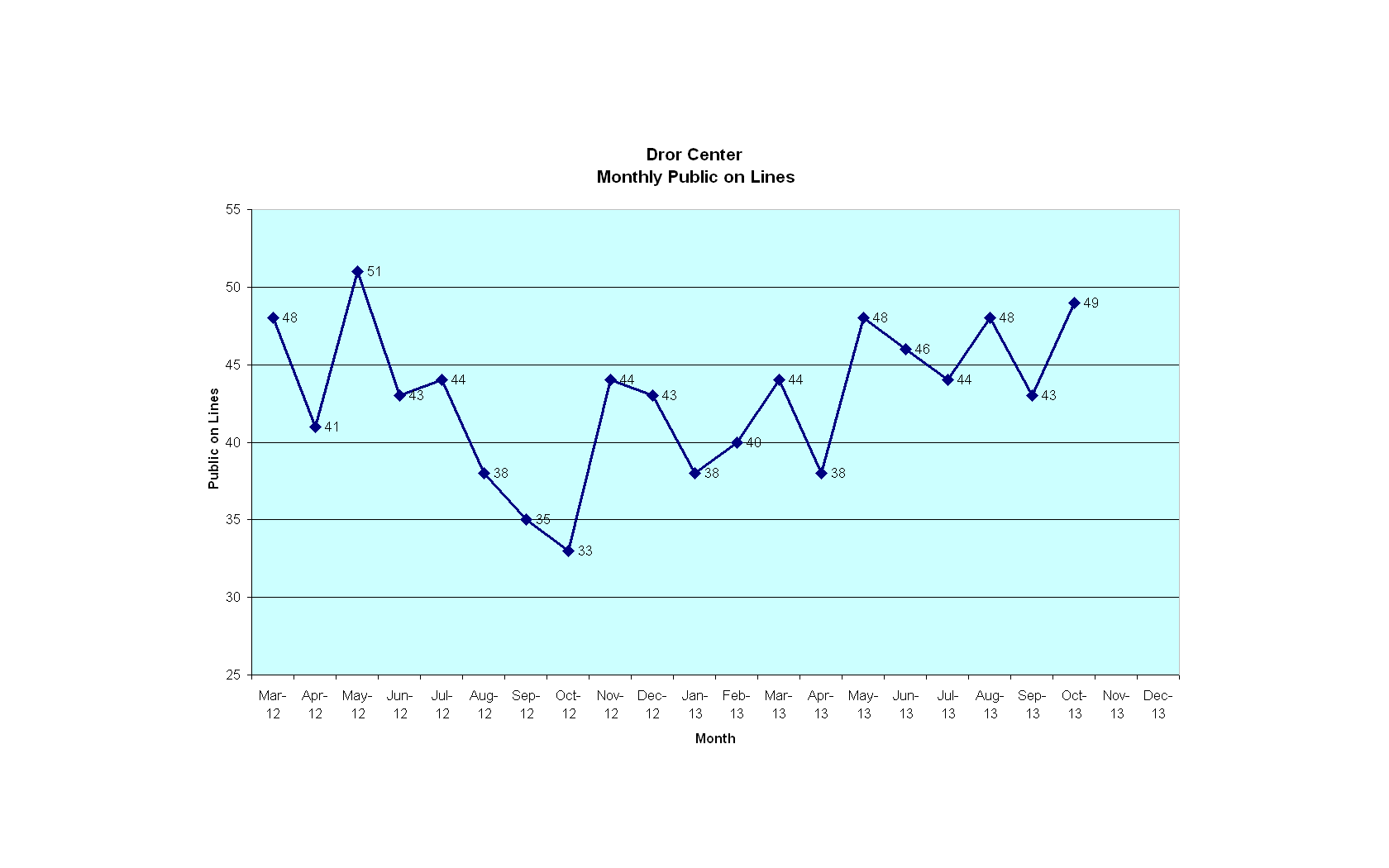 Q. "People on lines" means what, how do you measure this?
DL:  Very simple, it's the number of people who were on service that month, on course or in auditing.
Q. Could the same person be on course and on auditing? Then he's counted twice?
DL:  No way! We encourage all our public to get auditing and to train. Ron said half the gains are from training and on the OT levels you must have the best auditor possible – yourself. To go OT you must be a perfect auditor. An individual is counted once for this statistic. It's a stat of number of individuals who are on lines, were serviced here that month.
Q. Got it. Let's look further.
DL: OK, we left in early July 2012. We then had a rapid drop as some people left and others stayed away after being threatened by the CoS. We hit bottom in October '12 with a low of 33 public on lines.
Since then you can see a steady increase of people on our lines. Already in November we rebounded to 44. Throughout 2013 there's a steady increase, Normal, maybe even a slight Affluence. You can even tilt the graph a bit and see it's actually 'straight up and vertical', says Dani laughing.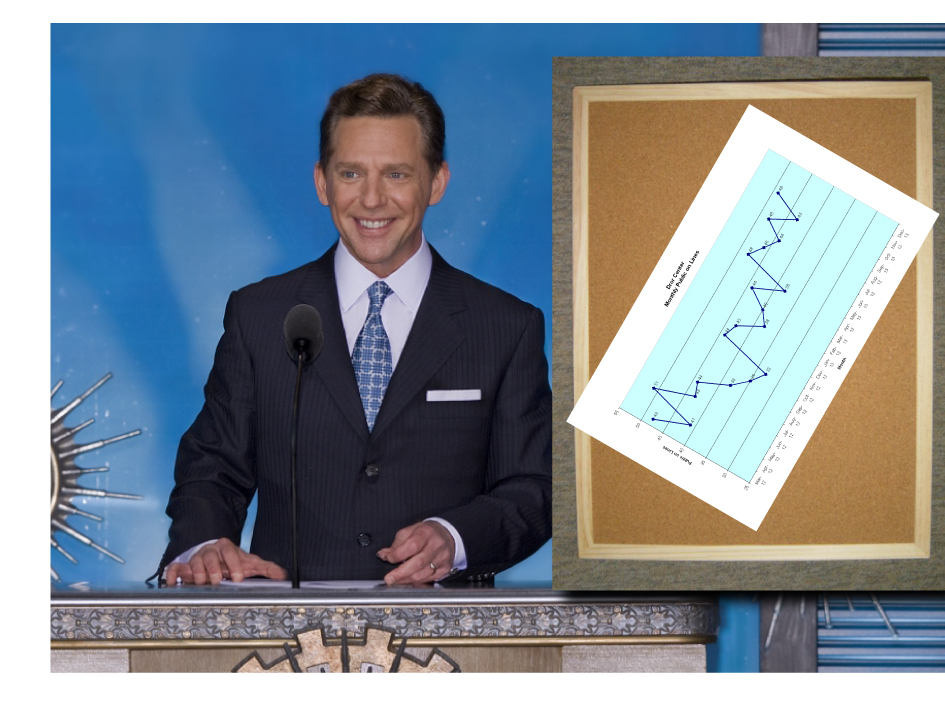 Q. Who are the people coming for services now?
DL:  Soon after leaving the CoS, those who dropped off our lines were promptly 'replaced' by veteran Scientologists who'd left the Church over the years and were glad they can go up the Bridge again. This flow is continuing but is not our major action….
Q. Hold on, why are these people coming?
DL:  Well, they've done services at the CoS years ago. They know the Tech works, they want to go Clear and OT but without suffering the gross out-tech and arbitraries rampant in Miscavige's tyranny. You can see many of these guys on the AFSI web-site, although most is in Hebrew.
Q. AFSI?
DL: The Association of Free Scientologists Israel, which was formed by some local 'indies'. They have a site, http://www.scnil.org/english. They're helping us.
Q. So what is your major action?
DL: "Our most important activity has always been getting new people on lines. That is, getting the broad public familiar with Ron's philosophy and reaching for introductory services. When they've had some wins, they start moving up the Bridge. This has been our major activity for over 20 years."
Q. Then what's changed?
DL:  This is the most important point! Prior to leaving, we could hardly get new people to start services. When they found out Dror Center was part of the 'Church of Scientology', they refused to get on lines. They had heard of Scientology being a dangerous cult and kept away.
Since leaving, we are getting new people to start on lines like never before. We now have 3-4 new people starting every month. They're staying and winning and telling their friends about Dror and Ron's Tech. It's finally happening like Ron intended. It's fun and satisfying like it's not been for 20 years of being under the church's oppression!
You can see we had 49 people on lines in October '13, highest since leaving and this is steadily rising.
Q. Who's getting the work done?
DL:  I contribute by not interfering, Dani jokes,  I let the staff do their job. We have four great auditors, Tami, Aviv, Dima and Carmela. They're all highly trained and have progressed rapidly since we left. They apply 100% Standard Tech while caring for the individual. There's no arbitraries, no additives, nothing weird enforced. Their pc's love them and bring their friends and relatives.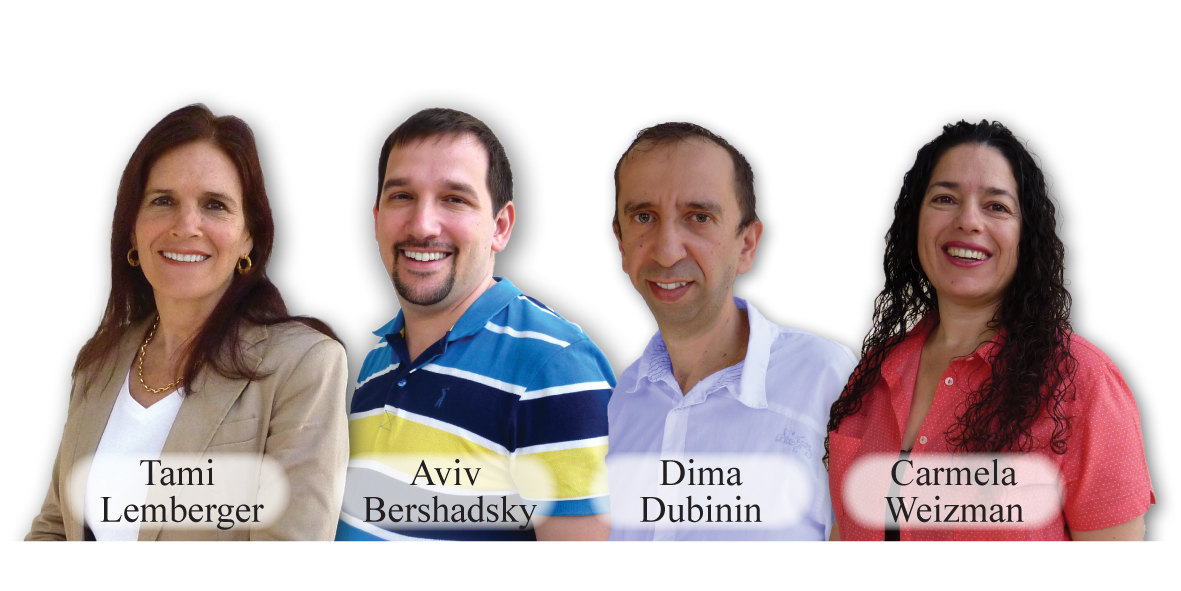 Q. Any other technical breakthroughs this the past year?
DL:  Yes. We've helped AFSI (Assoc of Free Scientologists) research the Bridge. They've found out that what the CoS presents as the "Bridge to Total Freedom" is a hoax. Not what Ron designed! AFSI have put together the true Bridge as created by Ron and will soon publish it for all to use.
Q. So this "Technical Perfection" that you are proud of, does it show in actual progress up the Bridge for your public?
 Absolutely, in the last few months we've had six public attest Clear, each one a wonderful success story. Here they are:

We have pc's having wins on Life Repair, the Grades and all the way to the top. There's currently two pre-OT's auditing at home on Solo NOTs. They'll soon be joined by a third Solo NOTs'er. Many more are moving up the Bridge to Clear and on the OT Levels, while others are training in our academy.
Q. Plans?
DL:  Yes, exciting news. November 15th we start a Solo Auditor Course 'training camp' of 10 days. More than 15 students will participate full-time. The idea is to get a large group of our Clears through the Solo Auditor Course so they can then move on their OT Levels.
We continue to service and train, new people are coming. Ron's vision is materializing undisturbed. Scientology is fun again.
Q. So what have you learnt this past year?
DL:  Scientology is a win for all when done correctly. The stable datum was always Standard Tech, caring for the individual and excellent service. This we do daily and our public sees it and is grateful for it. Exchange in abundance, flowing both ways.
Q. Thank you for sharing with us.
DL:  Thank you for listening and for being interested.