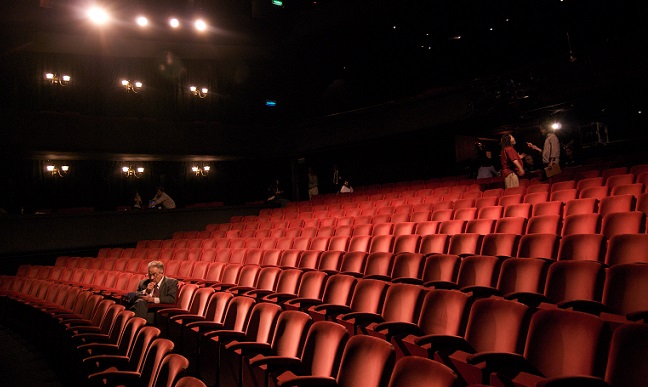 It seems the Nuremberg Rally style events have run their course in LA — the largest population of scientologists on earth.
On Sep 21, 2014, at 6:46 PM, Tashania Faust <[email protected]> wrote:
Ideally, every Scientologist attends the 7-10 major events presented by Int Management yearly.

The challenge of the Event Dept is ensuring they are conveniently located and scheduled.

Please help us achieve this and CLICK HERE TO FILL IN SURVEY

Please be open in answering the questions. And thanks for taking the time! 🙂

ML, Tashania (Event Director PAC)
To save you the trouble of clicking, here is the screen it takes you to:
We would like to get your views regarding the upcoming International Scientology Events.
Now, it is a dead certainty that if they were filling up the venues, they would not be surveying anyone about anything. Their default operational mode is "Do it how we want it and you WILL participate and you WILL enjoy it."  Deviation from this is a sure fire sign of the apocalypse.
But it is really only further confirmation what is already painfully obvious.
The events held at the Shrine Auditorium (which holds 6300) are virtually empty in the upper level and not even full at the bottom level.  Estimated attendance around 3500 (from people who are there and who have experience with crowd sizes at scientology venues). Back in the 90's it was a huge flap if the Shrine was not full bother lower and upper levels, for any event — in fact there was "overflow" space for people that could not get in.
Now they are moving the biggest NON LIVE LA event (the New Year's Event is live in LA, the only one) to the Bonaventure hotel that holds a maximum of 3000 people.
That they cannot scrape together even 5000 people in LA is astonishing. There are at least 500 SO members at Gold. Another 500 in the HGB. At least 500 in PAC. And between the other entities (CLO WUS, Bridge, ASI, IAS, SMP, Int Dissem Printing Thingie, CST etc etc) there are at least another 500. There are 6 Class V Orgs in LA, 5 of which are "ideal" — they should have AT LEAST 100 staff each.
So, just STAFF in Los Angeles there are 2600 people.
The number of public is plummeting. And the number who are willing to attend events and subject themselves to the "reg drill" afterwards is even less.
This is a real problem for Miscavige. He cannot keep people believing there is massive international expansion and the largest humanitarian force on earth is hard at work if they do not come to his events. They are not going to find this information anywhere else because it is made up hype. They are not going to see anyone IN their local orgs. They are not going to see the media reports of the massive 4th dynamic salvage campaigns because there is nothing to report about them because they are not happening. Nobody else has ANY reason whatsoever to make up stories about the "planetary salvage" going on all around the world.
These events are the ONLY avenue for him to keep the sheeple from heading for the lifeboats.
The press gangs are already working overtime to scrape together the 5000 needed to fill the tent in the UK. They are chartering buses from Romania and Ukraine and Moscow and Poland and putting heavy pressure on everyone who is a Patron Meritoriuous to show up from wherever they are in the world. The "live" events MUST be packed at all costs and massive effort goes into this.
But with the sad state of affairs in LA — home to the largest population of scientologists on earth, as well as all the senior echelons of scientology and more orgs than any other city — you KNOW how dismal it is in the other more remote areas. I bet there are a number of orgs where the attendance for the IAS event is a lot less than 50. Ruth Eckerd Hal in Clearwater is STILL used after 20 years, and its increasingly difficult to fill it with 2300 people — if the massive international expansion were true, surely it would be reflected in the population of active scientologists at the Mecca? And by now the events would be being held in a larger venue. It's even become a struggle to get enough people to pay the ridiculous rates for a week of being regged on the Freewinds for the Maiden Voyage Anniversary cruises to bankruptcy.
47X expansion. Not.