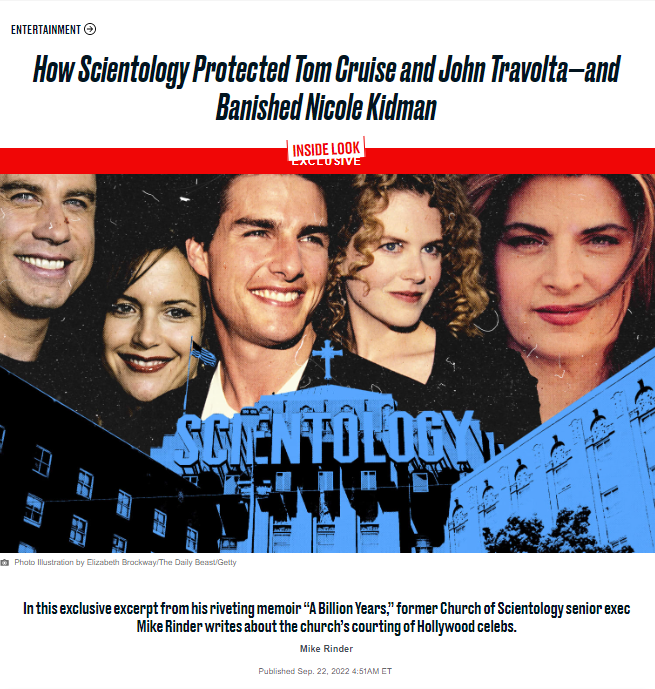 The Daily Beast negotiated an exclusive first look to excerpt a short section from the book.
What they chose is not what I would have selected to represent the contents of A Billion Years, but they are convinced this is what will interest their readers. I almost omitted reference to celebrities altogether for fear of it becoming a distraction from the more important things I had to say, but ultimately chose to include some of the interactions because to have left them out entirely would have not been authentic. These things did happen and in some ways impacted my thinking and decisions.
The excerpt begins with this introduction:
Mike Rinder served as a senior executive within the Church of Scientology from 1982-2007, both on the board of directors and as head of their Office of Special Affairs, lording over the cult-like religion's public image. He often acted as the public face of Scientology, speaking to the media and putting out PR fires.
Since leaving Scientology in 2007, he's become one of the world's premier Scientology whistleblowers, appearing in the HBO documentary Going Clear: Scientology and the Prison of Belief, co-hosting the Emmy-winning A&E docuseries Leah Remini: Scientology and the Aftermath, and currently co-hosting the Scientology podcast Fair Game (also with Remini). His new memoir, A Billion Years: My Escape from a Life in the Highest Ranks of Scientology, out Sept. 27 from Simon & Schuster, chronicles his time within the shadowy organization, the alleged abuses he witnessed, and his dealings with its leader David Miscavige.
You can preorder the book and audiobook here.