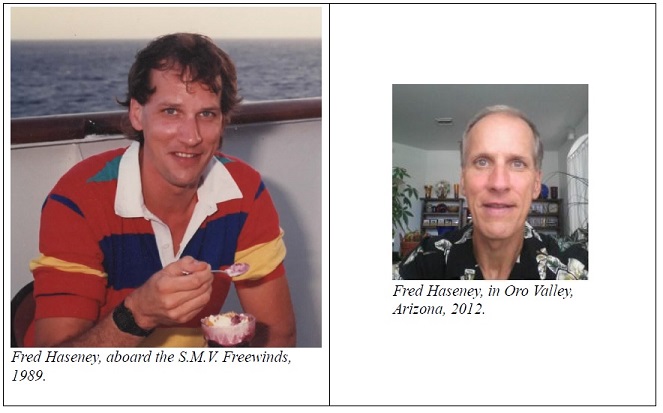 Declaration of Independence
By Fred Haseney
January 10, 2015
On January 27, 1986, I attended the event at the Hollywood Palladium, in Los Angeles, California, in which David Miscavige announced the death of L. Ron Hubbard ("LRH"). By the end of the evening's proceedings, I knew that I would never,
ever
attend another event sponsored by the Church of Scientology. I can't say exactly why, but I knew that as I exited the Palladium's doors that
that
would be the last Scientology event for me.This "Declaration of Independence" is being prepared in such a way so that the Ethics Officer ("EO") responsible for issuing my "Suppressive Person ("SP") Declare" or "Declare and Expulsion" will know that my stats have been
up
, and that I should be helped, not harmed.I got into Scientology in 1977, as the result of a good Body Router's efforts, in Salt Lake City, Utah.I got out of Scientology* in 2014, as the result of the late Mary Sue Hubbard's estate going on the market, in Los Angeles, California.
I have Tony Ortega's "Underground Bunker" to thank for enlightening me as to what's been going on in $cientology for about the last twenty years (note to EO: the fact that someone outside the church has devoted almost two decades of their professional live to exposing $cientology's transgressions should be proof enough to anyone that something is wrong with the church).
In late 2014, I heard on the radio that Mary Sue Hubbard's house in the Los Feliz district of Los Angeles had gone on the market. Since I live nearby, I checked for that property's address on the Internet. I innocently Googled the address request, and tumbled head-first into "The Bunker," where I got an Instant Hat on what life is all about outside $cientology.
A note to the EO: I didn't intend to search the Internet for "$cientology"; my Google search only asked for the address of Mary Sue's house. I know I've been told to stay away from the Internet; before last August, I admit it, yes, I did look at a few things online that weren't "official" $cientology websites, but I didn't look at them in any depth and quickly left those web sites, whatever they were.
Through "The Bunker," I learned how $cientology had mistreated Class VIII, OTVIII, Trey Lotz, who had been very influential in my life in 1979. Then, I read former Flag Ship Service Org Captain Debbie Cook's e-mail sent to thousands of her fellow Scientologists for 2012. While I've never been a Flag public, I could not question or doubt the validity of Ms. Cook's message about how twisted $cientology has become.
Later, I read the heart-breaking Declaration of Independence written by Cindy Temps, a friend of mine with whom I shared the American Saint Hill Organization's ("ASHO") Specialist Course room in the mid-1980's. Someone declared Cindy "Suppressive" and created the "disconnection" that has separated her from her children, Melissa and Alan? You've got to kidding me! Cindy is one of the sweetest, most helpful and knowledgeable people I've ever had the pleasure of sharing a course room with.
Through "The Bunker," I began taking notes while reading emails, blogs, Declarations of Independence, watching testimonies on YouTube, and, through my research, I began to realize that something is very wrong with $cientology.
OTVIII is a feather in the cap of anyone who has made it that high in $cientology; $cientologists at any level have placed a high value on such an accomplishment. The results of my online research, however, revealed that $cientology sees little value in an OTVIII because many of them have been declared an SP and/or have left $cientology altogether.
My research also revealed how vital it is to $cientology to get rid of, to offload, to expel, to Declare SP, virtually anyone who ever worked for, with or has been trained by LRH. My notes also informed me that many, if not most of the top-ranking officials in the Church of $cientology are missing; their offices empty. Many of these executives are unaccounted for; some are rumored to be in $cientology's in-house, inhuman prison in Hemet, California, called "The Hole."
A request to the EO: please look for yourself at the number of ex-high ranking $cientologists who are no longer in the Church who are now speaking out against David Miscavige's empire, including Marty Rathbun, Mike Rinder, and Karen de la Carriere.
And then there are the public $cientologist testimonies. Through these, I learned the facts behind Flag's "6-Month Checks" for $cientologists on the upper levels of auditing. I worked for two angry and sometimes evaluative and invalidative $cientologists on said upper levels. I've witnessed the rage incumbent in such a "stellar" level of $cientology, and only now do I acknowledge the frustration that my former bosses must have faced as they tried their best to get through their respective $cientology levels, despite the barriers laid at almost every turn.
My research revealed alteration after alteration of LRH Standard Technology. I now doubt the validity of: The Basics books package; the Golden Age of Technology ("GAT"); GAT II. Yes, I've only read and heard about it online, but I also seriously doubt the validity in canceling countless Clear certificates. I've heard and read about the horror stories of $cientologists made to, basically, redo the Bridge from the bottom up.
What is up with the feeding frenzy perpetrated by the International Association of $cientologists ("IA$") and the International Landlord Office ("ILO")? Since when is it a public person's responsibility to purchase the building that they're going to be serviced in? Hey, ILO, are you crazy? Between the IA$, ILO and associated entities in $cientology, it has become drastically and dramatically more important to spend a public person's money on anything except $cientology training and counseling. You ought to be ashamed of yourselves.
In 1977, I did various courses including the Communication Course and the Hubbard Qualified Scientologist ("HQS") Course; it was on the co-audit of Opening Procedure by Duplication that gave me my first glimpse of life in the spiritual realm. As a result, I become a bonafide Scientologist.
In 1977, and while I read LRH's book, A History of Man between the Comm Course and HQS, the FBI raided Church of Scientology offices in Los Angeles, Hollywood and Washington, D.C. When a relative suggested that I get out of Scientology, Stu Gelb, a Course Supervisor, showed me the LRH reference on Handling the Dangerous Environment. I applied what I learned; my relative never again questioned my religious affiliation, and we stayed on very friendly terms as always. In hindsight, though, why didn't I look further into the reason behind those raids? Originally from New York state, I had headed west that summer as a writer, determined to find out what makes other people "tick." Along came Salt Lake City and Scientology, a philosophy that explained those "ticks," and, when applied, showed results.
A note to the EO: I'm about to write my contributions to $cientology; please note the "up" statistics.
In 1977, I joined the Sea Organization ("SO") and moved to Los Angeles to work at ASHO. At that time, a fence surrounded "The Complex," the group of buildings that would become the future home of the Los Angeles Organization ("LA Org"), ASHO, the Advanced Organization of Los Angeles ("AOLA") as well as a multitude of $cientology organizations dedicated to serving themselves (the orgs that handled berthing, housing, food, management, etc.).
My first day in the SO became an all-nighter in which we finished the renovations of LA Org so it could be opened. I then went to work on renovating ASHO, from the beginning to the very end of that project. I began the SO as a member of the Estates Project Force ("EPF"), the team of about 200 new SO recruits who helped renovate the Complex.
Through this first time in the SO, I never made it to ASHO, who traded me with someone else from Cedar Estates Services Organization ("CESO"); "traded" because I had spent too time on the EPF. At one point as an EPFer and during an auditing action, I attested to "Keyed-Out Clear," a "state" that the Church abandoned in 1978. But, between that and the handling by Trey Lotz in 1979, I knew that without a doubt, Scientology had completely changed my life (and for the better, that is).
While at CESO, I worked in the galley (the kitchen); we fed the staff at the Complex. In 1978, I served the staff and also washed pots and pans. During this time, however, I witnessed one of the backfires of $cientology: I saw dozens and, perhaps, hundreds of good SO staff mostly erroneously assigned to the Rehabilitation Project Force ("RPF"). People I knew at ASHO were suddenly dressed in blue, unable to speak to me, and worked long hours cleaning and renovating the Complex (they even had their own kitchen unit).
At the end of 1978, I received an okay to route out of the SO, and returned to public life. In early 1980, I accepted a SO amnesty and rejoined the SO, this time joining ASHO, the first org of my choice when I signed up in 1978.
While at ASHO, I worked as the Director of Promotion and Marketing, in an office with Patricia Kettler Foster, the editor of the Auditor magazine, who would later become a Declared SP. Because of my association with her (I worked with her only once), a Committee of Evidence convened. Convinced of my guilt in contributing to the waste of $20,000.00, a fellow staff member actually tripped me in the hallway; spiritually deflated, I left ASHO without authorization; I blew and returned to Salt Lake City.
A note to the EO: that staff member, Patricia Kettler Foster, and I were billed $10,000 each for the distribution of a minor Auditor magazine filled with typographical errors. To the best of my ability as an EPFer who should never have been promoted to an actual SO post (after being "forced" to do it behind closed doors by two senior ASHO staffers), I proofread the type for that Auditor's publication. Five years or so later, someone from the Commordore's Messenger Organization ("CMO"), while pulling strings and doing follow ups on written reports that included the names of ASHO staff from 1980, interviewed me, indicating that Patricia Kettler Foster may have been solely responsible for those typographical errors. She had measured the font size of the Auditor incorrectly; the printed material from the typesetters which I proofread came to her too large, and so she had to cut the copy down to size. I remember seeing words, sentences and even complete paragraphs laying on the floor around the Auditor Editor's feet; type that never made it into that issue.Two weeks later, I contacted the EO at ASHO and later, through the Guardian's Office ("GO"), I worked through lower conditions for having left ASHO unannounced; later, I paid my Freeloader Debt in full and became a Scientologist in Good Standing. The first job I had: night clerk at Atlas Natural Foods a few miles east of the Complex. Melanie and Johnny DeCrescenzo owned Atlas,which also operated as a Purification Center where we delivered the Purification Rundown.I began seeing professionally Cleo Warner, a counselor at the Scientology-owned Ability Expansion Programs; with her husband, we moved to New Port Richey, Florida. The business we were going to start didn't happen as soon as she expected, so I moved to Clearwater where I worked at Peter Gillham's Nutritional Center in the Old Gray Moss Inn, across the street from Flag. I also worked at the World Institute of Scientology Enterprises International ("WISE Int"), where I helped get their financial audits in Division 3 in running order (I qualified for this type of work because I had good stats from similar work down at the GO and at ASHO, when I worked in their Income departments to put similar records in order and to help other Scientologists pay off their Freeloader Debts).In the mid-1980s, I moved back to Los Angeles and worked again for Atlas Natural Foods until Johnny's unexpected death. Melanie closed the store and joined LA Org staff (she would later marry Nick Lekas). I began working, part-time, for Scientologist Murray Gould's American Pretzel Company, and did so for at least the next decade.
Next, I worked full-time for the Office of Special Affairs for the United States ("OSA US"), where I helped handle a backlog of Division 3 financial audits for the old Church of Scientology of California ("CSC"). CSC had become involved in a legal case and their records needed to be in order. But did I ever question or doubt anything that the Church may have said or done to damage another legally? No. When Mary Sue Hubbard and others went to prison for crimes against the government of the United States, did I ever question or doubt my association with the church? No.I worked for OSA US for about two-and-a-half years, handling audits for ASHO Day, ASHO Fdn, AOLA, etc. For every hour worked, I earn ten dollars in training awards. I earned enough in training awards at ASHO to do the Professional Training Routines Course ("Pro TRs") and Level Zero; at AOLA, I earned Solo Auditor's Courses I and II. Through connections at OSA US, I handled audits for Narconon and Applied Scholastics.From OSA US, I went to work for Sterling Management Systems ("SMS"), four years before the infamous TIME magazine expose on $cientology and SMS, one of their front groups. From 1987 to 1994, I handled various tasks in Division 3 as well as in Division 7's Finance Banking Officer ("FBO") department: Audits Officer, Director of Disbursements, Acting Treasury Secretary, Division 3 Representative to Advisory Council; FBO Admin. When the TIME article came out, did I doubt my connection to Scientology? Never, not once did my allegiance waiver. When the IRS announced its intention to do an internal audit of SMS, however, I exited, partly because I had had enough of working for low-to-no wages for a while after the TIME magazine article's publication.Because of my success with Trey Lotz in 1979, ASHO wouldn't let me be audited by fellow classmates while I trained in the Specialist Course room. That earlier success had to do with the State of Clear, and if I had, indeed, attained such a state, certain auditing actions weren't allowed until I completed the Clear Certainty Rundown ("CCRD"). As I tried to raise the money for CCRD, the cost of auditing kept going up. SMS had been the Number One Field Staff Member ("FSM") on the planet, which meant it had sent many, many clients to Scientology orgs for services, more than any other Scientology front group. One day, I accidentally found out that a fellow SMS staffer, who did work no more important than I did, earned 3.1 times what I made in any given week (I made $10.00 an hour, sometimes as an Independent Contractor; regardless, I never asked to be paid for any overtime).
As the years passed, my spirit for moving up the auditing side of the Bridge and, getting onto CCRD, wavered. Such hopes collapsed when $cientology released a directive addressed to its public, in which it said that if training awards weren't used by a certain date, then those awards would become null-and-void. Because of that, I lost the remaining awards I had at ASHO as well as all the awards I had earned at AOLA, not to mention $500 in training awards at Flag that SMS had given me. That directive also wiped out the $3,600.00 I had earned for the Freewinds-only Anatomy of Cause Course; for an eight-week period while employed by SMS, I had been recruited by the Freewinds to be the In-Charge of their audits project. I led a small team of hard-workers who handled a backlog of audits from the inception of the Flag Ship Service Org ("FSSO") and Majestic Cruise Lines ("MCL"), for which I received a nice, handwritten acknowledgment ("this looks good") from the International Finance Chief.
After SMS, my jobs didn't involve handling finance. For two years, I handled technical support and weekly reporting for a marketing company not owned by Scientologists. I also worked long-term at various temporary agencies. Later I worked at Management Success ("MS") a Scientology-owned company, where I aptly handled telephone interviews for Division 5 and entertained a short stint in Division 2.
So there I sat, unable to pay for CCRD; with all my training awards gone, I couldn't move very easily on the training side of the Bridge. By the time I joined staff at MS in 1998, $cientology had already begun its tumultuous adventure with Captain Miscavige at the helm. Luckily, I wasn't privy to any of the changes or alterations coming down the lines.
For a long time, I had been a Potential Trouble Source ("PTS"); a PTS can be a $cientologist connected to someone who is opposed to $cientology. Such a PTS condition, if unhandled, can actually thwart or stop a person's progress up the Bridge. A PTS person rollercoasters; does well one minute, and bad the next; a PTS can be do well with $cientology training and auditing, yet suddenly lose those wins, and become a liability to himself and others. A PTS is connected to an SP, and the way to tackle such a situation is by handling it. When handling becomes impossible, a disconnection becomes necessary.
Even though I had been a victim of child abuse, I inadvertently stayed connected to the person who had caused physical harm and mental stress during my formative years; that suppressor, or SP, became a detriment to my survival. Having the SP in my environment kept the pain and misemotion of that physical harm and mental stress alive and well in present-time. My continued association with the SP tossed me spiritually as waves would a ship during an ocean storm; without a stable anchor, I sank. The SP's make-wrongs from my childhood became my own make-wrongs as an adult. So, when a doctor diagnosed me with Stage 3 cancer, it became quite clear that I needed to sever my association with the SP. The day before the cancer surgery, I disconnected from the SP, and I've been cancer- and SP-free ever since.Within short order, I stopped rollercoastering; my ship, so-to-speak, found its anchor. Before disconnection, I had little or no purpose in life. Within 4 years of disconnection, I signed (pen named "Jeff Wells") a contract with McFarland who published the "biography" (in actually, an autobiography written two lifetimes later), Jeff Chandler: Film, Radio, Record, Television and Theater Performances (2005).In 2007, I completed the Basics Course, The Problems of Work ("POW"), followed by the Dianetics: Modern Science of Mental Health ("DMSMH") book course, which I tried, but couldn't finish. No matter how hard I tried, no matter how many times the Course Supervisor sent me to Ethics and Qual (once in utter frustration), I couldn't get past the first Chapter (I had done a DMSMH course in the 1980s and had read that version of the book from cover-to-cover).A few years later, LA Org Fdn found four hours of unused auditing in my Pre-Clear ("PC") folders and I received good Review auditing. I believe that by this time, LA Org had become an "Ideal Org," and had gone through a costly and expensive renovation. Beautiful premises, yes, but I couldn't help but notice how empty LA Org had become. Not completely empty, but devoid of the crowds one would expect to see flooding into such an org.
After my first session of Review auditing, I experienced, first-hand, that LRH's definition and description of a "floating needle" had been changed. Such an alteration is an attack on the very core or heart of Scientology.Avoiding Scientology events is not an ability easily attained. From 1986 to 2011, I had to fend off SO staff who tried to get me to attend one event or another or buy this or that item. Such events have conned $cientologists into supporting, financially, so much not $cientology, and into believing that David Miscavige technology is the same as or, perhaps, better than LRH technology.
Per the Condition of Doubt in LRH's book Introduction to Scientology Ethics, I hereby declare that I will have nothing more to do with the Church of $cientology because the intentions and activities of that group are harmful. I intend to be an Independent Scientologist, working with other like-minded individuals, people interested in bettering the world with, but no limited to, the philosophy and teachings of L. Ron Hubbard.
Signed,
Fred Haseney
fredhaseney@hotmail.com
* Addressed hereafter as $scientology