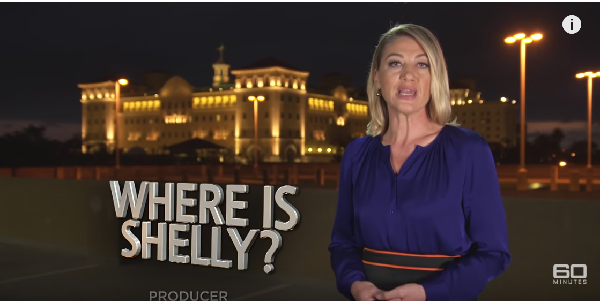 In its inimitable and oh so predictable style, Freedom has responded to the 60 Minutes Australia piece.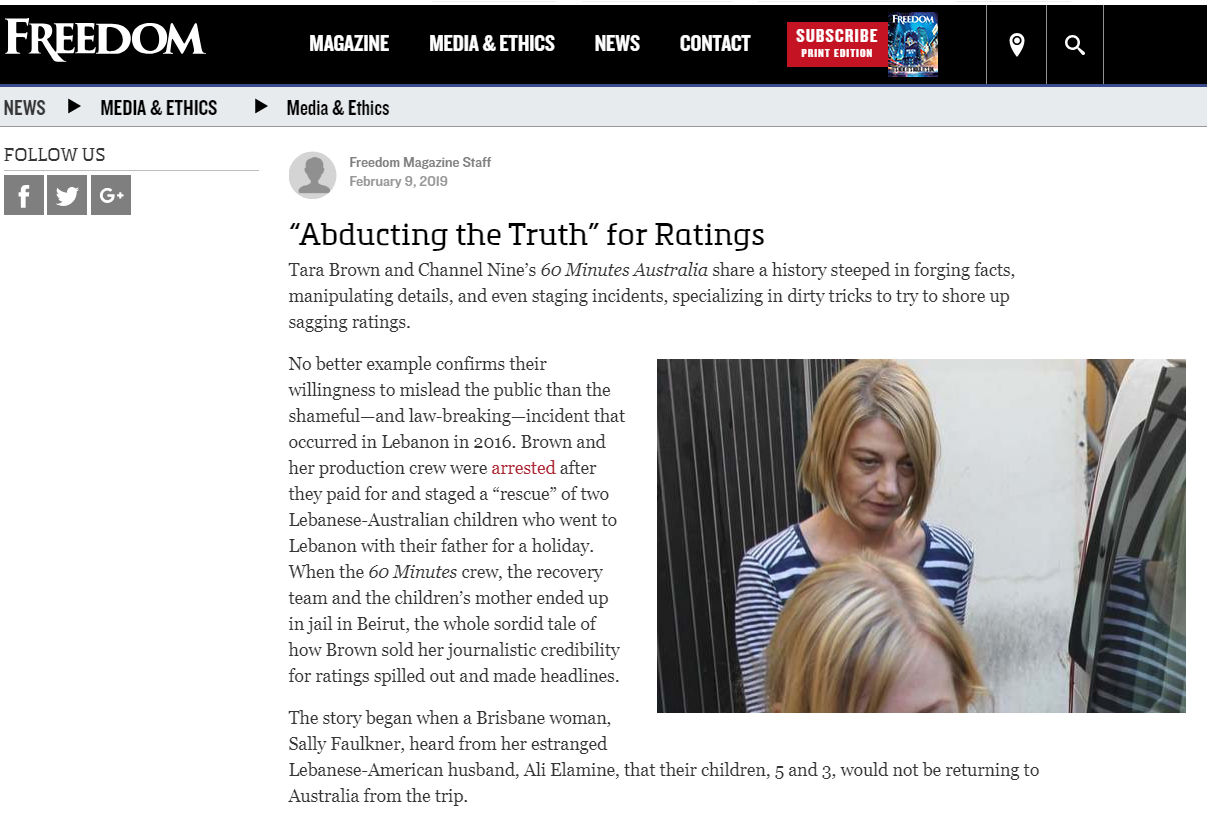 In a surprise to absolutely nobody, they lashed out at their dirty laundry being exposed once again not by responding to the facts, but attempting to smear the reporter, complete with the most unflattering photo they could find/doctor.
Their entire "defense" is to rehash a story from 2016 concerning correspondent Tara Brown and her film crew. They were arrested in Lebanon on charges of "attempted kidnapping" for their coverage of a story of a woman trying to get her 2 children back after her estranged husband had taken them to Beirut and refused to return. They were not convicted and were released after 2 weeks in jail and a reported hefty payment from Channel 9.
Of course, this story has been widely covered and Channel 9 stood by Ms. Brown and continues to do so. "Freedom" leaps on this like they have breaking news that disproves everything that was on the scientology show. In fact, they don't even MENTION the story that 60 Minutes aired, but just proclaim that Ms. Brown and 60 Minutes "share a history steeped in forging facts, manipulating details, and even staging incidents, specializing in dirty tricks to try to shore up sagging ratings." Steeped? Based on one incident?
They are of course implying (without saying so) that the scientology/Shelly Miscavige story is also "steeped" with "forged facts", "manipulated details" and/or "staged incidents" — though they cite not a one. And, everyone ALWAYS has "sagging ratings" — from HBO to Anderson Cooper to John Oliver and The Aftermath (but never scientologyTV as they don't even qualify to get audience figures at all…).
But let's take a look at Freedom's own logic:  If Ms. Brown's arrest and subsequent release in Beirut undermines the credibility of the scientology episode, how does "Freedom" magazine respond to the fact that L. Ron Hubbard was not merely charged, but was tried and FOUND GUILTY OF FRAUD in France? Based on their logic, that should put an end to any assertion that anything Hubbard ever did was of any value, right? That he was a total fraud in all his utterances…
L. Ron Hubbard was tried and convicted, unlike Ms. Brown. And surely the judicial system in France has more credibility than in a broken country like Lebanon?
But back to the real point.
What about the information and abuses that were exposed on the show? Not a peep in response from scientology?
No spokesperson to present any facts? Only Cathy Fraser and her "goon squad" appearing to "demand answers" outside the gates of Gold, while refusing to even give her name? (And while rebuking Ms. Brown for not contacting them beforehand, she obviously knew who she was and what she was doing as she started talking about Beirut in the midst of her feigned "surprise" and indignation that she would arrive without an appointment).
Just for good measure, and in case you have not seen the piece or want to see it again, here it is.
As you watch, remember, they did not respond to a SINGLE thing in this program other than to shout "Tara Brown's mother wears army boots."