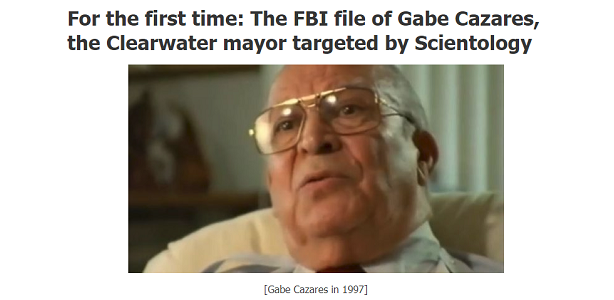 Tony Ortega has a must-read article on his blog this morning.
Researcher R. M. Seibert obtained Freedom of Information Act documents from the FBI about the "ops" (the scientology term — short for operations — to describe campaigns against enemies) against former Clearwater Mayor Gabe Cazares. The stories about what was done to Cazares are horrifying.
But it's also worth noting the underlying POLICY of scientology that resulted in these actions against enemies of scientology.
It is often claimed (and I did it myself for many years) that the Guardian's Office were "rogue operatives" — but that ignores the fact that L. Ron Hubbard laid out how to go about destroying enemies of scientology with these sort of staged operations and planting of false stories. Hubbard fancied himself as a spy and wrote a considerable amount of scientology POLICY about the craft of "intelligence" and covertly controlling and influencing people and situations for the benefit of scientology.
This is STILL THE POLICY of scientology. It is written by L. Ron Hubbard and thus cannot be changed or altered in any way.
Read the article by Tony Ortega today before you read the document below. You will understand how scientology using planted documents and fake scenarios to smear and scandalize opponents came to be.
The examples of "Gosh Porge" and "Bish Smish" in the reference below are not just funny asides. They are directives on HOW to destroy someone. The parallels to Cazares and Paulette Cooper are eery.
This is ONE of Hubbard's writings, directed to the Guardian's Office. It has subsequently been formalized into an "OSA NW Order" — this is a retype of the original communication Hubbard sent to his wife, Mary Sue (CS-G – Commodore's Staff Guardian Office) and other Guardian Office executives and "intelligence" personnel. As with a lot of Hubbard's communication on "sensitive" matters, it was not signed. He did not want to incriminate himself (in later years, he would sign his name "*"). Bear in mind, this is just ONE of the documents Hubbard authored on the subject of "Intelligence" and dealing with enemies. It happens to be the one that has the most direct relevance to the story today.
Below the document I have pulled some specific passages to highlight and comment on them.
       A typical Intelligence action is to turn over some exact data to PR to "get known" that will then push forward an Intelligence objective.  Or to squash an enemy release.
This is exactly what was done with Cazares. Once the "op" (e.g. the faked hit-and-run) occurs, information is then sent to the media from "anonymous" sources (or using fake names).
Whoever regards Intelligence solely as "information gathering" has not moved with the times.
       The Japanese disturbed all this with the Intelligence creation of "incidents" then exploited by PR.
       The "incident" brought about behind the scenes is then pitilessly exploited by PR.
Intelligence is supposed to INFLUENCE activities and control them, not just gather data.
Any Intelligence man worth his salt could have staged the same thing… 
       Now you see where we are trending.
Here is where the rubber meets the road. Hubbard now begins to offer up examples of "where we are trending" and how to "stage" situations to bring about the demise of enemies…
Example: Gosh Porge is located as an antagonistic source in the Bureau of Mines.  Study Bu of Mines.  They frown on corrupt and bankrupt employees, it is carefully worked out by survey. Gosh Porge receives a check for 250 pounds from the Aluminium Company of America at his office for "tip off and patents sent" and "his wife" runs up fur coat bills at Harrods who sue and "a man in Soho" wants his 1800 pounds gambling debt and "a mistress" calls his boss and demands the return of her diamonds "Gosh borrowed" and as it keeps up, even Gosh Porge's best denials won't prevent his being sacked.
This is specific direction to STAGE these events. Cause a check to be sent. Run up fake bills at Harrods. A fake mistress and gambling debt (scientology created a fake "wife" for Cazares to "prove" he was a bigamist). The Cazares staged "hit and run" and tip off to the media is textbook "Gosh Porge"…
And here is another example:
Without consulting Legal Bu Bish Smish is suing C of S for truckloads.  Survey his attorneys covertly.  One finds they detest "people from the City", very prejudiced against money clauses.  So City blokes start appearing on their lines for Bish Smish – will he win the suit?  Broker wants to know can Bish Smish cover his margins?
City bowler hat beats up lawyer with an umbrella because Bish Smish said he was going to get the lawyer to sue him over the "blocks of stock" Bish Smish swindled.  Keep it up.  Soon he won't have any lawyer!
Or in the case of Cazares, use a scientology operative to BE his lawyer!
Remember — this remains the operating policy of scientology TO THIS DAY.
It will never change. It cannot. Scientology is stuck following the direction of L. Ron Hubbard for as long as it can survive.
Knowledge of the truth about scientology and exposing it to the world serves to inhibit their actions. The more they are exposed, the harder it is for scientology to get away with their taxpayer supported abuses.