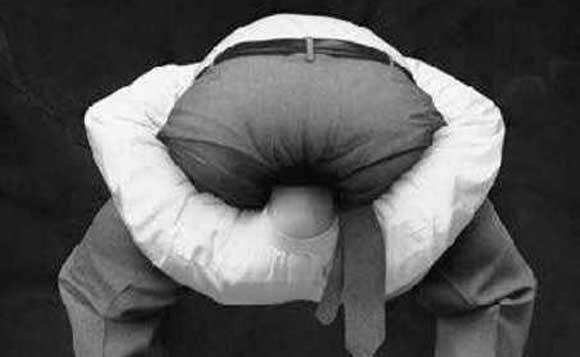 More revealing details from inside the hushmail bubble….
Great to see the IAS coming along to the Flag OTC to quote from "COB's speech" and tell everyone they should be increasing their status as they move up the Bridge. Of course, if they were to be asked about this by the IRS they would claim there is NO relationship with moving up the Bridge and IAS statuses. But you know, that's just "wog" law. Not important to anyone important (like us in the IAS).
These guys lie about their own stats to themselves. It is remarkable to see how the culture of peddling bs and then buying what you are selling is so ingrained inside the bubble. What they REALLY mean to say is that 88% of all members of the OTC have enough money left on account that they can be debited for an extension course so they can say they are "on lines", with a few of them sporadically going to the course room and a handful proudly donning their blue and white "Purif Uniforms" or "Cause Resurgence Running Program running shoes" and passing through retina scans and frisk downs to enter the SP Cathedral and participate in the most astonishing, life-changing, OT wins imaginable this side of redoing their Objectives and Student Hat.
Also good to note that Chill EB clearly found a far more lucrative gig for himself than trying to make it in the music business. He is on the IAS commission gravy train and livin la vida loca. And after doing events for the IAS for a year, he has started his first service… They do still call themselves the International Association of SCIENTOLOGISTS right?
Date: Sun, 13 Apr 2014 
From: Flag OT Committee <depchair@flagotc.org>
Subject: Message of the Week & April 7 Meeting Minutes

Flag OT Committee Meeting Minutes
7 April 2014

Call to Order Kaye Champagne, Chairman welcomed attendees then briefed us the meeting would be quick and different, as we had a special guest.

Chantal Valtin, New Member, welcomed new member Anatori Suter.

Statistics
Sue Moore, Deputy Chairman reported the following "really, really good" statistics from last week's production:

    Active Members up from 208 to 241 (Affluence)
    Members Reporting up from 229 to 262 (Affluence)
    Meeting Attendance steeply up (Affluence)
    Total Volunteer Hours – up (Affluence) and in a great Affluence Trend!

Announcements
Kaye announced the following:

    The percentage of our OTC Members who are on service is 88% which is great! We want to get this to 100% this week.
    The Personal Efficiency Course at Flag will be held on April 27th which will be in conjunction with the East US Alliance
    There will be an "East US Ideal Org Alliance" weekend of events at Flag, April 25-27. We need attendees for this Alliance, which will help with expansion not only for Ideal Orgs, but companies can use this data to help their expansion
    Tuesday (April 8) Greg Winteregg will be the speaker for the Keys to OT Event in the Ballroom (change of venue) and there will also be a Solo NOTS C/S speaking

Lyle Roland, OES announced that assist auditor volunteers are needed to deliver assists to some of our OTC Members.

Special Guest
Kaye introduced and welcomed very special guest, Rap Performer and crusader against the drugging of children, Chill E.B. Kaye said that he and his wife Dilan have travel 320 days per year, and have been to almost every continent, for the IAS. Chill E.B. performed, for the FIRST TIME his newest song, "Let Them Be." He said he was very happy and privileged to perform for the Flag OT Committee. He said he began his journey with the IAS and with Scientology at the 2010 IAS Event at Flag, and that he and his wife had started their first services, having been on the Purif for 8 days.

Javier of the IAS brought us a message from the IAS that this year is its thirty-first anniversary. He read a quote from the COB's speech at the last IAS Event at Flag about the "Price of Freedom." Javier asked that we each make one postulate, and that is to attend the IAS Event this year in October at Saint Hill. He also said that as one moves up the bridge, one should also move up in IAS status.

Production
Kaye set a target that we get 100% of our OT Committee members onto service by graduation this week. She said we have about 40 members to go, that Lyle has the names, and that we are welcome to get with Lyle to help on this.

Adjournment to Photo Shoot
Kaye asked us to exit the Ballroom and use the walkway from the Fort Harrison to the new Flag Building, to pose for our group photo on the grand staircase in the atrium. She announced we could pick up our commendations at that time as well. Kaye led us in a round of applause for LRH before we exited the meeting for the photo shoot.

Minutes by Carol Gulasa, Meeting Secretary
Edited and Approved by Susan Moore, Deputy Chairman
Even with the wall to wall bs, they cannot conjure up anything positive to say about the scene in "Ideal" PAC.  8 starts a week just isn't going to hack it guys. And this right after the monumental magnificence of his eminence blessing the "new" "ideal" PAC, now flooding people up the GAG II Bridge. Remember all the "flood" terminology that was being used just a few weeks ago? Seems the flood was merely a trickle, and intermittent at that.
Date: Sun, 13 Apr 2014 
From: PAC OTC 
Reply-To: dennietab@yahoo.com
Subject: Starts and Comps

We have a target to make!

My fellow OTC'rs:

We are falling short of our goal of 175 starts and 125 comps by MV. We had 8 starts this week by OTC members for a total of 40 and 10 comps for a total of 42. Are all of you reporting your comps and starts?

Let's get into action and make our goal.

Dennie Tabor

Qual Sec PAC OTC