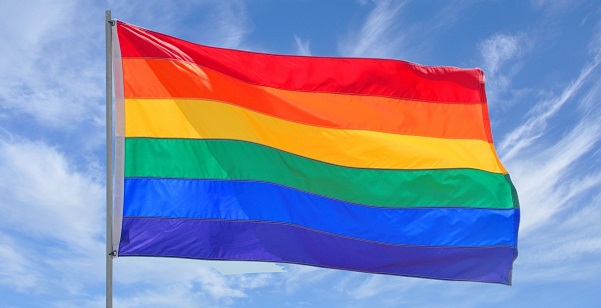 An eagle eyed Special Correspondent spotted something in Tony Ortega's Sunday Funnies on 19 Oct.
From there he dug a little more and some interesting things emerged.
It is well known that Scientology is notoriously homophobic. L. Ron Hubbard was extremely anti-gay in his early writings, most notably in his 1951 book Science Of Survival. Unfortunately, it is fundamental and unalterable dogma in scientology that the words of L. Ron Hubbard must be followed to the letter and without deviation. So, things change VERY slowly, if at all.
The church's stance against gay rights was brought into sharp focus by Lawrence Wright's piece in The New Yorker recounting the story of Oscar winning writer/director Paul Haggis' departure from the church.
With that background this story is somewhat puzzling.
But another piece of the puzzle is also important to perhaps understanding what is going on.  In today's scientology there is one thing that trumps everything — money. If you are willing to turn over cash to scientology, they will not only bend the rules, they will write new ones.  Dozens of stories have appeared exposing the fact that church donors are accommodated with preferential treatment, unusual favors and waiving of the "deeply held religious beliefs" that are touted to keep those without money in line.
And so we look at the promotional piece from the Mountain View org that appeared on the Underground Bunker excerpted below:
"Greg and Tim" were the only contributors to Silicon Valley's Ideal Org #3 with no last name. Or were they? Look closely under the "&" and we see "Tim D'agostino"….
From there our intrepid SC found that Tim D'agostino has a Facebook page where he mentions Greg.
Tim tags Gregory Paige, upper right — but calls him Gregory Andrew in the caption…
Checking Gregory Paige's Facebook page comes up with this (along with a lot of other scientology material and some pretty sad whining about people who don't understand his choice of being a scientologist and how all the claims of abuse and people being locked up and money being taken are just lies "[dis]proven in court"?):
The location for the wedding is the planned auditorium/chapel of the "new" "ideal" Mountain View church of scientology.
Apparently, the donation is with the idea that if this facility ever gets built, they will be married there. (Just a word of advice guys,  if this is what you are waiting for, you have astonishing patience).
A further look at FB reveals that they are also apparently staff members…
Pretty clearly, Mountain View org has at least one, if not two, openly gay staff members who are planning to get married in the church.
Does this signal a massive policy change in scientology?
If so, why are they not promoting it? They even seem to be hiding it — not giving the last names of these two, the ONLY ones omitted in the entire promo piece?
Or is this just the dream of a couple of romantics who are hoping that this is going to happen, but are soon to be crushed when the church explains things to them with some selected quotes from Science of Survival?  Did the church hire them and then discover they were gay, and were afraid to let them go because of the backlash it would bring, especially in the Bay Area which for many years has been at the forefront of gay rights issues.
I surely hope it is the former and the church has FINALLY decided to treat gays like anyone else, for two reasons:
1. I think discrimination against anyone based on ANYTHING, if they are not hurting anyone else, is wrong. And by discrimination I mean not affording the courtesy, dignity and rights that others in society enjoy.
2. It would mean that the church CAN change based on societal pressure. QED the abusive, discriminatory practices of disconnection can also be brought to an end.
Or does the fact that the org left out the last names of ONLY these two mean that they are trying to keep it a secret and just milk these guys for the money and then boot them to the curb?
It will be interesting to watch. Because sooner or later, scientology is going to have to clean up its act on this subject.