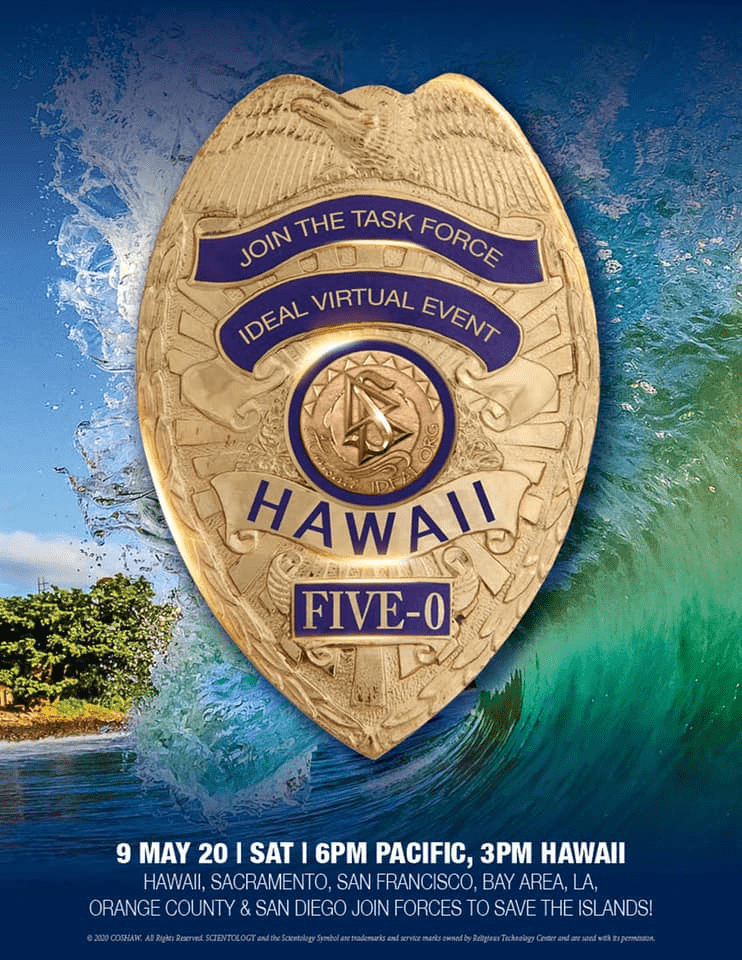 The "Task Force" to "Save the Islands!"
Seriously?
Save them from what?
They cannot even save themselves. Hawaii has been a small and failing org for decades. And that is being kind. They actually barely exist. That's why all the other orgs have to come to their rescue.
I wonder if they realize (probably nobody in Hawaii org is OT III) that this is one of the two most important locations on earth in the Xenu story (along with "Las Palmas" which is a mistake as that is the name of a city, not a volcano or even volcanic island…).
According to Hubbard's theories, there must be a lot of VERY restimulated people constantly keyed in to their R-6 bank simply by being in the Hawaiian environment. They should be especially susceptible to the volcano image on the cover of Dianetics and therefore be compelled by their banks to buy it (this IS the theory of the volcano on the cover and all the other creepy images on the covers of the earlier editions of Hubbard's books — they are all out of the R6 bank).
But if what Ron said is true, then how come the population of Hawaii is not stampeding down the doors? They are definitely operating in one of the two most restimulative places on earth, and Incident II is shared by everyone on earth according to Source. Though not to be picky, but there is a bit of a problem with the science. The oldest island of the Hawaiian archipelago was formed 28 million years ago, but Incident II took place 75 million years ago. Xenu's spaceships that looked exactly like DC-8s didn't have anywhere to land, it was all just ocean…
It makes you wonder if he had written OT III in the 70's whether the transports to Teegeeack would have resembled 747's rather than DC 8's. They could have carried a lot more of the 76 x 178 billion thetans frozen in glycol because even at a million per DC-8 that would have required 13 million plus DC-8s to carry everyone to their doom — let alone all the H-Bombs).
But don't let any of these things convince you this account is not based on really excellent whole track research.
AND it reads on the E-Meter. So it must be real.