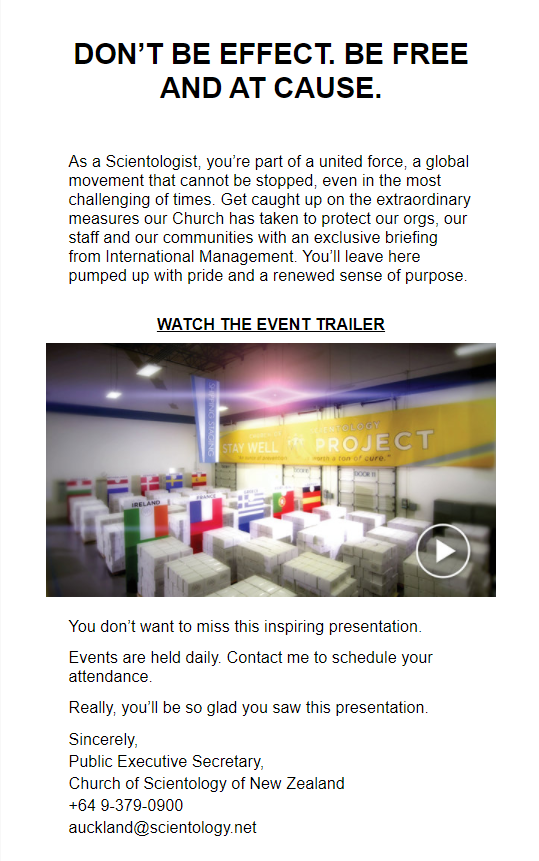 They are still being "inspired" by their PR response to the pandemic?
"Events are held daily"…. meaning they put this on a video screen somewhere and if there is anyone who happens to be sitting around in the vicinity they count it as an "event."
Everything scientology did to respond to COVID 19 was simply for photo and video ops — and months after the fact they continue to try to beat the last whimpers out of this dead horse. It's only because they have nothing else to present as there is nothing happening in the world of scientology. The pandemic has proven there are only two things they do:
Hold the occasional Ribbon Yanking Event in honor of their newest empty building
Hold Miscavige Shermanspeak clapathons where they cobble together random pieces of irrelevant information and turn it into "unprecedented expansion."
Without these two things, they have absolutely nothing except lame video of people in yellow T-shirts spraying disinfectant in South Africa and video of their booklets with the innovative advice to wash your hands and wear a mask. (I wonder how their official position has sat with the more radical right members of their shrinking flock — they've had a few prominent ones, Leigh Dundas in particular).
The irony of all this — scientologists believe the ONLY people who could contract COVID-19 are those who are PTS. And certainly not anyone who is Clear, Hubbard says in Dianetics they don't even get colds.
As for this united force and global movement that cannot be stopped — it's pretty apparent they have in fact ground to a halt. There is literally nothing happening of any note, and no expansion whatsoever in the world of scientology. This video continuing to be the "main event" is proof of that. Within their own promo piece they are disproving their claims.
The cognitive dissonance inside the bubble is astonishing.
PS: The answer to the rhetorical question is: they will go on milking this until they are told to stop. Everyone operates on orders. They will be told to stop when the powers that be have a new thing. That could be a new event promoting the "new" OEC or it could be "everyone has to re-watch the COB Turning Point Event for the 37th time."