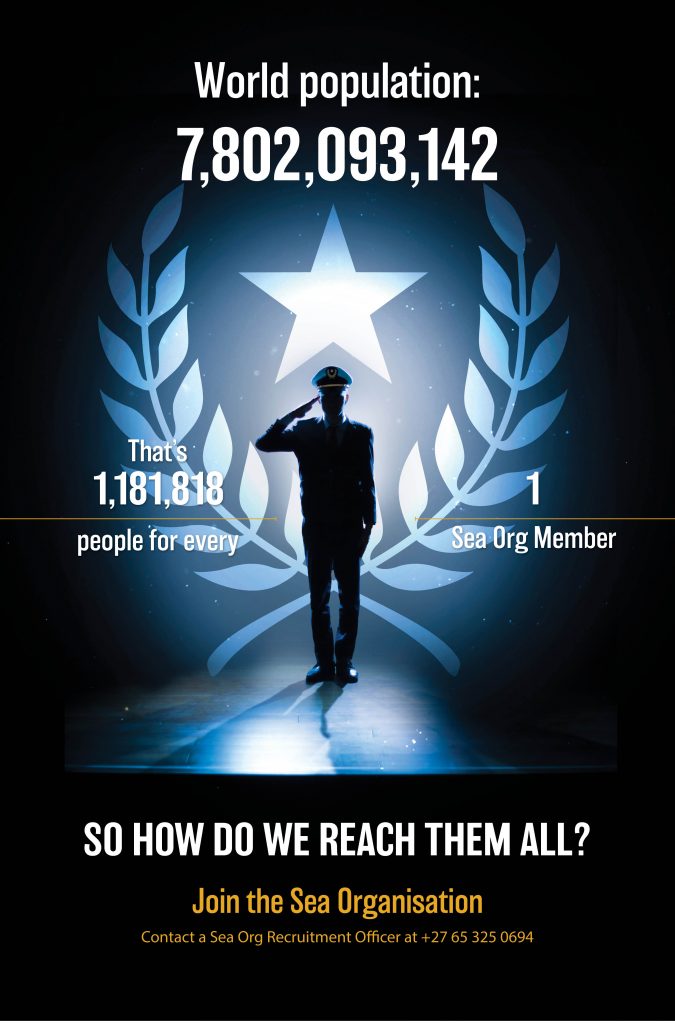 This promotional item claims there are 6,600 Sea Org members.
That is the absolute best case scenario — any figures ever put out by scientology are exaggerated, if not completely made up. It's probably a thousand or more less than that, but we will take them at their word. 1,200,000 people for each SO member to clear is a pretty tall order. Especially as in the entire history of scientology, they have not yet cleared 10% of that number. Yes, in 70 years they aren't even close to 120,000 clears. They continue to hover around half that number.
There were this many SO members in the 1990's, so the decades of straight up and vertical expansion Miscavige has been shermanspeaking about for the past 40 years are pure lies.
I am going to take an informed guess as to where the supposed 6600 SO members would be located:
RTC/CST/ASI/Int base (including Gold): 800
Flag (FSO/Estates/CMO etc): 2000
HGB/SMP: 700
PAC Orgs (including AO, ASHO D&F, LA Org, CC Int, Estates): 1000
Bridge/NEP: 150
CLO's (WUS/EUS/UK/EU/Af/ANZO/CAN/Latam/Italy/CIS): 700
Freewinds: 150
AO's (UK/ANZO/AF/EU): 700
SO sent to Class V "ideal" Orgs: 400
The incredible bureaucracy of scientology's cumbersome "management" system means there are likely about the same number, or perhaps more, SO members than Class V and Mission staff — certainly the bulk of all scientology service delivery is now done by the SO manned Orgs. So, add another 6600 org and mission staff. That's 13,200.
And again, given the extremely high staff to parishioner ratio (in almost every org, at any given time, there are more staff than public, including the FSO).
So, perhaps another 6600 scientologists on line at any given time in all SO, Class V and Missions combined.  That now comes to 19,800 active scientologists.
Add three not "on-lines" scientologists for each one that is — these are the people who would say publicly they are scientologists even though not really active.  That is another 19,800.
Grand total, 39,800 or somewhat active scientologists on earth who would agree that they are scientologists (not some guy who bought a book in 1977 and never read it but is still in Central Files and counted as a scientologist when its convenient for them).
This figure is based on exceedingly generous math — especially as the starting figure is a number from scientology, who claim variously, millions, 6 million, 10 million or numerous other numbers of scientologists on earth.
My guess is the actual number is about half that.