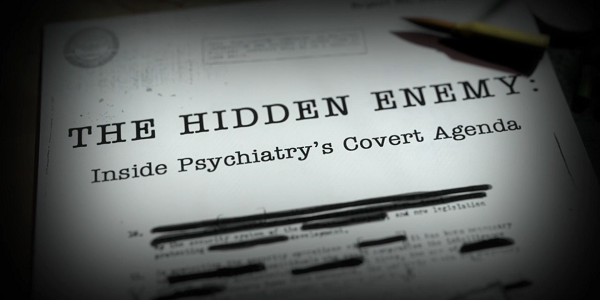 This is NOT a post about politics.
This might just easily have been a scientologist's Facebook post about Pro-Trump people and Fox News as about anti-Trump people and CNN.
What this Facebook post actually illustrates is the blinkers through which scientologists "see" the world.
Anyone who disagrees with their view is "psych-controlled" and "bought by Big Pharma." These are the scientology boogeymen that "explain" all failures, all opposition and all that might be bad in the world. Literally. It's "The Psychs".
Why this woman believes psychs are partial to CNN but not Fox News, or Big Pharma controls CNN but not Fox News is something to be marveled at. Of course logic never boarded this train of thought. It is strictly indoctrination.
She is a Trump supporter, so those who are against Trump are "the psychs" or are acting at the behest of the psychs. Those who agree with her are not.
This is as logical as the athletes who point to the sky after winning a game and say "it was God's work" — like God actually chooses sides in sporting events. Belief and logic are rarely bedfellows.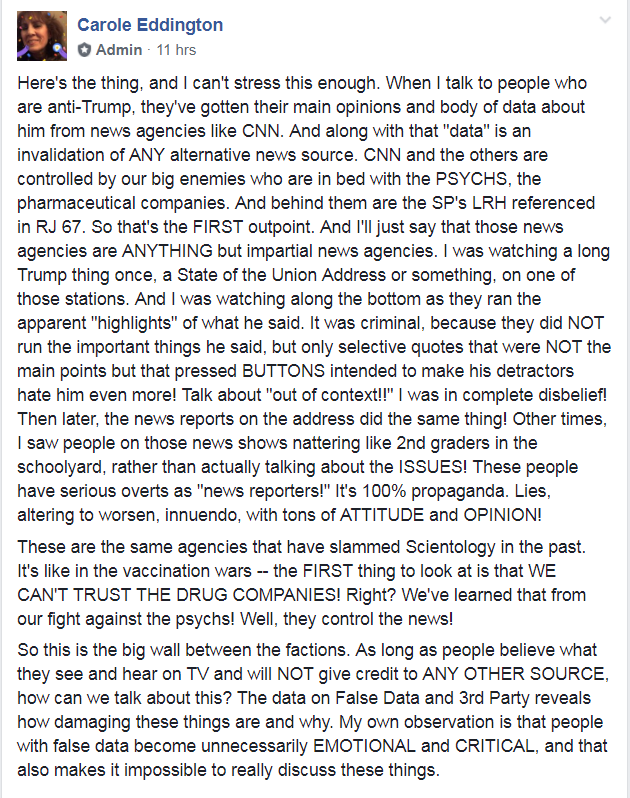 Please don't turn this into an argument about Trump. That is NOT the point I am trying to highlight here.  If I could find an opposite opinion from a scientologist about how Fox News is psych controlled I would post them both together. They are much harder to come by though as I and others have pointed out — scientologists are more likely to be pro-Republican because liberals tend to support universal healthcare which means "psych programs". They are single issue partisans. If a politician appears to be pro-psych in ANY way, they are the enemy in the mind of scientologists.
What is so amazing to me is how people can be so willing to announce their ignorance to the world. But when you are speaking inside a bubble of belief to only those who agree with you, I guess it seems perfectly normal.
The psych boogeymen is a hallmark of scientology belief. And you know virtually none of them have ever met a psych, read anything about them (other than what Hubbard said) or bothered to speak to anyone who has had any personal experience with one. But they know with absolute certainty that they are taking down Donald Trump, scientology, the Girl Scouts and all else that is good and wholesome in the world.