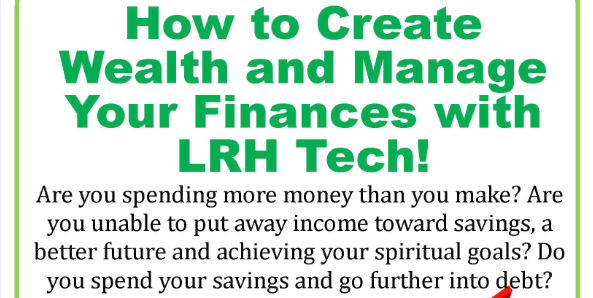 This is not a shoop, a spoof or a joke (though SNL or John Oliver would be hard pressed to come up with satire to beat it).
If you read this poster and took it to heart  — it would prevent most of the "donations" made by people to scientology. That is OBVIOUSLY not the intention. It's a fundraiser for Santa Barbara "ideal" org.
But then again, if you read and follow L. Ron Hubbard policy on finance it would prevent most donations made to scientology.
In scientology words do not mean what they say. They mean whatever you are told they mean. So "don't go further into debt" means "don't go into debt with anyone other than scientology as we don't want your money going to someone else.' Everyone understands that.
It is 1984 newspeak.
But just as crazy is that this is being done by Kevin Wilson. The stories about his financial fiddlings at Sterling Management are legendary. This is like Matt (I filed for bankruptcy and am being sued by the IRS for fraud) Feshbach conducting seminars on how to be financially successful and prosperous.
The hypocrisy in scientology knows no bounds.
The second Fair Game Law of scientology (adding to the existing "Anything can be done to an SP, just don't get caught doing it") is:
Anything can be said or done as long as it is intended to make money for the organization.