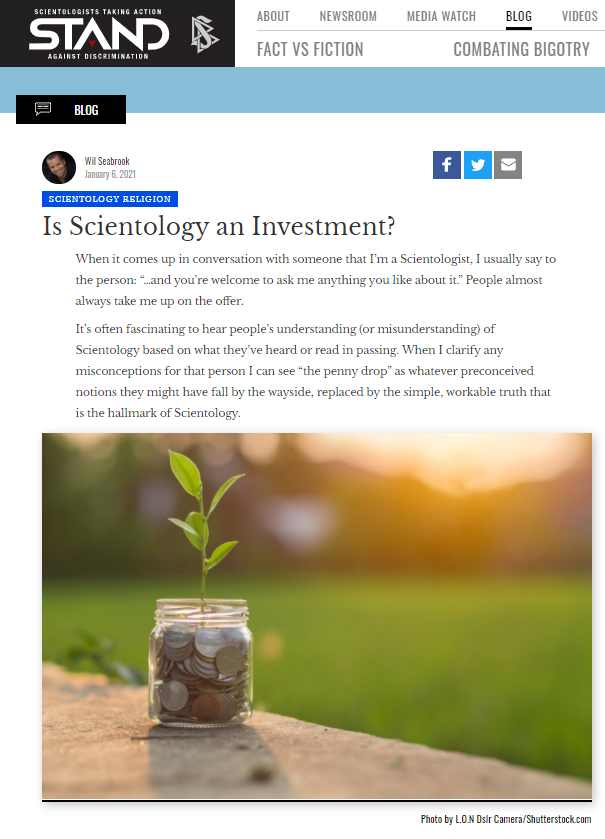 Old Wil Seabrook is at it again.
These STAND flunkies are entirely predictable. Anything that is a touchy subject for scientology (in this case, their merciless money-grubbing) is taken up and presented as if it's a GOOD thing.
Let's just dissect a few of Wil's statements.
One thing that people ask me is why Scientologists make donations for their services. I think there's an idea that help, especially of a religious nature, should be free. But once you start to examine that concept, it's easy to see that nothing in life is ever actually free and that resources are required to do absolutely anything.
Everything requires some form of energy to run, whether that's gasoline in a car engine, food in your stomach or investment in a business or nonprofit.
Of course, it is true that everything does require some form of energy to run.
What he omits of course, is the fact that you can run a car for 20 miles on a gallon of gas that costs $2. You don't need to collect $4,750 for the gallon of gas, pretending that is the "energy" needed to get the car to move 20 miles. Scientology charges $4,750 for a gallon of gas, pretends this is what is necessary for their very survival and accumulates ENORMOUS amounts of money it doesn't spend (like billions of dollars in cash) and huge amounts of money it spends on things it should NOT be spent on. Like hiring Private Investigators to harass people or paying for smear sites and videos. Or even buying fancy cars, shirts, shoes and food for David Miscavige. What Wil Seabrook pretends is that the excess $4,748 is "needed," and it's a complete lie.
Scientology is an applied religious philosophy, meaning you spend time studying and then applying it to improve specific areas of your life.
In order to facilitate this, Scientology churches offer courses, and there are a large number of volunteer staff on hand to help you understand and apply the materials you study so you get what you want to out of the course. Scientology pastoral counseling, or auditing, is also administered in our churches, by individuals who have often spent years of their lives studying and practicing Scientology and the techniques of proper auditing in particular. All of that requires an investment on the part of the individual and the group as a whole.
Did you notice what he did there. Scientology offers all these services and this requires a "large number of volunteer staff" — yes, that's right — they are VOLUNTEERS that you don't PAY!
Rather than asking people to tithe or give a specific amount of money weekly, monthly or annually, which is how many churches around the world can afford to operate, my religion asks parishioners to donate for the auditing or training they wish to receive.
The $4,750 gallon of gasoline. It costs scientology almost NOTHING to deliver auditing and training when you don't have to pay anyone. They could collect a "tithe" and they wouldn't make enough to stay afloat.
Does anyone other than a scientologist believe it actually costs $995 to stamp some CD's of Hubbard lectures — those CD's cost scientology less than 50c each to manufacture? Or $5,000 to manufacture a plastic-cased EZ Bake Mark VIII E Meter?
It doesn't cost a million dollars for one of those gaudy IAS trophies and lapel pins they hand out.  There is absolutely no cost — this is 99.999% pure PROFIT.
Like any other church, the Church of Scientology is a nonprofit. That means there's no one within the Church's structure who personally gains from parishioner donations.
It's not like ANY other church. No other church has a price list, discounts and finder's fees.
All donations are used to ensure each parishioner receives the best possible care and attention and also to help the Church expand around the world so that more people can be introduced to, and benefit from, the study and application of Scientology. This includes making the basic materials of Scientology free and widely accessible to people all over the world, including translating those materials in more than two dozen languages.
Just more of the lies. They could do all of these just spending the INTEREST they earn on their money and never collecting another cent.
I tell them that for me personally, every penny I've donated to my church has been an investment in myself, my family, my businesses and my community—one that has paid me back a hundredfold. That might sound trite but I mean it quite literally.  I'm positive I wouldn't be as successful (financially and in every other sense) or as happy as I am now.
Tell that to all the people who have filed bankruptcy or labor under enormous debts due to being regged…