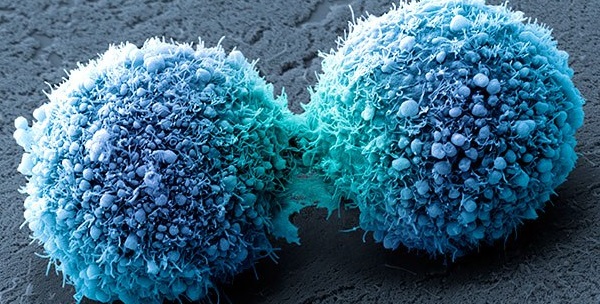 This article was unearthed by my good friend Dave Richards, one of the most successful Executives in scientology history. I recalled reading it when it was first published, but had not been able to locate it since.
It is a perfect example of the hypocrisy in scientology, and the "research" conducted by L. Ron Hubbard upon which he based his many absolutist (absurdist?) pronouncements.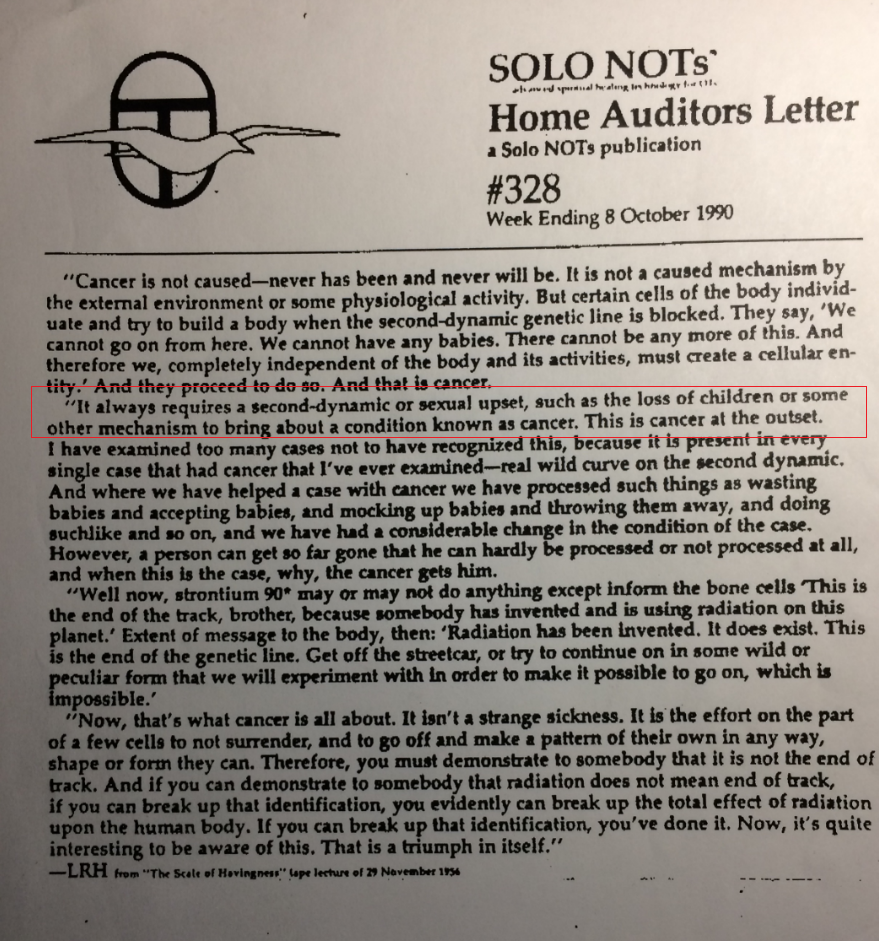 How does scientology square the fact that the ONLY cause of cancer, according to L. Ron Hubbard, is "a second-dynamic or sexual upset, such as the loss of children…" with their practice of forcing disconnection? By this logic, they are CAUSING cancer in people. Now, they probably don't care about creating that effect on someone like me – but what about the parents in the Sea Org or scientologists at large who have been forced to disconnect from their children? They are happy to kill off their own staff and revenue streams with cancer?
As for the "cause" of cancer, well, this is just idiocy. "Cancer is not caused"? It's the "genetic line" being blocked and "certain cells individuate" and "try to build another body." And this is presented as fact.  Like it is proven and LRH is imparting his findings and great wisdom to those who do not understand. This is a perfect example of Hubbard bunkum.
Now, some may say he was just "imparting" his research, and that this is not "current" scientology thinking.  But every scientologist knows this is not true: everything ever written or spoken by L. Ron Hubbard is true — this was published in 1990 as "fact" to Solo NOTs auditors. And that in itself is a rather remarkable thing, as it is NOT what Hubbard decreed in his NED for OTs writings (information which is confidential — only those who have studied NOTs are supposed to be aware of this) where he states cancer is a manifestation of Body Thetans (BTs). Here are a couple of short excerpts about the NED for OTs Rundown steps to be followed on everyone:
The auditor now has the Pre-OT look at the body and in particular any somatic area or area of chronic somatics. [somatic means physical condition in scientology]
Phenomena You are Likely to Encounter on this step:
* BTs/clusters who are being broken legs, misformed arms, cancer, damaged brains, or other non-optimum body parts or conditions.
Cognitions or EPs Encountered on this step:
* Awareness that anything perceived as mass or somatic in the body is not the body, but comes from BTs/clusters.
This is in part why many people in scientology do NOT seek medical help for physical conditions. They believe that everything can be resolved through auditing, especially NED for OT's (it is after all DIANETICS for OTs and Dianetics addresses "somatics" of all descriptions). Even if the person has not achieved the exalted status of "NED for OTs", if they have physical conditions they will be told by scientology authorities (usually registrars) "you need to get to NOTs where that will be addressed." Often they seek no medical treatment but rather invest their time and money in getting up to and then audited on NOTs. Only when the condition has progressed without resolution with auditing do they then try medical treatment and often that is too late.
Scientologists truly believe that ANY physical condition (even brain damage…) can be resolved through auditing – specifically by removing "BT's" who are "being [condition]"…
I guess the only reason nobody has ever gone after them for making false medical claims is that the NOT's materials have never been published BY scientology so they are not "advertising." And like Christian Scientists have a religious right to refuse blood transfusions even if it causes their death (though not that of a child), so too scientologists have the right to not seek medical treatment for their ailments if they so choose.
This is in part why the circumstances surrounding the death of L. Ron Hubbard had to be turned into a fairy tale. The ultimate "proof" of these L. Ron Hubbard assertions is L. Ron Hubbard himself. Various strokes, pancreatitis and other ailments should NOT exist after 20 years of auditing BT's away.
The vast majority of scientologists have no idea of physical deterioration he suffered, and if they did, it would fly in the face of so much they are taught and raise so many questions about the fundamental "truths" of dianetics and scientology.  Was LRH PTS and he could not handle it? Was he NCG? Did he have unhandled O/Ws? Evil Purposes? How is it he could not apply the tech to himself? All his solo auditing of BT's didn't resolve his physical conditions? Really?
What a can of worms….