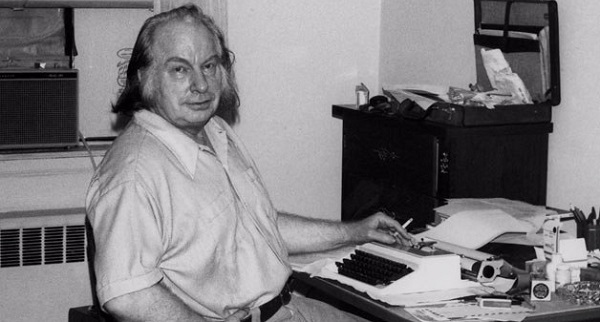 This is an expansion of an earlier post I did on this subject.
Hubbard always had a lot to say about psychiatry being the root of all evil in this universe, but towards the end of his days, he became increasingly obsessed with the topic. Just as he was trying to get rid of those pesky BT's and clusters, so too he was trying to explain to the world the scourge of psychiatry.
Read his fiction from the time — Battlefield Earth and even more so, Mission Earth, and his fixation on psychiatry is remarkable. They are the source of all suppression of mankind. His unpublished writings are even more bizarre — his infamous secret rant about the planet Farsec has never been made public, but those who have read it (myself included) will tell you it is one of his most unhinged — Farsec was the planet where psychs originated and from which all the evil in the universe derives. The meanies from Farsec were sent to earth, originally originally as priests, to control the population and then eventually converted into their "real" profession as psychiatrists.
Hubbard focused on psychiatry in many of the last "tech" he announced (there are many bulletins that have been issued with dates later than these, but almost all of those are either old things that someone found and decided to publish or "compilations" of things he had said should be published and they stuck a later date on it when they got around to the compilation).
He became more and more convinced that his failures and the failures of scientology were a direct result of psychiatry and its influence on the governments of the world. Every cult has to have a boogeyman, and Hubbard made it very clear that the evil seeking to destroy scientology was psychiatry. They were a good choice. Plenty of barbaric practices in their past, and a lot of mystery surrounding their practices. Perfect raw material to convert into the ultimate "suppressives on the whole track." Psychiatrists are scientology's devil.
Hubbard issued little "tech" in the 80's, but somehow had plenty to say about psychiatry.
In a 29 Nov 1981 bulletin titled DIANETICS AND SCIENTOLOGY COMPARED TO 19TH CENTURY PRACTICES he said the following:
A comparison between Dianetics and Scientology and psychology and psychiatry is nonsense.

The two 19th century subjects, psychology and psychiatry, do not achieve ANY good results. On the contrary they are destructive beyond belief. They make crackpots, sexpots and vegetables when they do not outright kill.

The greatest crime of our times is the use of psychology and psychiatry to teach little children in schools with them and manufacture crime and a whole world of immorality and unhappiness.

The character of the Governments themselves is established by their tolerance and use of psychology and psychiatry. In no human race of any civilized repute has any law condoned broad mayhem and murder of their populations. Yet under modern governments psychology and psychiatry not only have carte blanche but also get insistence on their use.

Murderers flock to murderers according to old sages. The governments only smile at the brand of Cain upon their heads.

Is this a civilized world we're living in?

I'm afraid it only will be when Dianetics and Scientology can bring wisdom enough to Man to blunt his furious efforts to do himself in.

So laugh in people's faces if they compare Dianetics and Scientology to the "orthodox mental subjects." They are insulting you.
It's the classic good vs. evil.  And scientology is the only hope to vanquish this scourge.
And the trend continued. This excerpt is from 26 APRIL 1982, THE CRIMINAL MIND AND THE PSYCHS:
So let us look at psychs again—what they call "treatment" is a suppression (by shocks, drugs, etc.) of the ability to think. They are not honest enough, these psychs, being just dramatizing psychotics themselves for the most part, to publish the fact that all their "treatments" (mayhem really when it is not murder) make people more stupid.

These actions of shock and crazy evaluative counselling etc. lower IQ like an express elevator going down to the basement.

They do not tell legislators this or put it in their books. This is why they say "no one can change IQ."  They are hiding the fact that they ruin it.

So the psych in prisons is engaging in an action (shocking or whatever) that makes people who are already criminal even stupider.

Although they obviously tell their victims to go out and commit more crimes (the psychoanalyst urged wives to commit adultery for instance), they would not have to do this at all to manufacture more crime.

Their "treatments" make the criminals more stupid. The stupid commit more crimes.

It is pretty simple, really, when you look at it.

Why does the state support psychiatrists and psychologists? Because the state is stupid? Or does it want more citizens robbed and killed? It's one or the other. Take your choice.
A week or so later, on 6 May 1982, THE CAUSE OF CRIME (any guesses as to who is responsible?):
They say poverty makes crime. They say if one improved education there would be less crime. They say if one cured the lot of the underprivileged one would have solved crime.

All these "remedies" have proven blatantly false.

In very poor countries there is little crime. The «improving» education, it was tailored to «social reform,» not teaching skills. And it is a total failure. The fact that rewarding the underprivileged has simply wrecked schools and neighborhoods and cost billions is missing.

So who is "they"? The psychologist and psychiatrist of course. These were their crackpot remedies for crime. And it's wrecked a civilization.

So what IS the cause of crime? The treatment of course! Electric shocks, behavior modification, abuse of the soul. These are the causes of crime. There would be no criminals at all if the psychs had not begun to oppress beings into vengeance against society.

There's only one remedy for crime—get rid of the psychs! They are causing it!

Ah yes, it's true on cases and cases of research on criminals. And what's it all go back to? The psychs!

Their brutality and heartlessness is renowned.

The data is rolling in. Any more you pick up off a criminal or anyone, send it in.

On crime we have an epidemic running on this planet. The wrong causes psychs assign for crime plus their own "treatments" make them a deadly virus.

The psychs should not be let to get away with "treatment" which amounts to criminal acts, mayhem and murder. They are not above the law. In fact there are no laws at all which protect them for what sane society would sanction crime against its citizens even as science? They should be handled like any other criminals. They are at best dramatizing psychotics and dangerous, but more dangerous to society at large than the psychotics they keep in their offices and looney bins because they lie and are treacherous. Why the government funds them I do not know. They are the last ones that should be let loose to handle children.
And he wrapped it up with this one. Almost the last issue in the Tech Vols is HCO Bulletin of 26 AUGUST 1982 PAIN AND SEX which contains this "important discovery":
Go into an asylum or a prison and look at the increasing institutional population and know what you are looking at. In the main, there are pain and sex addicts, decadent and degraded and no longer capable.

They were sent on that route down through the ages by the psychs and here they are still in the psych's hands! And do they get well or go straight? Oh no. Whether in prisons or insane asylums they just get worse. And the psychs in both places rub their bloodied hands as they turn their products loose again upon the remaining population! It's no accident. And the stocks- in-trade of psychs are PAIN and SEX.

They will even tell you it's "natural" to steal!

To compound their felony—if that is possible—they tell you it's the body doing it.

Another crashing big false datum on top of all their other lies. These are data which emerged from recent thorough research of the whole track. This is not theory or some strange opinion. It is provable electronic fact.

The waves are just synthesized. They are the most used tools in the campaign against beings in furthering the general goal of those creatures whose sole ambition is destruction. The universe does not happen to be either destructive or chaotic except as such obsessed creeps make it. Statements it is otherwise are just more false data from the same suspect "authorities".  It fits their purposes to make seem natural what they make artificially. The universe only seems that way to a being because such loathsome psychotics make it seem so. They destroyed every great civilization to date and are hard at work on this one. 
Increasingly at the end of his life, Hubbard resorted to explaining his strange opinions: they "emerged" from "whole track research." In this case, "provable electronic fact" (whatever that means). I wonder what provable electronic fact he is referring to? His claim that psychs say it is "natural to steal"? That insane asylums are full of "pain and sex addicts"?
It got to the point where this was his version of "God spoke to me." Or the Angel Marconi appeared before me… His "whole track research" consisted of him coming up with "strange opinions" and then declaring "this is what really happened 64 quidzillion years ago" and hey presto, it's "whole track research."
If you doubt his obsession with psychiatry, pain and sex at the end of his life, all you need do is read a few pages of the 10 volumes of Mission Earth. It is absolutely off the charts lunacy. But no scientologist who wants to remain in good standing questions this out loud. Though every one of them when they read it, thought "OMG, what IS this?" They fobbed it off, like I did at the time, to Ron writing about his experiences from the whole track.  He didn't even need to say it…
In fact, it is Hubbard's fevered imagination that came up with the kinky sex in nearly every chapter. It is his imagination to turn psychiatrists into the scientology devil.
What is hard to imagine not now being in the bubble, is how we went along with it.