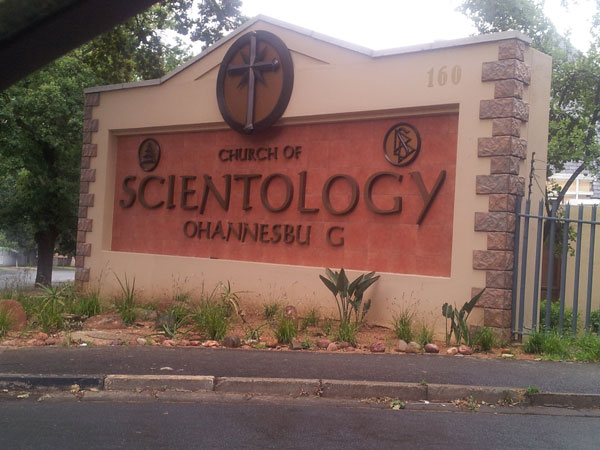 Here is another chapter in the sad tale of the demise of Jobur Ideal Org.
To begin, let me remind you that this is the second "ideal org." Dear Leader himself made the long trip to bless the "new org" and in finest shermanspeak, pronounced this the beginning of the new age in Africa and THE thing that would make S. Africa the first cleared country.  And the goodness would spread from there and overtake the entire continent.
Of course, no such thing happened and Jobur has struggled since. So much so that a Sea Org "Command Team" was dispatched to get things back "under control."  They rolled into town and proceeded to declare the main opinion leaders in the area and as a result, things have gone from bad to worse. They even have a local blog that documents the demise of organized scientology in S. Africa with a steady stream of information exposing the ugly truth about just what a fail the orgs are in S. Africa and Zimbabwe.  Of course there are no other orgs in the entirety of the African continent — an area nearly 4 times bigger than the contiguous United States, with a population that now exceeds 1 billion — this despite the promises of Miscavige with his little arrows springing out of his ideal org graphic to indicted how they would "in turn" generate more and more groups and eventually more orgs. There aren't even any new missions or groups in South Africa in 11 years since its opening,  let alone new orgs. And of course, NOTHING in all the rest of the vast expanse of Africa.
And now we received two reports concerning the problem of keeping the lights on in Jobur.
First, the org is being dunned by lawyers representing Eskom (the electrical utility company for S. Africa) demanding payment of their 2 million rand (about $200,000) backlogged unpaid electrical bill. They threaten to shut off their service, the church begs and offers a token payment and staves off the inevitable for a little while. As one S. African told me, the only entity with worse administrative inefficiency than the church is Eskom. But sooner or later they will bumble their way into terminating service to the idle org — and THEN the church will pay the bill and Comm Ev the executives, but the shoe will be on the other foot. The advantage of the inefficiency allowing them to continue getting electricity when they havent paid their bill for years will now become a liability as they try to persuade them to turn it back on when they pay the bill….
I wonder if Jobur ideal org has any air-conditioning now that summer is upon them?
But according to the latest begging email, that seems like a less urgent situation than buying a generator because "Eskom hasn't been kind to our org lately."  Strange priorities dictated by the pressures of scientology "admin tech."  Because there are "rolling blackouts" that make it impossible to train and audit at night, this is affecting stats right now. Thus, it is PRIORITY. Ignore the fact that ALL the power may be permanently shut off, because "that hasn't happened yet and so it isn't affecting this week's stats." This is typical org "think."
How is it possible that with an ideal org and the Golden Age of Dreck II — they are not making enough money to pay their utilities? Let alone their staff.  And they certainly don't have a rand to spend on a generator.
The solution? Beg the public to give them money to buy a generator (and if that happens they will be begging them to buy fuel to run it).
Bad news on that front though — they declared a lot of the people they would normally have tapped for this sort of thing.
Here is their email:
From: Church of Scientology JBGD <joburg@scientology.net>
Sent: Thursday, December 18, 2014 17:32
To:
Reply To: Church of Scientology JBGD

Subject: Eskom hasn't been kind to our Org lately, Nobody wants to go free in the dark! So Joburg Org has come up with a solution but we need your help!…

Attend our Dark Knight Fundraiser and help Joburg Org buy its own Generator… after all you do need power to go free!

Since the rolling blackouts here in Johannesburg are going to keep on rolling for a long time, we needed to come up with a solution because we cannot deliver our service to our public in the dark, so we have decided to buy our own generator for the Org that will be able to replace Eskom when they switch off the power.

Please come and support Joburg Org at this fundraiser. The generator costs about R500 000. This cause is good for us but even better for you, because why are we here after all? to help you go CLEAR! and nobody wants to go free in the dark!

BE THE LIGHT IN OUR DARKNESS AND DONATE TO OUR GENERATOR!

Time- 7:00 pm
Place- Chapel
Theme- Dress in white and bring the light!
Surprisingly, no typos or spelling mistakes.
But it raises some puzzling questions:
1. Are people supposed to fork over their money to buy a generator or support building more "ideal" orgs? Or the IAS? Or Planetary Dissemination? Or the AO Af? Or CCHR?
2. If Joburg is in such financial distress, what about the other orgs in Africa? This after all is the model. The leader. The "continental org." The Sea Org are all over it. It's the biggest, baddest org in all the land.
Once again, reality makes a mockery of the PR pronouncements of the church.
They continue to tell the clubbed seals that with GAG II and and Ideal Org they WILL clear their areas. It is the pitch repeated ad nauseum by everyone. But of course, that is a lie. Jobur is living proof of that fact.
A lot of the clubbed seals are kept in the dark. But there are PLENTY of people who know the truth — that "ideal orgs" are miserable failures. That GAG II is a miserable failure. That these programs are NOT improving anything. But they keep repeating the lies because to do otherwise would be "Counter Intentioned." Those are the people who have karma to face. And sitting on top of that steaming pile is none other than Mr. David Miscavige, "COB," "ecclesiastical leader," Pope of scientology, dictator of command intention and king of  on-Sourciness.