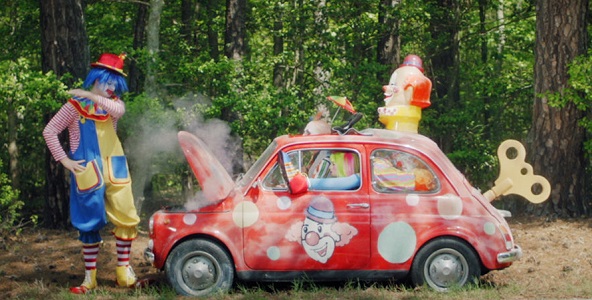 He has been hiding for a while, but Ryan Prescott has reappeared to take charge of his clown car once again.
We have covered the delusional kid who claimed he was going to take charge of the Clearwater elections to "make sure Mark Bunker is not elected" and who wrote the books "exposing" Leah Remini and me as "liars" a few times in the past, this is perhaps the most comprehensive post:  What Happened to Ryan Prescott?
Stefani Hutchison on her wonderful Confront and Shatter blog has exposed Lyin' Ryan many times, this is just one example Ryan Prescott Lies Once Again.
Now he has he suddenly reappeared as the apparent coordinator of the CCHR "Psychbust" at the annual APA Convention in SFO.
This is yet another indicator of how few resources are left inside the bubble. If the best they've got is this kid, things are really desperate.
Ryan Prescott is an unfortunate poster child for all that is wrong with scientology. His delusion knows no bounds. His "certainty" is unflinching though not grounded in reality. His gullibility is off the charts. And he follows orders from anyone in authority in scientology like a hypnotized chicken.