Frankly, the closed orgs have dried up a lot of the material for Thursday Funnies — endless streams of "Get your Pandemic workbook here" and "We command you to do an Extension Course" are just not very funny. We may not see much in the way of Thursday Funnies for a little while…
So, I thought some clowncar material from another corner of the scientology bubble might be entertaining.
This is Ryan Prescott's Facebook live post from a week or so ago. I had only ever seen his comical Tweets and some bits from his Loony-Tunes books. I had never had the misfortune of seeing him in person.
Now I have, and you can too if you are completely bored and have nothing else to do… I don't normally devote any braincells, time or effort to these sort of people, but in the interests of entertainment and a bit of lighthearted fun in these dog days of Spring I sacrificed myself to go where only 4 people had gone before me.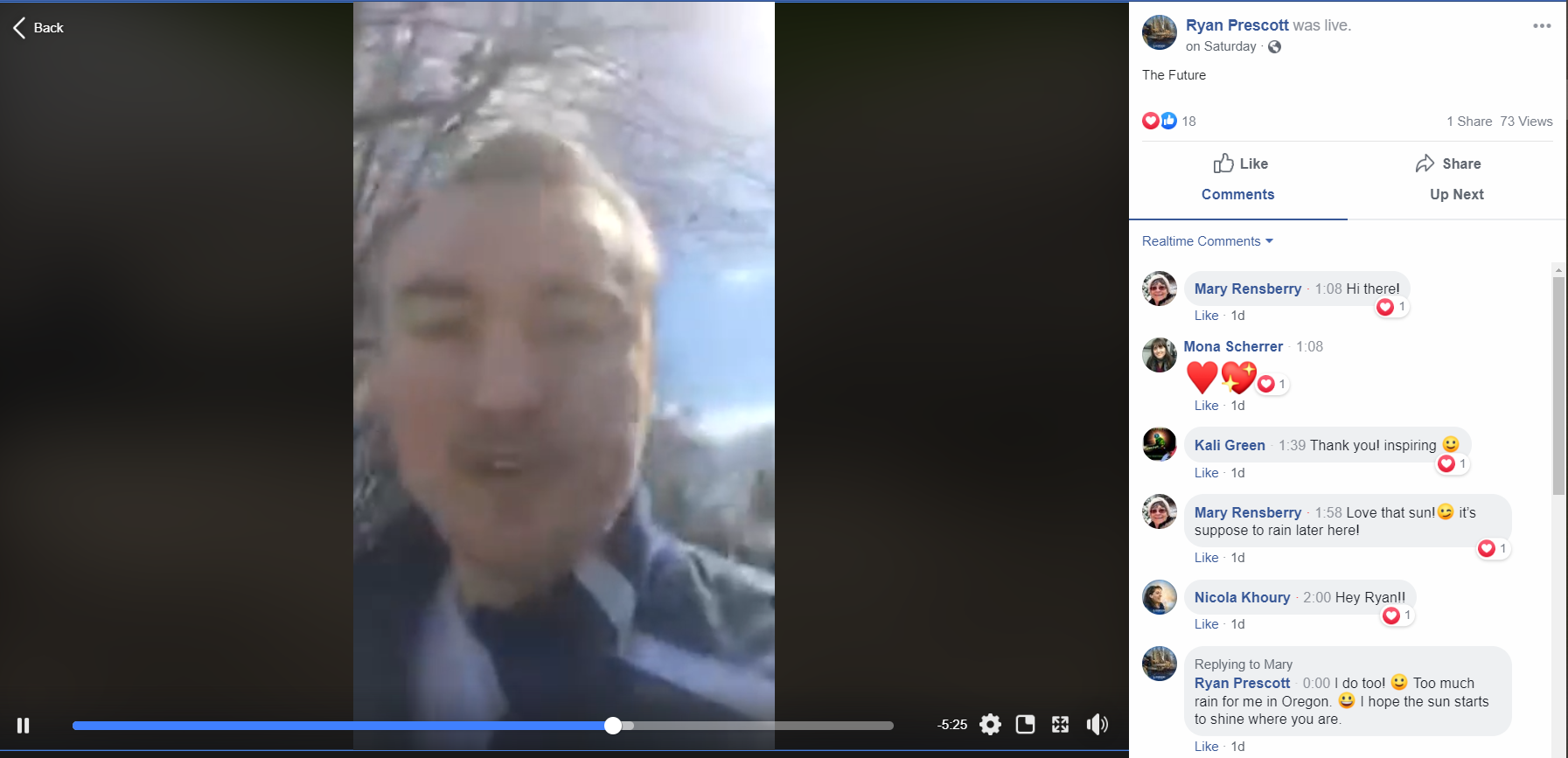 This was an eye opener. I had expected something a little more… I don't know… mature or sophisticated or something. I don't know why. It just surprised me how childishly amateur this was.
Obviously, he is, at best, simply a deluded kid who has gotten caught up in his own bs. He seems to think he has a "following" who hang on his every word. From the video there were 4 people who joined his live feed.
He is sadly self-absorbed and stops to laugh and giggle at himself often — apparently this is his idea of being "uptone." And it seems he has actually deluded himself into believing he  is "inspiring" people.
He calls this one "The Future." If you can bear it, it's worth watching for some insight into the mind of a scientologist kid.
Sprinkled throughout his rambling are tons of scientology platitudes: "Kick butt," "Take names," "Push through this, it won't last long."
At one point, he announces: "Make this thing happen." What thing he is talking about is anybody's guess.
There is some really bizarre conspiracy theory nut stuff in here that is in keeping with the mindset of a lot of scientologists.
"Things are being pushed through right now that you don't know" (he apparently has some inside scoop that nobody else knows).
"The Merchants of Chaos will not tell you. A hidden enemy pushing this, the timing…" ("this" being the pandemic?).
He exhorts everyone:  "Don't stop your production, get the economy soaring again." (Unreal much?)
"I love Salvation Army. And Red Cross are doing something right now, even though I don't like Red Cross much." Huh?
This is the guy who has been writing "books" that "dead agent" the abuses exposed on The Aftermath, claiming even more bizarre conspiracy theories that Leah and I were paid by "Big Pharma" to tell lies about scientology, etc. etc.
As I said, he is charitably a deluded kid. Not so charitably, he is a wackjob.
Remember when he announced he was coming to Clearwater to lead the charge in ensuring Mark Bunker did not get elected. Here is one of his social media blurts about "voting ideal". I can't even find his video where he announces "Hey guys, I am coming to Clearwater to help ensure Mark Bunker is not elected."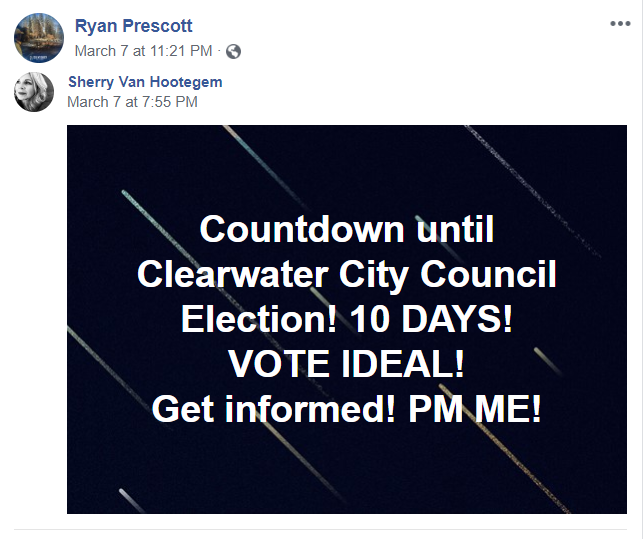 I wonder what "Vote Ideal" meant? Super Seekrit code for "vote for NOT Mark Bunker"?
It seems he either didn't manage to make it all to Clearwater or he came and left without anyone noticing. In either event, another failure, as we all know, Mark Bunker WAS elected.
Just for fun, here are a couple of his other tweets.
So, if you ever had concern that Ryan Prescott has any impact on anything, put your concerns to rest.
If anyone buys into this guy's bs, they are as wack as he is.
I probably would normally not have bothered, but being confined to home finds me doing things I would not normally do. And this struck me as pretty amusing.